Pop in for treats and sweats at POParella's Gourmet Popcorn & Treats in Frisco
An inside look at POParella's, the longtime Frisco snack spot, with owner Gina Johnson.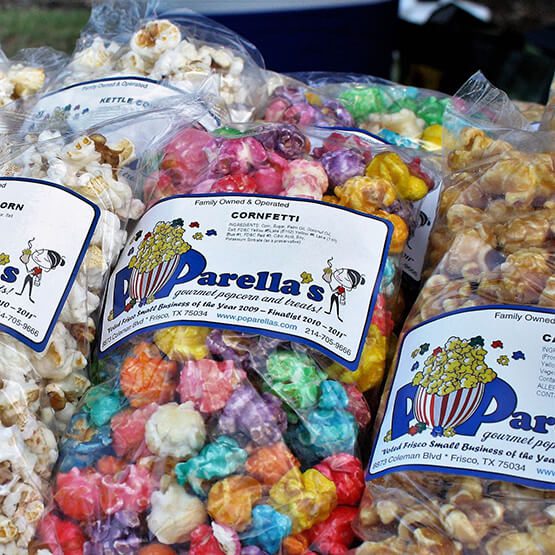 It's late at night, and you're huddled under a blanket in your favorite spot on the couch. You're just about to press play on the season's latest and greatest Halloween flick when you realize something's missing. No spine-tingling creature feature is complete without the quintessential movie snack: popcorn.
That's where POParella's Gourmet Popcorn & Treats comes in. From Dr. Pepper and pizza to lemon pound cake and cinnamon toast, there's more than just the typical buttery theater flavors to reach for if you head to this longtime Frisco snack spot.
POParella's has been serving up salty and sweet creations for about 15 years. The store, opened by Gary Paparella in 2008, is now popping more than 60 different flavors under the ownership of former financial analyst and popcorn enthusiast Gina Johnson.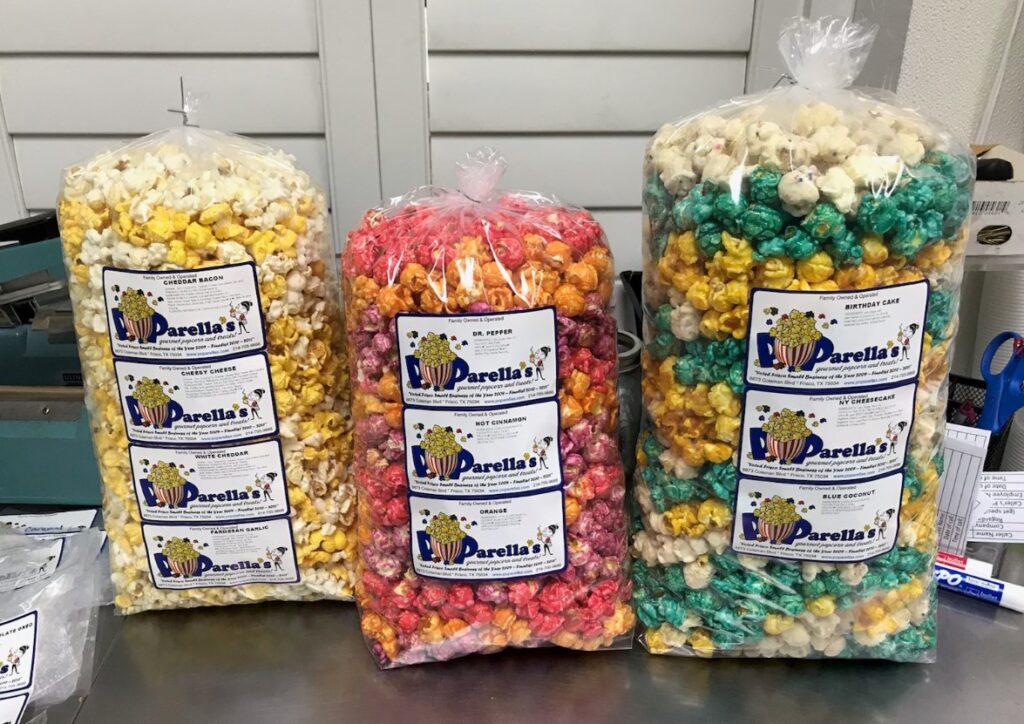 According to Johnson, Paparella decided to sell the business back in 2018 and wound up finding her through "a little coupon that I had in the back of our church bulletin."
"The reason why I had that little ad…is because I started making different types of popcorn out of my house with my grown son, and it kind of just expanded (from) word-of-mouth by family and family friends who started ordering from us," Johnson said.
Long hours at work had actually slowed her two-year-long budding popcorn pursuit in 2018 at that point. That all changed, however, when she received the call from Paparella while out on a business trip asking if she would be interested in buying the store.
"We have a passion for food in our family. We love cooking. We love experimenting. We're huge foodies, and I never thought in my wildest dreams that I would own a popcorn shop," Johnson said, explaining that the call led to her purchasing the store nearly five-and-a-half years ago.
Now, Johnson makes her delicious, crunchy snacks for POParella's using various recipes she's "tweaked to perfection" over the years.
She explained that the store uses a base of two different non-GMO kernels, the "mushroom style" of larger, rounder kernels typically seen in candy-coated and caramel popcorns and a hybrid that blends the "mushroom style" with the traditional "butterfly style" seen at movie theaters, across four distinct flavor profiles.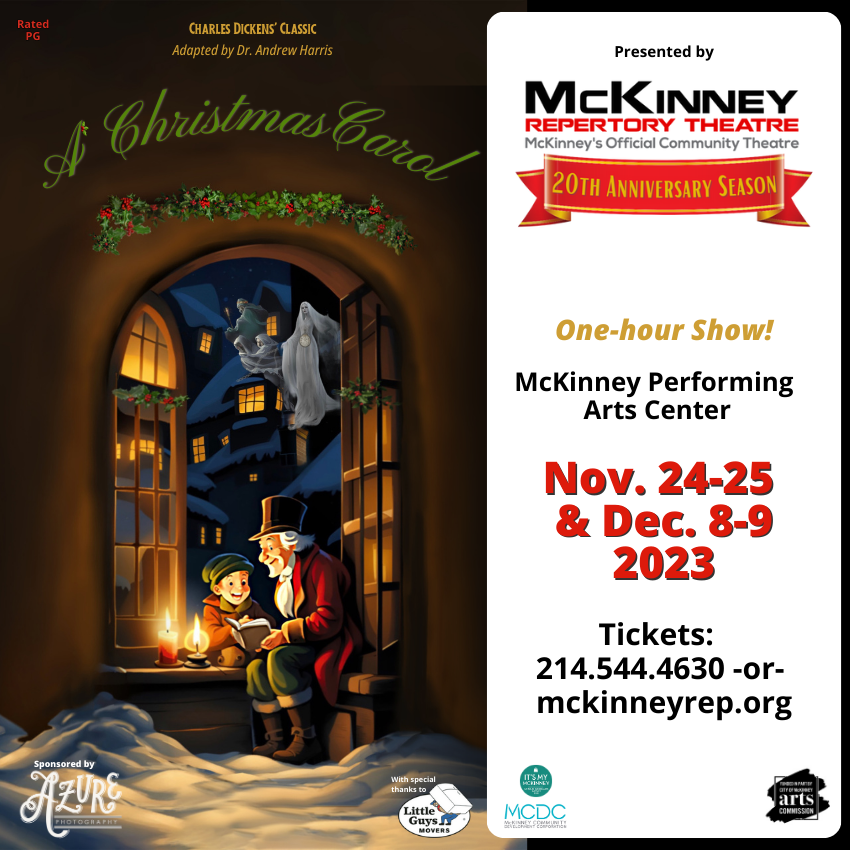 The savory category features the traditional salty flavors that moviegoers recognize and includes three of the store's bestsellers: Movie Time, Buttery Original and Cheese.
Kettles and caramel blends then feature gluten and dairy-free flavors, like the aforementioned cinnamon toast that's paired with Movie Time for a unique mash-up called "The Colony."
Next up are caramels and cornfetti's, which encompass the store's caramel and candy-coated offerings, while the final "specialty" category features all chocolate-covered popcorn.
Each of the popcorns and unique flavor profiles are available to sample at the store, along with a variety of seasonal flavors like candy corn and boo munch, with Johnson adding that employees will walk new customers through the expansive menu upon entering.
"Our employees are well-versed in the types of popcorn we have, and they also have their own favorites," Johnson said.
For those looking for a different kind of Halloween bite, Johnson noted the store's "gourmet treats" include fudge and cotton candy that's made in-house as well as a selection of popular candy, cake bites and Blue Bell ice cream in the store.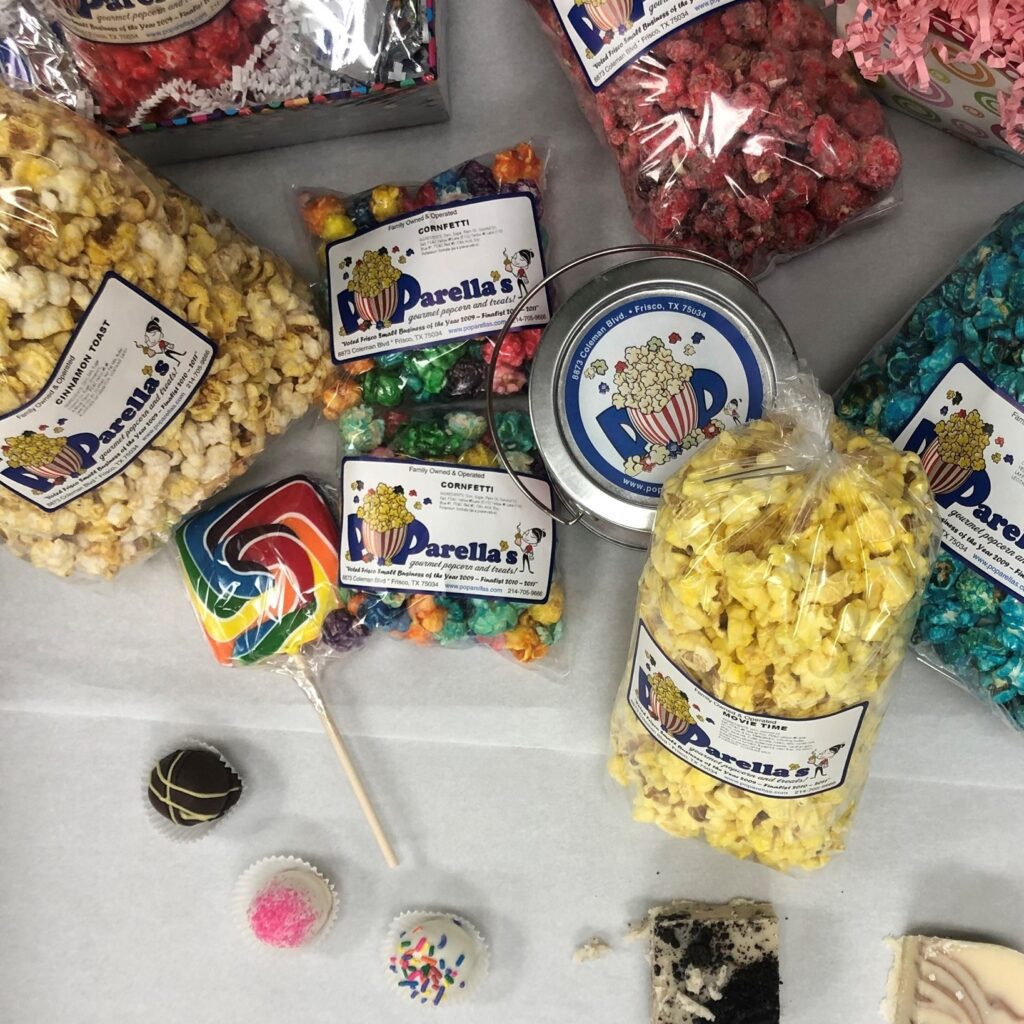 "We have something for anyone that has a sweet tooth," Johnson said.
It's a combination that makes POParella's one of the sweetest stops you can make in Frisco this spooky Halloween season.
POParella's Gourmet Popcorn & Treats is located at 8873 Coleman Blvd, Frisco, TX 75034. For more information about the store, including online ordering options, visit https://poparellas.com/.