Chicken N Pickle is helping bring the nation's fastest-growing sport to North Texas
An inside look at Chicken N Pickle, the restaurant/pickleball chain with current locations in Grapevine and Grand Prairie.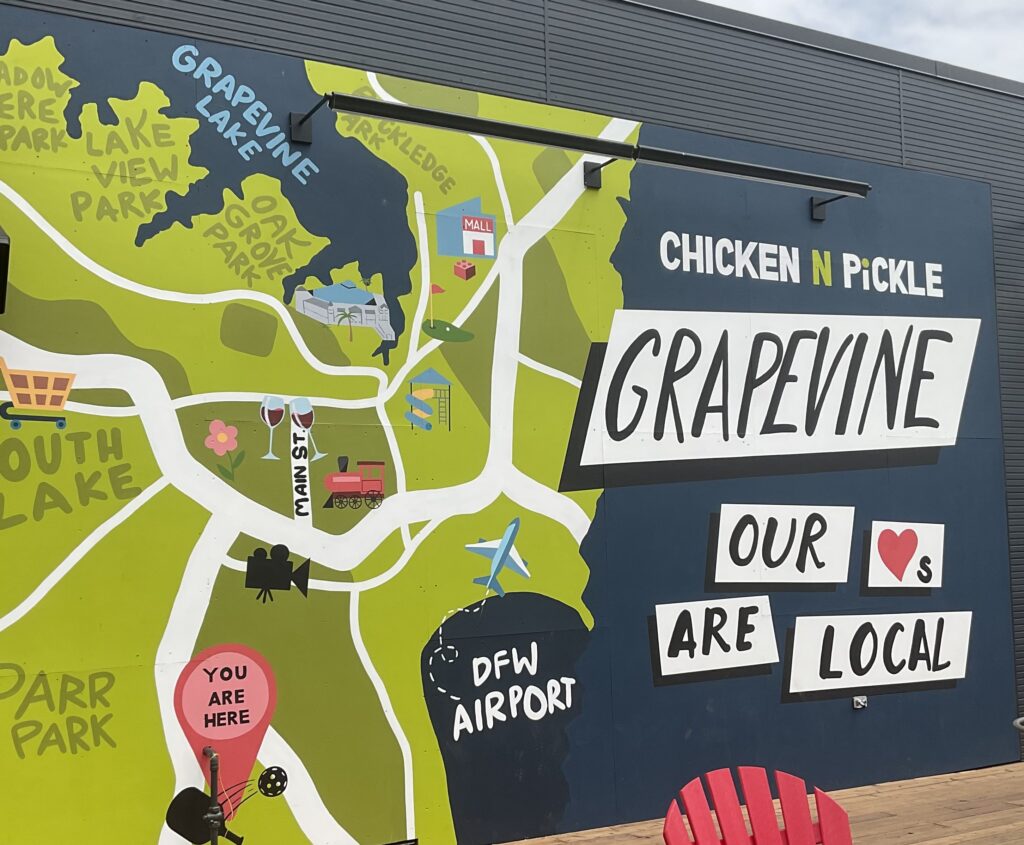 Matt Besler is no stranger to world-class competition. In fact, he's no stranger to besting that world-class competition. A multi-time MLS All-Star who represented the United States in the 2014 FIFA World Cup, it's clear Besler's success on the soccer field is a testament to his athletic ability.
However, the 2012 MLS Defender of the Year met his match while playing a game with a rather strange name, pickleball.
"There was many times early on where I walked onto the court and got my butt kicked by somebody less athletic and older, who couldn't move as well as I could," Besler said. "I also think that's the beauty of (pickleball) too."
Besler isn't the only one captivated by the uniquely named racket sport. Pickleball's accessibility has undoubtedly helped to make it the fastest-growing sport in America, turning it into a game that's attracting everyone from athletes like Tom Brady, LeBron James and Patrick Mahomes to grandparents all around the country.
"Pickleball is a mixture of tennis, badminton and ping pong, and you can learn it within 10-15 minutes," former Tennis club pro Lindsey Vermillion said, explaining that she initially learned about the sport in order to teach others at her job when its popularity began to grow. "The rules are not the same as tennis. Scoring is a little different. You can only score on your serve. Serving is underhand…but it's really simple to pick up and to get a rally going back and forth between anyone."
Now, both Vermillion and Besler find themselves right in the midst of the growing pickleball phenomenon working at Kansas City-based chain Chicken N Pickle.
Chicken N Pickle combines a restaurant, bar and hangout area with a full-fledged multi-court pickleball venue. The concept is helping bring the sport to new audiences around the country with a community-centered outlook and an approach to the game accessible to newcomers and seasoned pros alike.
"The great thing about pickleball is everybody can do it. We have people in their 80s doing it, and we have five-year-old's doing it," Susan Renne, the Community Impact Coordinator for Chicken N Pickle's recently opened Grapevine location, said.
The Grapevine location opened this past January and immediately received a positive response from the local community, according to Vermillion, who works alongside Renne as both a community impact and pickleball partnership coordinator.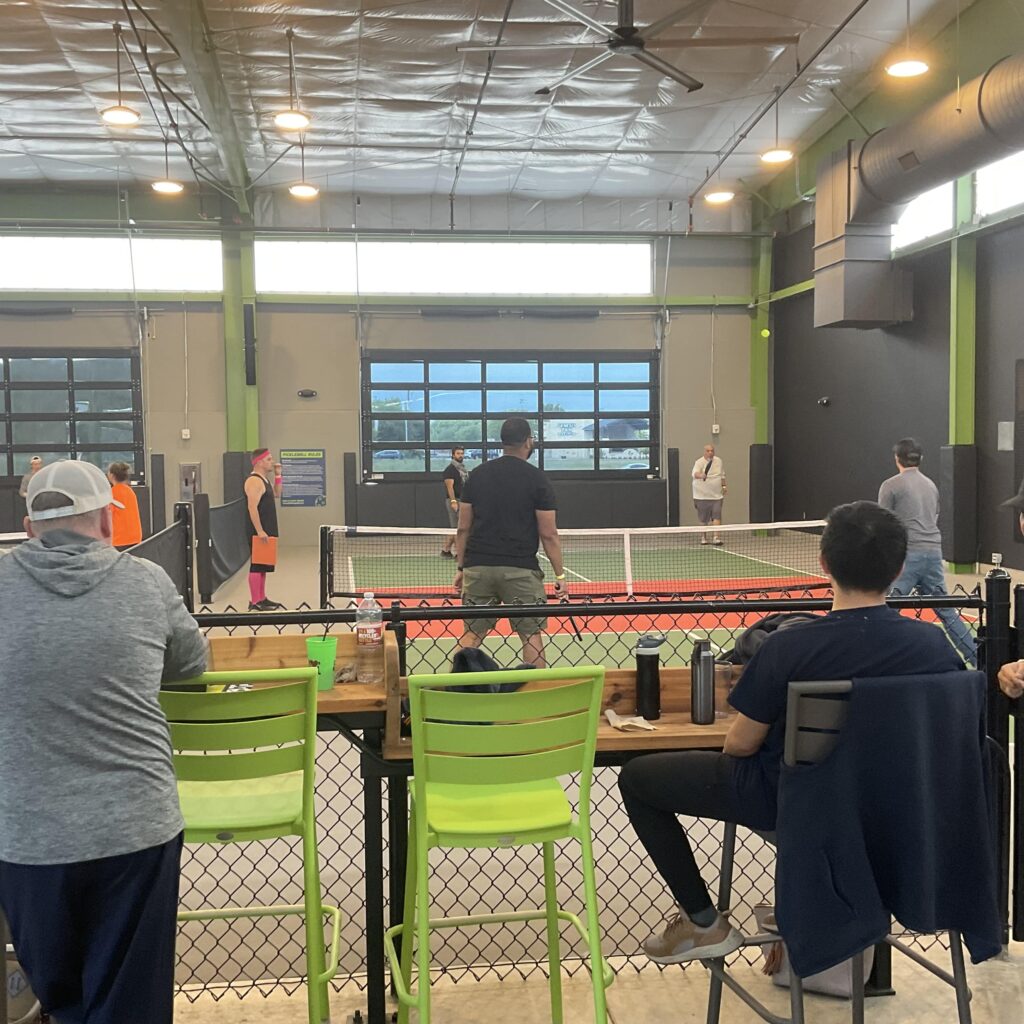 Vermillion explained that Chicken N Pickle regularly gives back to the community, helping different area organizations and charities by hosting fundraisers and other donation initiatives. Vermillion highlighted efforts like a weekly giveback campaign that donates 10% of food and beverage sales during every Tuesday from 6:00 p.m. to 8:00 p.m. to a different local organization along with a two-week community cup campaign that donates proceeds from all fountain drinks sold as examples of Chicken N Pickle's outreach in the area.
"We really enjoy being there and being involved in the community," Besler, the director of strategic partnerships at Chicken N Pickle, said of the company's time in North Texas. In addition to the Grapevine location, Chicken N Pickle has a location in Grand Prairie and one on the way in Allen.
On top of reaching out to community groups and charities, the chain also actively engages with the growing pickleball community too. Chicken N Pickle locations staff onsite pickleball pros and regularly hosts lessons, including weekly beginner sessions, at its courts. For more seasoned players, the chain offers advanced lessons and partners with multi-time Grand Slam and top-ranked pickleball pro Tyson McGuffin for special clinics and camps at their facilities.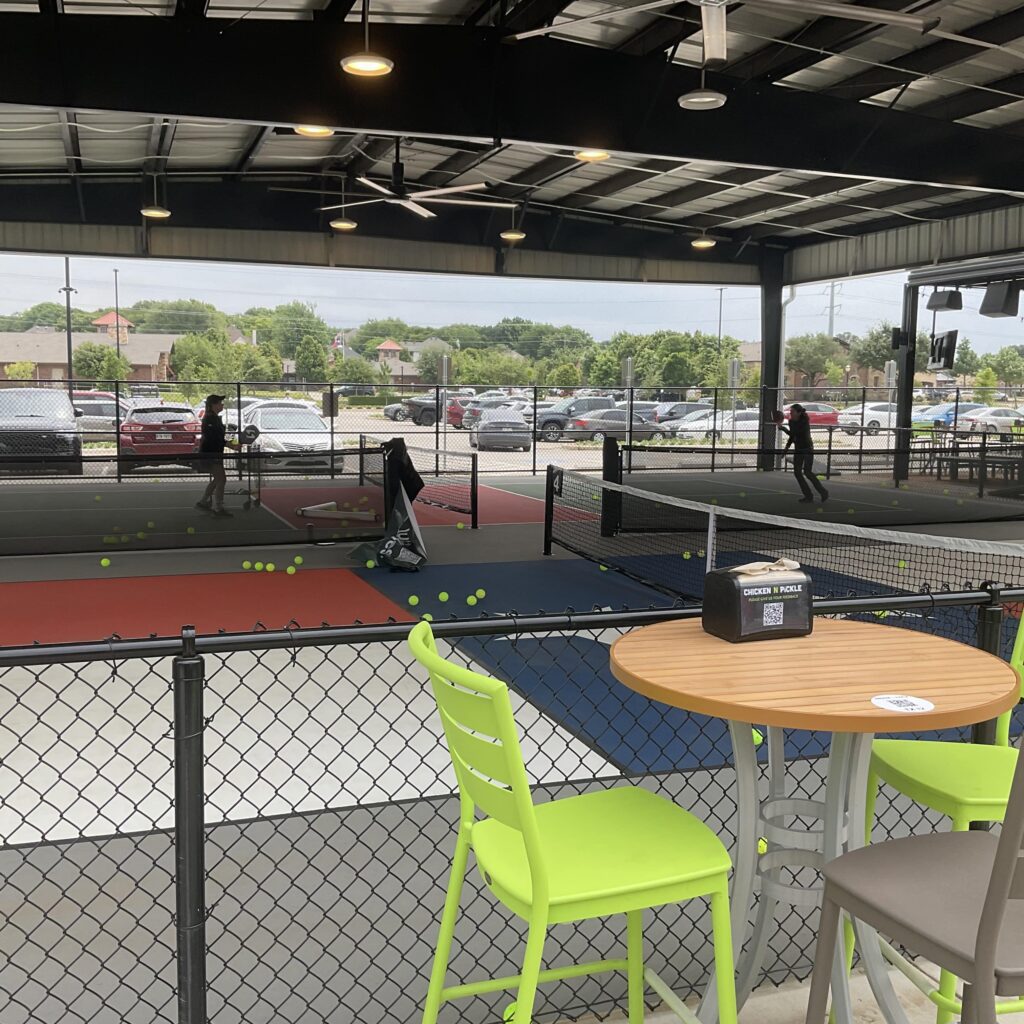 "We do have something for every level," Vermillion said, noting the company also hosts junior camps and Nike camps.
It's a comprehensive approach to both pickleball and the local community that feels indicative of Chicken N Pickle's ethos as a whole. The Grapevine space offers much more than pickleball, with games ranging from shuffleboard and cornhole to giant versions of Battleship and Jenga available to play in addition to a bevy of food options.
It's that accessibility in providing different activities and approaches for everyone, much like the game of pickleball itself, that Besler believes makes Chicken N Pickle special.
"It's really hard not to smile and laugh and have a good time when you're at Chicken N Pickle," Besler said.
Chicken N Pickle is located at 4600 Merlot Ave., Grapevine, TX 76051. For more information about the location, including available lesson times and upcoming tournaments, visit https://chickennpickle.com/location/grapevine/.