The Denton Comic Art Exposition spotlights a community of creative and talented artists
The Denton Comic Art Exposition takes place from 11:00 a.m. to 5:00 p.m. at the Denton Civic Center on August 5.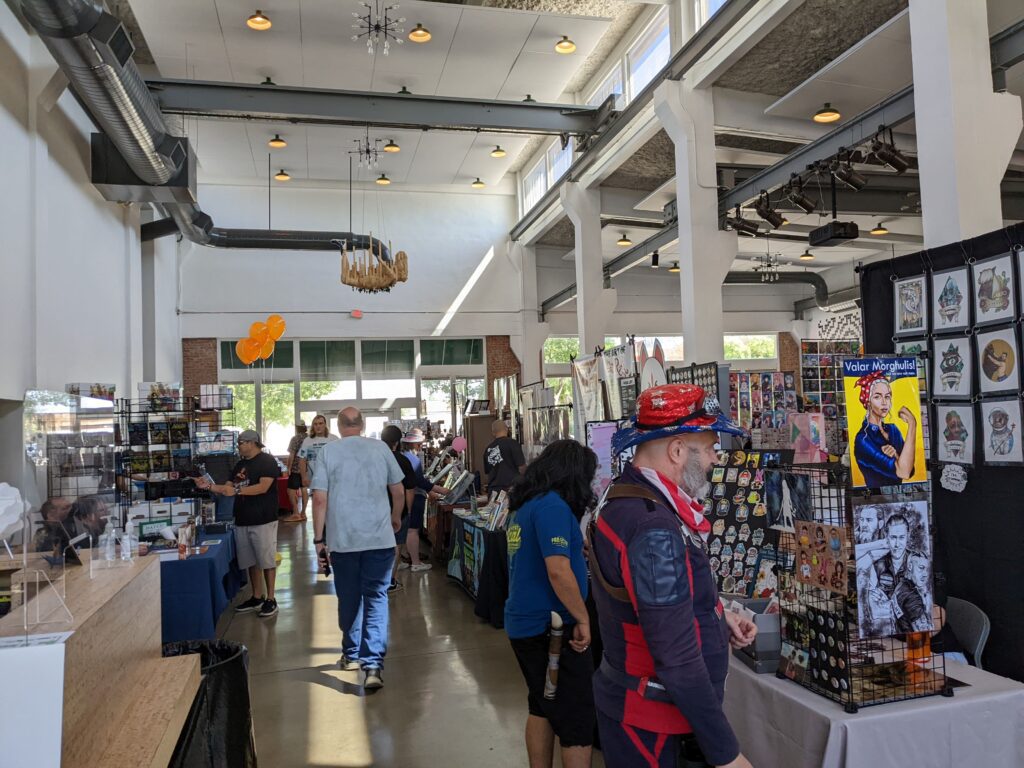 When cartoonist Bryan Kelly thinks about the artistic community around Denton, he sees the mix of former and current students from the surrounding colleges who call the area home as something special.
"I like to compare it to a very big comfy couch that once you come in for college (and) you sit down on that couch long enough, you don't really want to get up again," Kelly said. "It's a cool place to kind of come and stay and through that, our population grows. The way it grows is by adding people who are into cool things, who are into making things and enjoy art, music, acting, any number of the creative fields. We have sort of this very rich leftover UNT and TWU graduation soil from which to grow a lot of really cool interesting stuff."
Kelly, a graduate of UNT himself and a 20-year veteran illustrator, knows a little something about growing those kinds of cool and interesting ideas in Denton too. Kelly is one of the founders and organizers of the Denton Comic Art Exposition, an annual celebration of the comic art community in Denton.
According to Kelly, the expo started as a partnership with the Greater Denton Arts Council. Now heading into its third year, the expo has expanded from its previous space at the council's home at the Patterson-Appleton Arts Center into the Denton Civic Center for its upcoming show on August 5.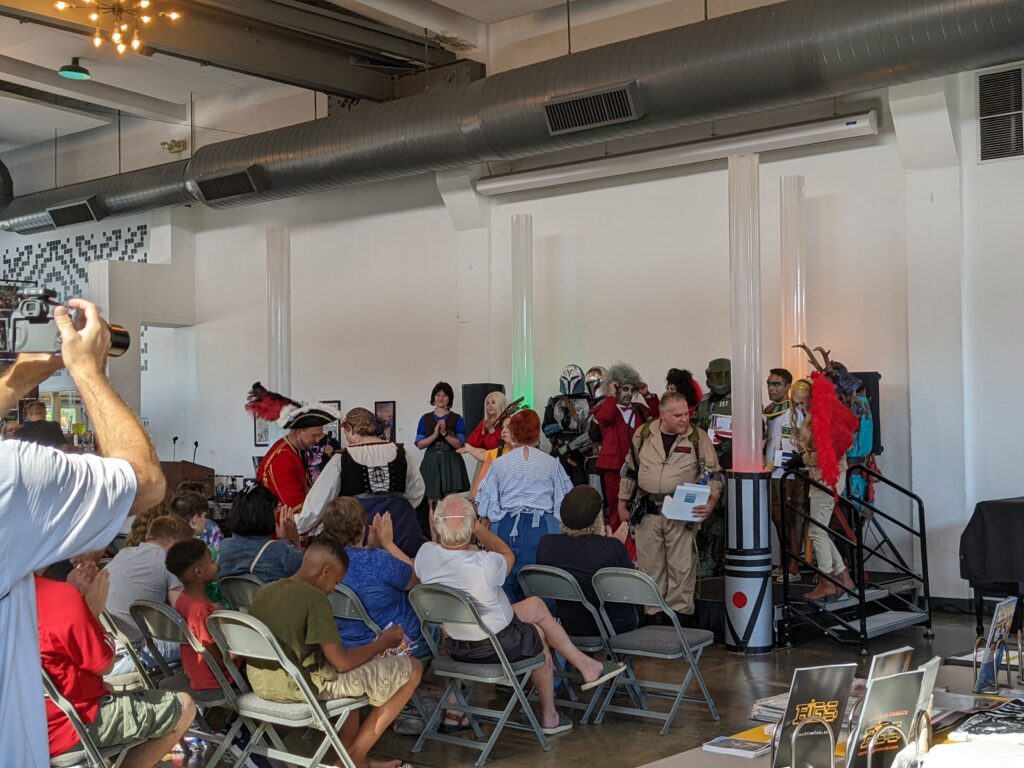 This year's Denton Comic Art Exposition will feature a wide variety of programming, including more than 40 artists and artisans, trivia and cosplay contests, panels, kids' activities and more.
The expo will also lead several events around the community beyond the convention itself. The expo will showcase local art in the "Nerd Adjacent Month Long Art Show" at the UNT CoLab through August 26 and host a cosplay karaoke night at the Yellow Dog Art Bar and Gallery on August 4. It's also hosted past events in the community this year like a mini comic book creation marathon in July and a Free Comic Book Day giveaway.
All of those events, including the expo itself, share the same common theme of promoting great local comic art and creators.
"We try to highlight as many independent comic creators as we can because we're a comic con about comics and comic people," Kelly said.
With that in mind, Kelly said the August 5 expo will host a trio of panels based around exploring different styles of comic creation and publishing. Panelists include artists like David DeGrand, whose work has appeared in Mad Magazine and SpongeBob Comics, as well as Brian Chuck of Dallas-based independent comic publisher UpChuck Comics, among other talented creators.
"Whenever we can, we try to highlight and showcase comics and people with a passion for comics," Kelly said of the expo.
Kelly explained that by showcasing those kinds of talented artists, the Denton Comic Art Exposition not only highlights the amazing work they're doing, but also helps encourage the next generation of artists to try their hand in the field.
He noted how places like Colombus, Ohio, where creators such as Jeff Smith of the acclaimed "Bone" series call home, were able to unexpectedly become hotbeds for comic artists. Kelly attributed the phenomenon to a snowball effect of creators changing the traditional thought process behind what is possible to accomplish in the field and continually inspiring more generations of creative talents.
"When those guys are local celebrities, and those guys are people that live down the street or the town over from you, it creates a different idea of what's attainable, what you can do and accomplish," Kelly said. "It's a local hometown person or multiple people that do what you want to do, and so meeting those people and hearing their stories, it lights a fire."
As a result, the expo spotlights different local creators showcasing how they've found their own unique paths to success during its panels. The expo also created fun, family-friendly activities to help engage younger attendees like a scavenger hunt for the expo's mascot, Generic Errick, who Kelly invented himself.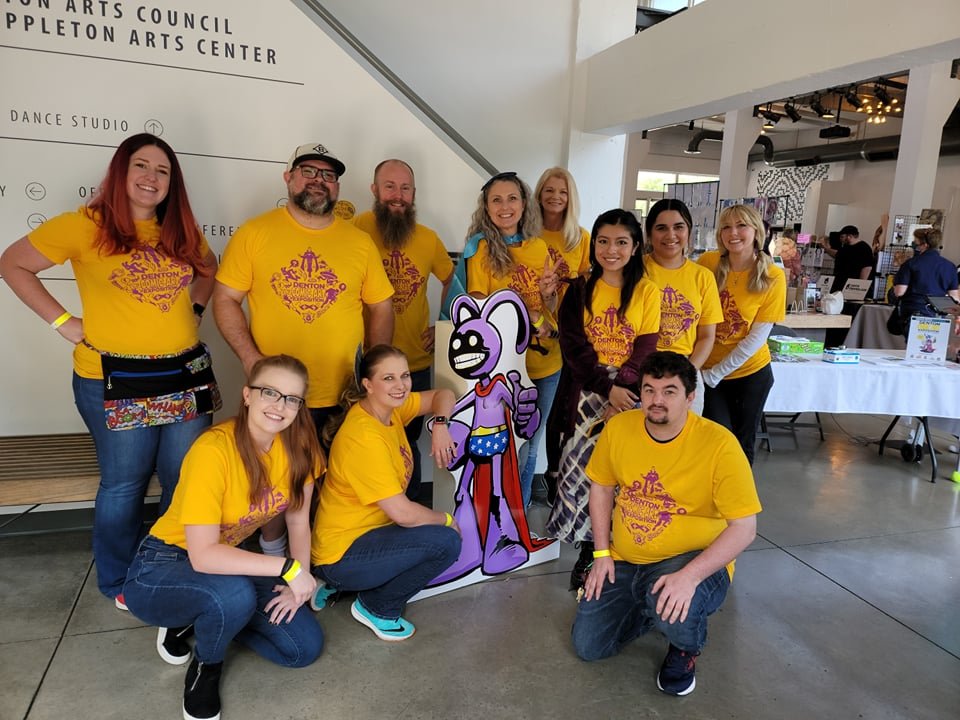 "He's a cartoon exaggeration of the generic characters…people do like him, so we put him on lots of stuff and he's sort of like the personality of the show," Kelly said.
It feels like an appropriate mascot for a show that's taken the tried-and-true format of a comic convention and given it such a unique hometown personality and perspective, one that showcases the impressive artistic creativity and passion within Denton and the surrounding North Texas community.
The Denton Comic Art Exposition runs from 11:00 a.m. to 5:00 p.m. at the Denton Civic Center on August 5. For more information about the expo, visit https://www.dentoncomicartexpo.com/.