Arts and education collaborate together at the UNT CoLab
Learn more about how the UNT CoLab combines an art gallery, event venue and boutique retail store into a singular learning space.
The University of North Texas (UNT) CoLab is many things to many people. For Denton shoppers, it's a boutique space filled with local artisan products and unique designs. For artists and creatives, it's a versatile gallery and event venue to host their work. For students, it's a learning space that provides valuable training and experiential learning opportunities.
Individually, each of these roles is an important part of the UNT CoLab experience, but it's how the space seamlessly weaves them together that makes it so remarkable.
The space is a continuation and expansion of UNT on the Square, a gallery and event venue that previously operated in the downtown area, according to UNT CoLab Director Kristen Kendrick Bigley. Kendrick Bigley explained that the CoLab opened in March 2020, shortly before the COVID-19 pandemic shutdowns, as "kind of a new version" of the concept.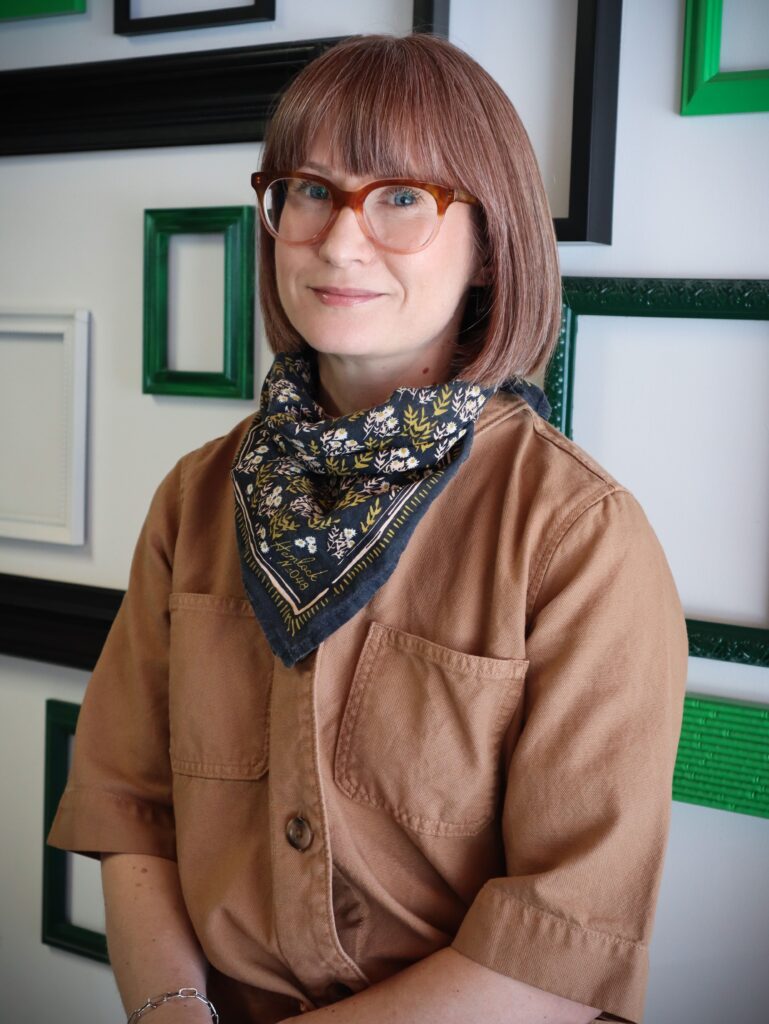 "The new part is we added retail. So, in the front part of the space, we have really unique artisan-made, local Texas sourced items," Kendrick Bigley said.
The retail shop features some of the CoLab's own UNT and Denton-inspired designs for apparel and home goods. Kendrick Bigley noted that the CoLab develops and prints its shirt designs locally in the area, some with official UNT branding and licensing and others without, all of which are exclusively available at the CoLab along with the retail space's handcrafted jewelry and other fun and funky finds.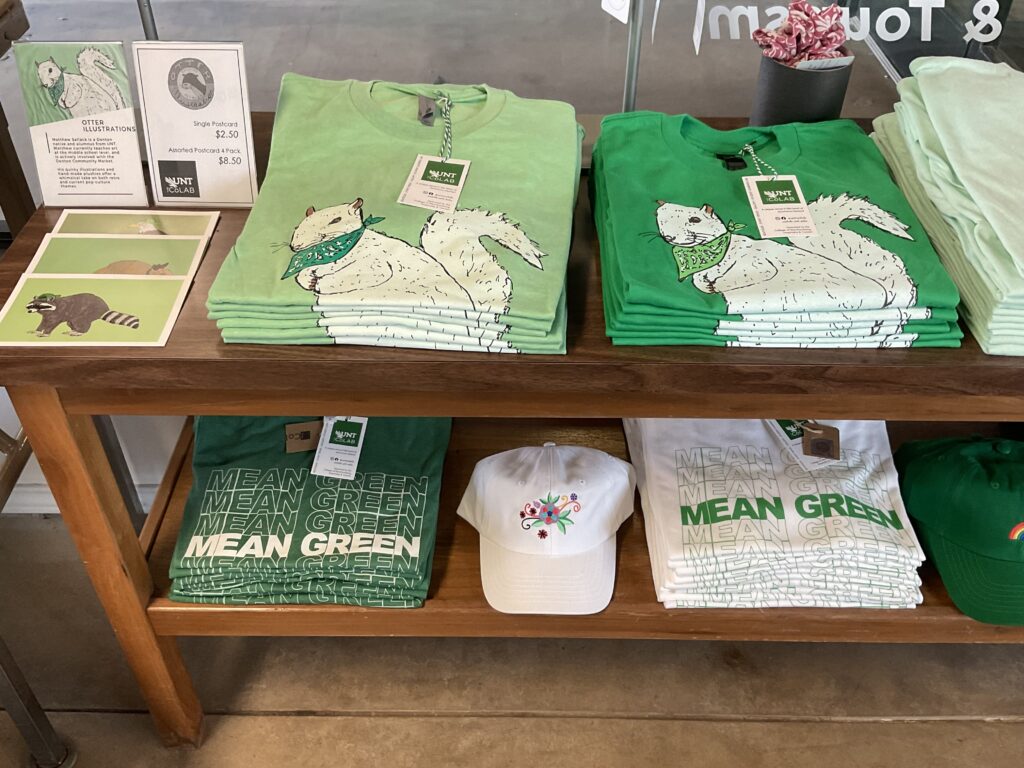 "We're operated through the College of Merchandising, Hospitality and Tourism, so this really is our merchandising piece," Kendrick Bigley said, adding that the CoLab embraces its hospitality ties through hosting events like departmental socials and workshops for UNT as well as special attractions related to its current art exhibits.
Those exhibits rotate every few weeks, leading to a gallery as diverse and varied as the space it inhabits. Upcoming shows at the CoLab include an exhibition dedicated to accomplished graphic designer and illustrator Steve Brooks' work for Willie Nelson that opens on April 28, a juried art exhibition in June and a community art exhibit in July called "Square-d."
"We're selling 12-inch canvases…that's your entry, and you can do anything you want with that canvas: paint on it, attach things to it, whatever," Kendrick Bigley said of "Square-d." "Then, our July exhibit, we'll be putting all those works up, and then any sales from that show will benefit the UNT food pantry."
The community-minded outlook towards UNT reflected in shows like "Square-d" is a common theme throughout the CoLab. Kenrick Bigley noted that the UNT CoLab regularly connects back to the campus for student learning opportunities.
Students from the College of Merchandising, Hospitality and Tourism can intern at the CoLab for credits. The UNT CoLab gallery has also spotlighted students in exhibitions like the recent "Metal Mania" showcase.
"What I've learned from the faculty members is that there's been a real knowledge gap due to COVID with students even understanding what gallery shows are," Kendrick Bigley said, describing how shows like "Metal Mania" can be the first chance for some students to see their work showcased in a gallery setting. She said the students enjoyed talking with visitors during the exhibition's opening reception and found value in hearing the public's thoughts on their work.
Kendrick Bigley also enjoys the process of hosting and exhibiting these works. An artist herself, Kendrick Bigley also operates her own metalwork art studio, KKB Metal Studio, in addition to directing the CoLab.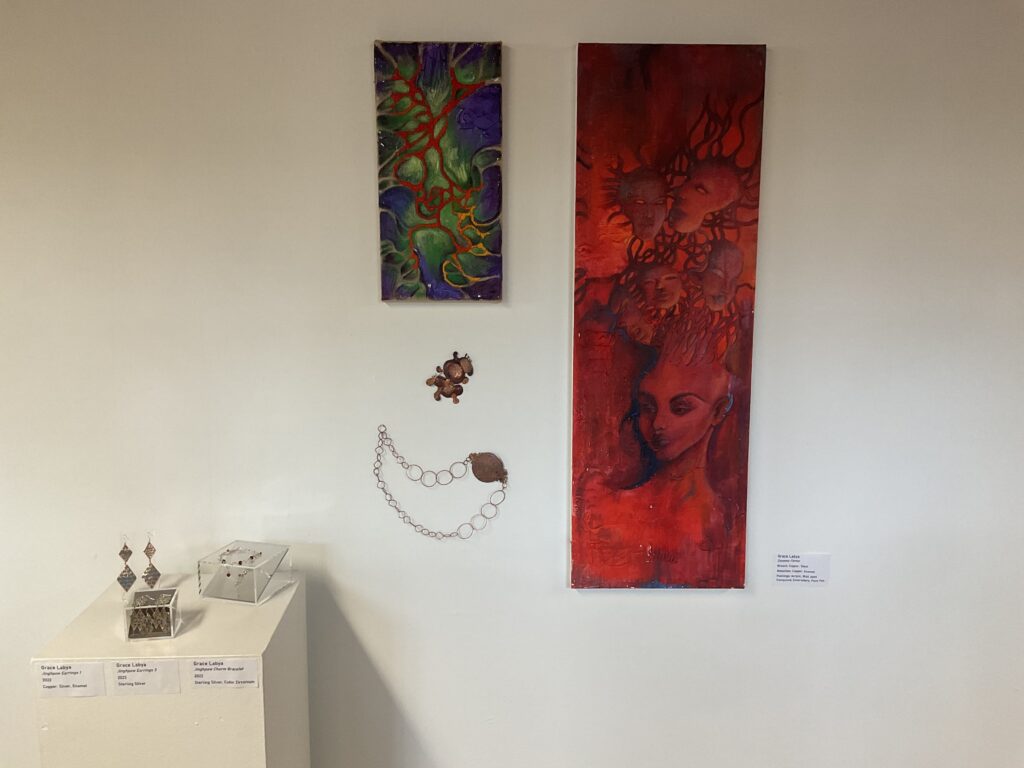 "Curating and lighting and the placement of things, I think, is just something that really brings me joy," Kendrick Bigley said. "It's so fun to see the space transform every couple of weeks, and then have a chance to intimately experience this work."
She detailed how she takes a different approach to each show, from the minimalist style of "Metal Mania" to the wall-to-wall experience of a photography show complete with light boxes and projection systems.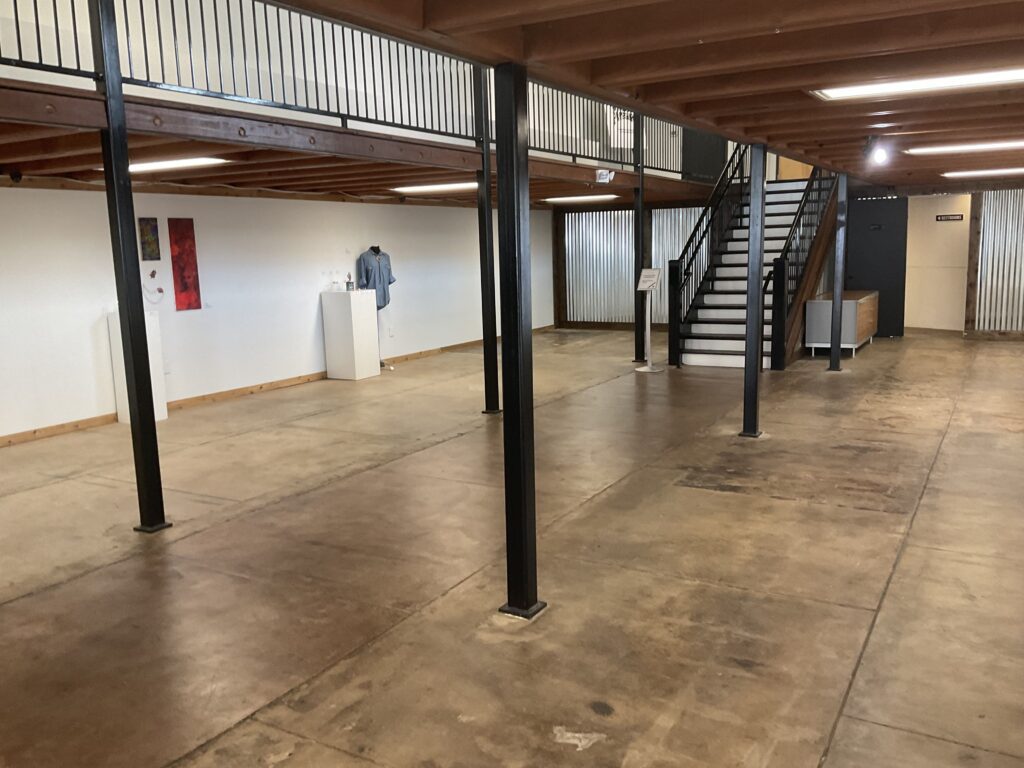 "Who doesn't love having a workplace where we're surrounded by really interesting, creative, unique things that change out," Kendrick Bigley said. "It's pretty wonderful."
The UNT CoLab is open from 11:00 a.m. to 6:00 p.m. on Tuesday through Saturday at 207 N. Elm St. #101, Denton, TX 76201. Visit https://colab.unt.edu/ for more information. Keep an eye on the Collin-Denton Spotlighter for a story on the UNT CoLab's upcoming exhibition, "Celebrating Willie Nelson: A UNT Special Collections Exhibit."