What's old is new again at Old City Park this Fourth of July
Talking with Old City Park Executive Director Preston Cooley about some recent changes at the park as well as the park's Fourth of July Celebration.
This article originally appeared in the North Texas e-News.
Dallas, Texas — With a dedication to historical preservation, it would be easy for an institution like Old City Park to embrace the comforts of complacency. After all, as the old saying goes, you can't change the past. With nearly 30 historic structures at the park and ties to the land dating back to 1876, Old City Park has one of the most storied pasts in all of Dallas to tell.
While those sentiments may be true, Old City Park is anything but complacent. With a recent rebrand back to Old City Park from Dallas Heritage Village, and now offering free admission on Thursdays through Saturdays, the park is evolving while honoring its rich history, even while changing how guests view and understand some of that history.
"We are taking steps, and have taken steps, to change where we focus our narrative," Executive Director of Old City Park Preston Cooley said.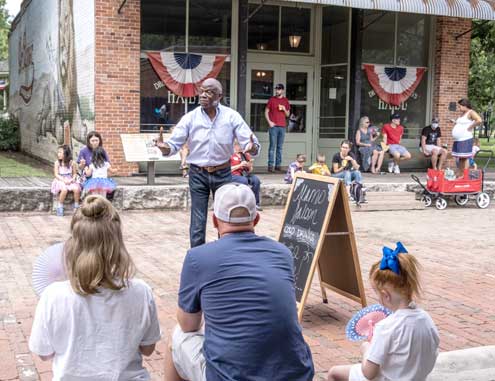 Cooley explained that roughly three years ago, just before the onset of COVID-19, the park created a board committee to, "assess how are we doing when it comes to issues of equity, inclusion, diversity, accessibility." The result was a refocusing of the narrative surrounding some of the biggest structures at Old City Park in order to better tell the stories of all walks of life that lived at its pioneer and Victorian homes
As such, the park took steps to recognize and tell the stories of some of the enslaved people who worked at the park's historic buildings. For example, Old City Park brought to life the story of Harriet Mason, an enslaved woman who worked on the park's farmstead. A local organization interviewed Mason in the 1930s about her life at the farmstead and her experience after learning she was free following the Civil War. Using this interview, the park partnered with the Soul Rep Theatre, a black, indigenous and people of color theatrical organization based in Dallas, to bring Mason's story to life using her own words in a short biopic film.
Old City Park also continued its partnership with the Slave Dwelling Project, an organization dedicated to preserving historic slave dwellings and telling their history, in 2022. A team from the Slave Dwelling Project recently gave educational storytelling lessons at the park's building during the end of May.
"We want to represent all of North Texas," Cooley said of the park's recent efforts.
Those efforts to evolve Old City Park's goals to better serve and represent the local community have extended beyond the nearly 150-year-old park grounds as well. This year, the park is continuing its partnership with the Vogel Alcove, a neighboring local nonprofit which provides support to homeless children and their families in the Dallas area. For the second year now, Old City Park will donate a portion of the proceeds from each ticket sold to the park's Old-Fashioned Fourth event, a long-running tradition at the park, towards Vogel Alcove and its charitable efforts.
"Ultimately, we want to be a resource to not just the metroplex, but we want to be a resource to the community that we exist in," Cooley said.
This year's Old-Fashioned Fourth, which takes place from 10:00 a.m. to 4:00 p.m. on Independence Day, is slated to once again have a wide variety of fun, family-friendly activities on hand. Food trucks, local vendors, crafts, face-painting and free Kona Ice will all be part of the event this year, as well as the annual "all join-in parade."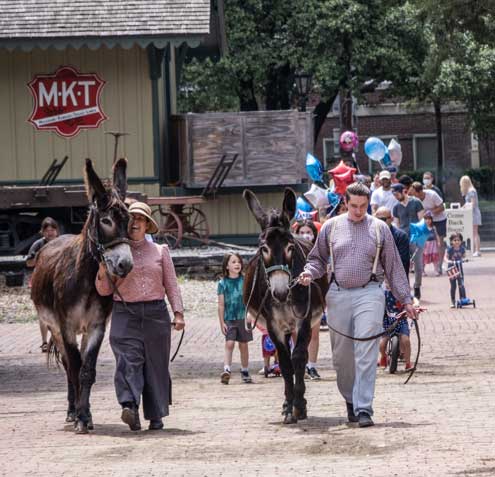 "Basically, all the kids that are here, and even those that are young at heart, they line up behind our donkeys and we kind of march down main street like an old-fashioned parade," Cooley said.
Old-Fashioned Fourth and the park's partnership with Vogel Alcove therefore marks just another way that Old City Park is providing new context for its classic attractions. It all goes towards the park's efforts to go "in a new better direction," as Cooley put it.
"We want people to come and enjoy the park and bring their families and their friends and their loved ones and whoever, and rediscover Dallas' oldest park," Cooley said.
Old-Fashioned Fourth takes place from 10:00 a.m. to 4:00 p.m. at Old City Park. Tickets start at $20 with more information about the event, and the park as a whole, available at https://oldcityparkdallas.org/