Five unique North Texas events this Fourth of July weekend
Spotlighting some of the best events in Collin County, Denton County and beyond for this coming weekend.
This article originally appeared in the North Texas e-News.
Splash & Blast Celina
            Celina is kickstarting the Fourth of July weekend celebrations a little early on July 2 with Splash & Blast. This family-friendly event features a selection of thrilling water slides, a rock wall, foam pit and more fun games and activities for kids. There's also a slate of live music scheduled headlined by Clint Sherman, a member of country music icon Blake Shelton's team on Season 21 of The Voice. The free event begins at 5 P.M. and concludes with a live firework show later that night. For more information, visit https://www.lifeincelinatx.com/splash.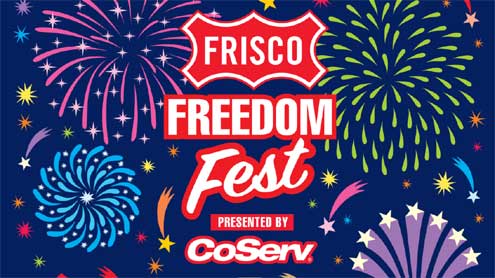 Frisco Freedom Fest
Frisco's massive Fourth of July celebration begins a night early on July 3 with a variety of running events, including some adorable ways to get your four-legged friends in on the Fourth fun. A Dachshund Dash and Yankee Doodle Poodle Parade will be star attractions for pet lovers everywhere that night. On the big day itself then, the Frisco Freedom Fest looks to have one of the most diverse lineups of activities in all of North Texas planned. A children's expo, classic car and motorcycle show, live music and even the Taste of Frisco all highlight the day's festivities. A firework display following the FC Dallas soccer matchup at Toyota Stadium will cap off the celebrations as well. For prices for the various activities at Frisco Freedom Fest, visit the event's FAQ page. Additional information is also available at http://friscofreedomfest.org/.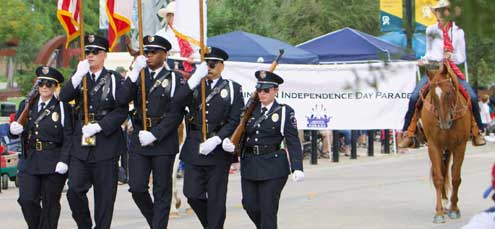 Arlington Independence Day Parade
The self-described "oldest event in Arlington" returns on Independence Day for another year of festive Fourth fun. The Arlington Independence Day Parade is an over 50-year-old tradition in the city with more than 120 parade entries registered this year. This year's theme, 'E Pluribus Unum, Out of Many, One' is said to represent the different backgrounds and walks of life that come together to make the United States. Beginning at 9:00 a.m. on Monday, parade organizers plan for the event to run until 11:00-11:30 a.m. For more information, including a map of the parade route, visit the parade's official website.
Old-Fashioned Fourth – Dallas
Arlington isn't the only city celebrating the red, white and blue with a parade though. Old City Park is hosting an "all join-in parade" for kids and adults alike at the park's annual Old-Fashioned Fourth event starting at 10:00 a.m. on Independence Day. Attendees can march alongside one another down the park's historic main street at this unique event. Old-Fashioned Fourth will also include crafts, games, face painting and on-site food trucks as well as free Kona Ice. With a scheduled 4:00 p.m. close to the festivities, attendees will have more than enough time to catch one of the area's many fireworks displays too. Tickets start at $20 with a portion of the proceeds benefiting Vogel Alcove, a nonprofit which supports homeless children and their families. More information is available at the official Old City Park website.
Plano's All-American Fourth
This Fourth of July bash includes a rather different take on the Independence Day parade with the city's first ever "static parade." Parked floats will be on display for viewing, rather than moving through the city streets, giving attendees a chance to really stop and admire these oftentimes beautiful and colorful creations. There will also be the classic Fourth of July food and firework display standbys. The free event starts at 6:00 p.m. and runs through 10:00 p.m. Check out the Visit Plano website for more information.