The Visual Arts Guild of Frisco presents its biggest and best at Crème de la Crème
The reception for the Visual Arts Guild of Frisco's latest exhibition, Crème de la Crème, kicks off at 6:30 p.m. on November 12.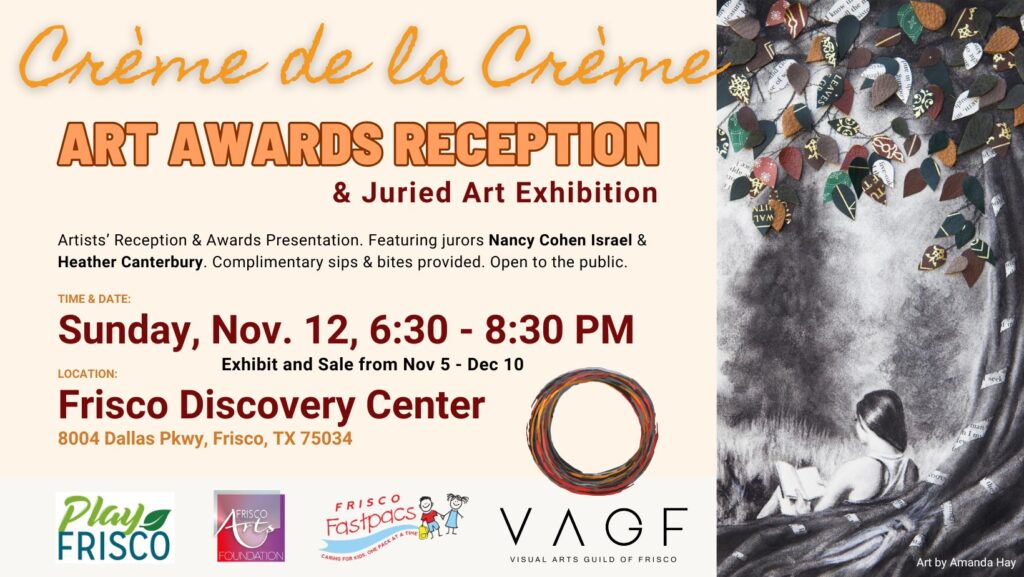 The Visual Arts Guild of Frisco (VAGF) has saved its best for last at its final Frisco Discovery Center exhibition for 2023, Crème de la Crème.
Crème de la Crème is a juried exhibition open to all artists, not just VAGF members. The show features 61 individual works of art, including seven sculptural pieces, as well as the largest prize pool in the guild's season.
"This time around, we are giving away over $3,000 in cash prizes to artists who win the awards at the show," VAGF President Suad Bejtovic said.
The VAGF will hand out those prizes at a November 12 reception from 6:30 p.m. to 8:30 p.m. at the Frisco Discovery Center. The free reception is open to the public, who can come see the art on display, meet some of the artists and possibly even purchase a piece for themselves.
VAGF Director of Finance Jennifer Luney estimated that about 90% of the works on display will be for sale at the show.
"20% of the sale would come to the Visual Arts Guild of Frisco, and 80% would go to the artist, and we are giving a portion of the proceeds from Crème de la Crème to a local nonprofit called Frisco Fastpacs, which helps with children's food insecurity here in the general Frisco surrounding area," Luney said.
In addition to perusing and possibly purchasing the art, Luney said attendees can also enjoy refreshments, catered food, a raffle and live entertainment from Courtney Istre of local partner nonprofit Melody of Hope while awaiting the jurors' results to see who wins a share of the prize pool.
For this year's Crème de la Crème exhibition, those jurors are the Manager of Docent Programs at the Meadows Museum Nancy Cohen Israel and Frisco Fastpacs Executive Director Heather Canterbury.
"We try to have two types of jurors for all of our juried shows," Bejtovic said, explaining that the guild enlists an art professional as a main juror for the key best in show categories and a local Frisco community figure to judge the "Art That Speaks to Me" contest. The "Art That Speaks to Me" contest, judged at Crème de la Crème by Canterbury, sees the community figure pick one individual work that speaks to them the most and awards it a ribbon and a cash prize.
Bejtovic noted that in addition to the largest cash pool at a VAGF event, the Crème de la Crème reception typically attracts "well over 200 people" to the gallery, making it also one of the largest events as a whole that VAGF hosts each year. He described how artists, their families and even aspiring artists who didn't make the show come each year to the reception along with art lovers from around Frisco and the surrounding area.
"It's a wonderful sense of community, and it's a great way for Frisco folks to come out and meet their local artists and see the best art that they can create," Bejtovic said.
The Visual Art Guild of Frisco reception for Crème de la Crème runs from 6:30 p.m. to 8:30 p.m. on November 12, with the guild noting the exhibition itself runs through December 10. For more information, visit https://www.vagf.org/.
The Visual Arts Guild of Frisco is an official advertiser with the Collin-Denton Spotlighter. Advertising does not guarantee coverage, nor does it affect the content of any coverage on the Spotlighter. These interviews have been edited for clarity.