The Texas Vignette Art Fair spotlights the stunning artistic talent of Texas women
An inside look at this year's Texas Vignette Art Fair with Texas Vignette President Jessica Ingles and the show's curator, Emily Edwards.

47 talented Texas women come together for three days this weekend at Dallas Market Hall for the 2023 Texas Vignette Art Fair. Since 2017, the fair and nonprofit have spotlighted the incredible talent and work of Texas' own female artists.
Texas Vignette is a nonprofit created to "promote, support and connect women in the arts around Texas." Art advisor and collection manager Jessica Ingle founded the organization after noticing how underrepresented Texas-based women were in local art shows.
"We wanted to create a space to give women to exhibit," Ingle, the president of Texas Vignette, said. She described how the first Texas Vignette Art Fair came together at The Women's Museum in Fair Park in just three months after reaching out to inquire about using the space. "It was a little bit chaotic, but we were pretty amazed by the response that we got and the excitement not just by the applicants but by patrons, and so then it became clear that this was something big and something we wanted to continue doing."
Now, five years later, the art fair has seen 260 different artists submit work for the 2023 show, with around 89 pieces scheduled for display starting on November 2 with a VIP show preview and extending through two days of free admission on November 3 and 4.
Texas Vignette's board chose Dallas Contemporary Associate Curator Emily Edwards to curate this year's fair after originally working with her in the past year regarding a tour of an exhibition by Gabrielle Goliath at the museum.
As curator, Edwards explained that she also works as the show's juror in determining which of the "almost 1000 artworks" would go into this year's fair.
"I went through several rounds of the jurying process, then finally got the selections," Edwards said.
Once she made the difficult decisions regarding the show's selections, she then dived into her role as curator by grouping the works at Dallas Market Hall based on "thematic overtones" that emerged organically between the pieces.
"A lot of artists were thinking about the body, which is obviously topical with everything going on in women's rights right now. There's a grouping of setting and home, which I think is really interesting as well – thinking about the domestic space. There are works that are very overtly talking about sociopolitical topics that are very relevant, things like gun violence, climate change and indigenous rights," Edwards said, adding that some pieces were conversely simply about colors and movement as well.
Edwards highlighted works done by artists like Melanie Clemmons in "BOREAL CRUSH PACK" that use fabrics and other three-dimensional elements as well as the work of Felicia Jordan in pieces like "Atlas Shrugged and Walked Away" and "Piece of You Are Parts of Me" as some of her personal favorites in the fair indicative of the talent featured within in.
"The talent and care that went into it; it's really impressive," Edwards said of Jordan's works.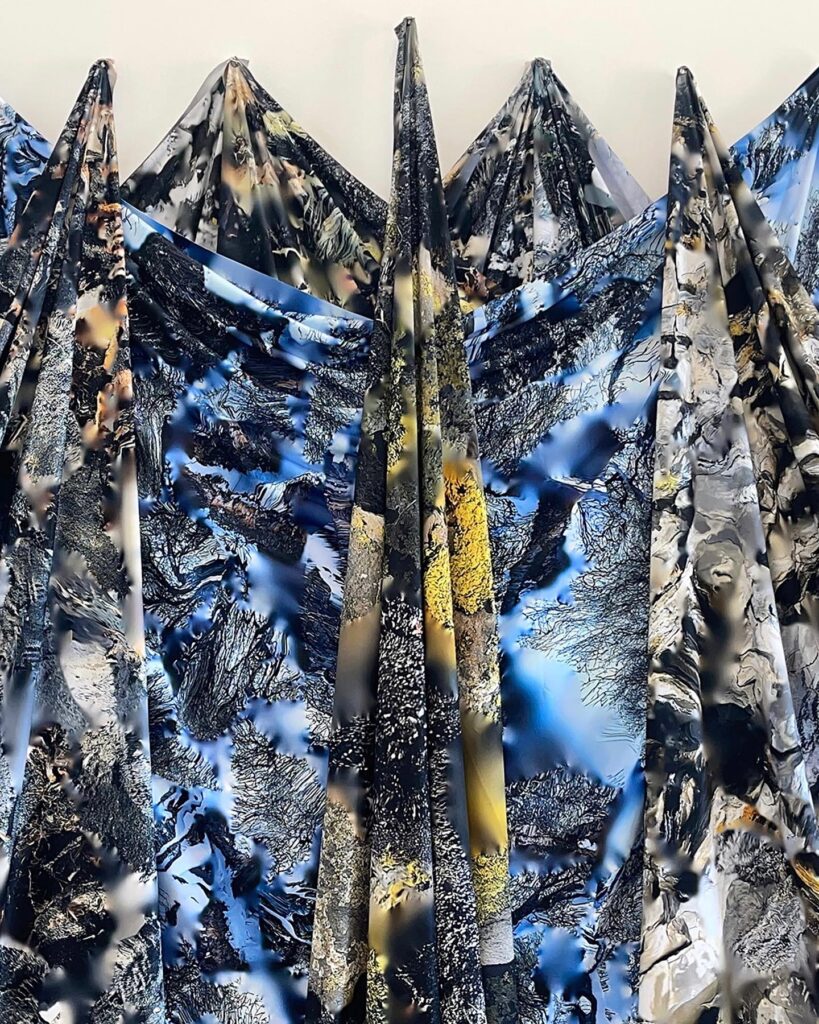 In addition to those pieces, Ingle herself highlighted performance art by Danié Gómez Ortigoza as well as returning artists like Cat Rigdon and Tina Medina, among others, as exciting elements of this year's fair.
"Some of the most established people in the art community here in DFW will come in and just be shocked at what they're seeing," Ingle said, noting that the VIP preview frequently elicits surprised reactions at the sheer quality of artistic talent right here in Texas. "Just the brilliance of some of these artists is really remarkable."
"As curator, I think the works that are included are really great at speaking to our contemporary moment of what it's like to be a woman or woman-identifying individual in today's world in Texas," Edwards said of the 2023 Texas Vignette Art Fair as a whole. "We're just such a specific experience compared to the rest of America, and I think this show and the works collectively and cohesively show how varied that can be, the good and the bad, the ugly and beautiful moments…What I hope is that women come in here, and they feel like they see a part of their story in the show."
The Texas Vignette Art Fair opens with a VIP preview from 7:00 p.m. to 9:00 p.m. on November 2. The show will then run from 11:00 a.m. to 5:00 p.m. on November 3 and 4, with free admission on both days. For more information about Texas Vignette and the fair, visit https://www.texasvignette.org/.
This interview has been edited for clarity.