Solo Stove is looking to add s'more excitement to your weekend by hosting an official Guinness World Record attempt
Find out s'more about how you can be part of an official Guinness World Record on July 22 at Chicken N Pickle in Grapevine.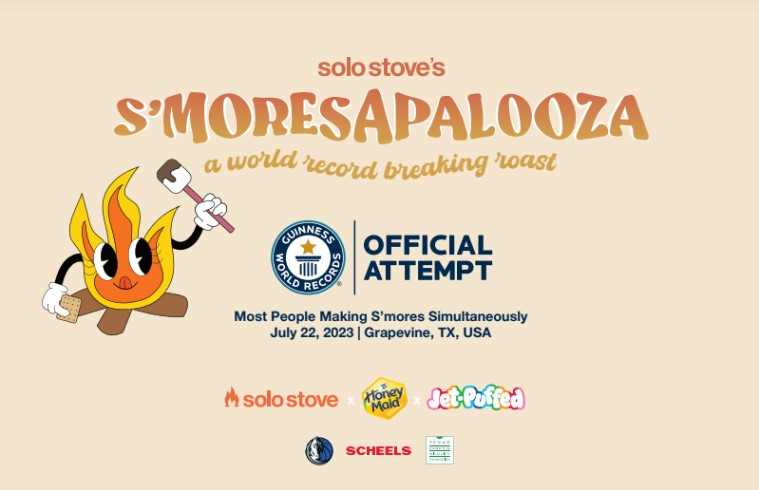 There's beauty in the simplicity of a s'more. It's a marshmallow toasted over a flame sandwiched between chocolate and two graham crackers, nothing s'more, nothing less.
That is, unless you're trying to get more than 800 people to make one of the delicious treats at the same time.
That's the challenge faced by the team at Solo Stove, a Grapevine-based fire pit and camp stove manufacturer. The company is attempting to set the official Guinness World Record for the most people making s'mores simultaneously on July 22 at its S'moresapalooza event.
Solo Stove will host the free-to-attend record attempt and accompanying celebration from 6:00 p.m. to 10:00 p.m. at Chicken N Pickle in Grapevine, with complimentary hors d'oeuvres and use of the location's pickleball courts and other games. 802 dessert-makers in total will need to be on hand and successfully creating a s'mores starting at 6:45 p.m. to topple the current record held by the Girls Scouts of Middle Tennessee.
"S'mores are important to us because we do a lot of s'mores in our fire pits – our customers do (and) we do as well," Solo Stove Director of Partnerships Tyler DiGiovanni said of the attempt, which he noted will also feature a special appearance by the Dallas Mavericks' A.J. Lawson, who recently helped lead the team to victory in the NBA Summer League.
According to DiGiovanni, an official Guinness World Record adjudicator will be on hand to monitor the attempt with the help of 25 volunteers from partner organization, Texas Parks and Wildlife Foundation.
"Each volunteer will manage 50 attempters. There's going to be 25 sections at Chicken N' Pickle with 50 different people in that section and one volunteer that is there managing that section," DiGiovanni said, describing how each volunteer will be looking for possible disqualifications to subtract from their final total of s'mores makers submitted to the adjudicator. From there, the adjudicator will determine if the record attempt was successful.
S'moresapalooza is part of Solo Stove's annual festivities for National S'mores Day on August 10. The company will be recording the record attempt and releasing footage of it to the public in celebration of what DiGiovanni calls a "national holiday" for the company.
The entire concept has been years in the making, dating back to the company's decision to go public as Solo Brands Inc. on the New York Stock Exchange in 2021 after a series of acquisitions.
DiGiovanni explained that the idea for the record originally came about as a way to celebrate the new stock listing. After acquiring the license needed to officially pursue the record, however, he noted the company struggled to line up approval from the New York Fire Department for the attempt.
Fast forward a couple of years later and Solo Stove is now looking to officially make its attempt at the record in its own hometown. The company is supplying around 500 of its Mesa tabletop firepits for the attempt, each engraved with the date, location and a message about the attempt.
"Each party gets to take home one of those etched firepits as kind of a trophy, which is a cool thing," DiGiovanni said, adding that the company will be using a gel fuel with the fire pits that attendees can cap off after the attempt for safety purposes.
Guests from Solo Stove and its official partners will be on hand at S'moresapalooza, along with about 75 Girl Scouts from Grand Prairie to help honor the past record-holders. In addition, there are also a select number of tickets available to the general public for the event, given the capacity of the event.
"It is exclusive and limited, but as it stands right now, we have the capacity to bring some more folks in if they want to come," DiGiovanni said.
Collin-Denton Spotlighter readers interested in attending can use the code SOLOSTOVEGWR after clicking "Get Tickets" on the S'moresapalooza Eventbrite page here to access free admission to S'moresapalooza. When using a mobile device, if the event says sold out, DiGiovanni noted that would-be attendees can click "details" to enter their password and access tickets.
"It's a fun event because it's free, it's exciting, it's different," DiGiovanni said.
For more information about Solo Stove or S'moresapalooza, visit https://www.solostove.com/en-us or the official Eventbrite page above.