Local Denton station 92.9 KUZU-FM is amping up the city's music scene with a new vinyl record convention
KUZU's Revolution Record Convention takes over the Patterson-Appleton Arts Center on July 22.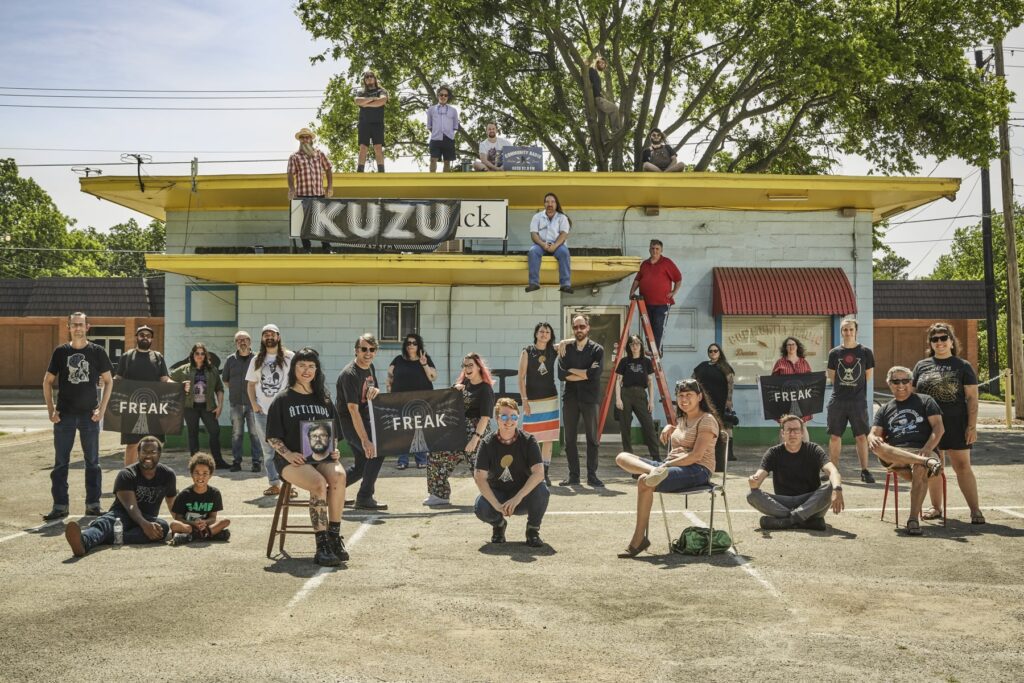 In today's age of streaming, adding a song or album to your playlist can sometimes feel like the greatest honor you could give. It's like putting your own personal stamp of approval on your favorite music that says this song or album represents part of me.
What if there was an even better way to support and show love for your favorite music though? Something you could own that would let you hold onto a piece of that great listening experience, even after the music stops.
Luckily, 92.9 KUZU-FM has you covered. It's hosting a free-to-attend vinyl record convention poised to bring your favorite music out of your phone and back into your hands. On July 22, KUZU is hosting Revolution Record Convention from 10:00 a.m. to 6:00 p.m. at Denton's Patterson-Appleton Arts Center in conjunction with Recycled Books, Records & CDs.
"It's just gonna be a full day with a showroom packed with vinyl, music memorabilia, posters, other forms of music media and a chance for everyone, no matter if you're a vinyl enthusiast or not, to come out and enjoy a day celebrating records," Peter Salisbury, co-founder and station manager of KUZU, said.
For Salisbury, the decision to create a convention was a "no-brainer" for the station. The Low-Power FM (LPFM) station takes a "freeform" approach to community radio that allows listeners to hear from a wide variety of genres curated by fellow members of the Denton community every day. He explained that the station uses vinyl records for lots of its programs as many of the local on-air talent are vinyl enthusiasts themselves.
"Being a low-power FM station, we champion that DIY Attitude and grasp and cherish the analog radio waves that we've been deemed in charge of, so what we're doing inherently is holding on to an older technology," Salisbury said. "It plays right in line, I think, for radio to be teamed up with vinyl."
The similarities don't stop there, either. Salisbury sees the convention as helping to fill a need in Denton, much like KUZU does with its unique community-centric approach to radio that highlights local tastes and talents.
"You're kind of always looking at what's missing in town or what you can improve on…so it seems like Denton should have a record convention," Salisbury said. "It's a city that touts itself as being a music city, so it's about time."
Salisbury is also helping Denton live up to that reputation by bringing together a number of music industry pros for an intriguing panel at the convention moderated by KUZU hosts Sarah Alexander and Chad Withers titled "Wax Poetic: A Conversation on the Cultural Impacts of Vinyl."
The panel will feature Grammy Award-winning recording engineer Stuart Sikes and Kessler Theater Artistic Director Jeffrey Liles, both of whom will also be sitting down for individual interview segments throughout the day to discuss their careers. It will also include NTX Vinyl owner G.I. Sanders, Gitmo Music owner and producer Keldrick LaShae Scott and Recycled Books, Records & CD's Cade Bundrick, who manages the local artists and author section at the popular store on Denton Square.
In addition to the panel and individual interviews with Sikes and Liles, there will be a conversation with artist and musician Daniel Huffman, who's pressed color vinyl for bands like the Flaming Lips.
Around all the different talks and collecting opportunities, KUZU DJs will also be spinning records of their own for live shows too.
Later that evening, the station will then kick off its sixth birthday bash at 8:00 p.m. called Revolution 6. A trio of stages filled with local music, comedy and live performances will make up the separately ticketed event.
Overall, Salisbury said he hopes the station is able to showcase the uniqueness and diversity of its music while representing the local Denton community at the "very eclectic" event. He described how he's received a great response from vendors and felt excitement from the community about the convention, which he hopes will become an annual event in the city.
"Excitement about an event like this occurring in Denton just adds to the overall joy of living in this community," Salisbury said, adding that he hopes people will come away with great finds at the convention and become inspired to embrace the vinyl format.
For more information about the Revolution Record Convention and accompanying Revolution 6 celebration later that night, check out the full schedule at https://www.kuzu.fm/revolution. Admission to the convention is free, while tickets to the Revolution 6 festivities cost $10.