The Repertory Company Theatre brings "Monty Python's Spamalot" to life at Plano's Courtyard Theater and downtown shops
A look at the hilarious quest of King Arthur and the Knights of the Round Table through downtown Plano and into the Courtyard Theater starting April 7.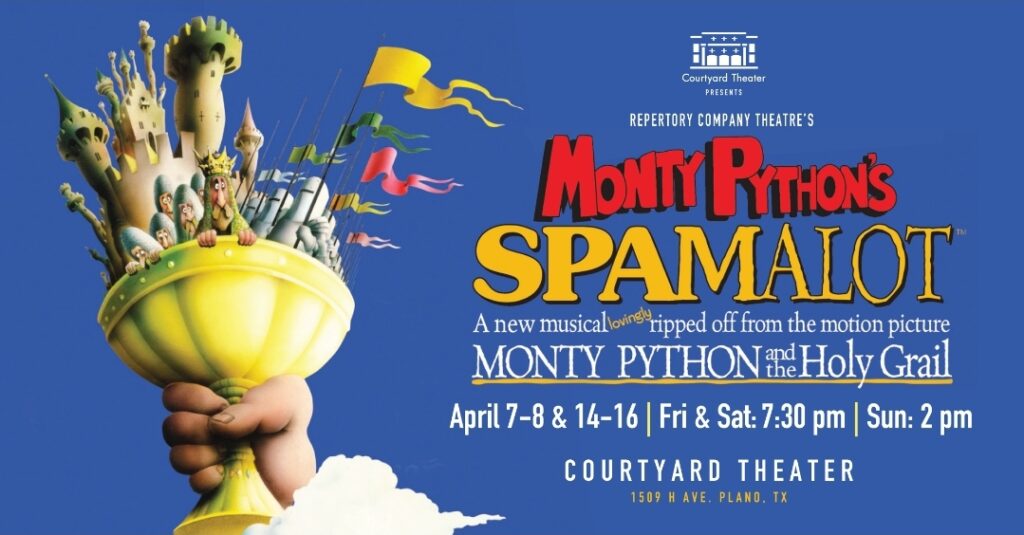 The Knights of the Round Table, led by King Arthur no less, have taken to the city streets of downtown Plano. From bakeries and bars to hair salons and pet supply stores, the quest for the Holy Grail has brought the knights through the city center in an attention-grabbing, hilarious journey on the road to the Repertory Company Theatre's (RCT) production of "Monty Python's Spamalot."
"I can't tell you how many times someone drove by and rolled down the window just yelling out lines," the show's Director and Choreographer Michelle Levall said, explaining that the leading cast of "Spamalot" went to downtown Plano to film a number of promotional videos for social media. "It was like four hours of video footage of just doing the silliest things we could think up in downtown Plano in all the different stores and all the different bars, and that was super fun."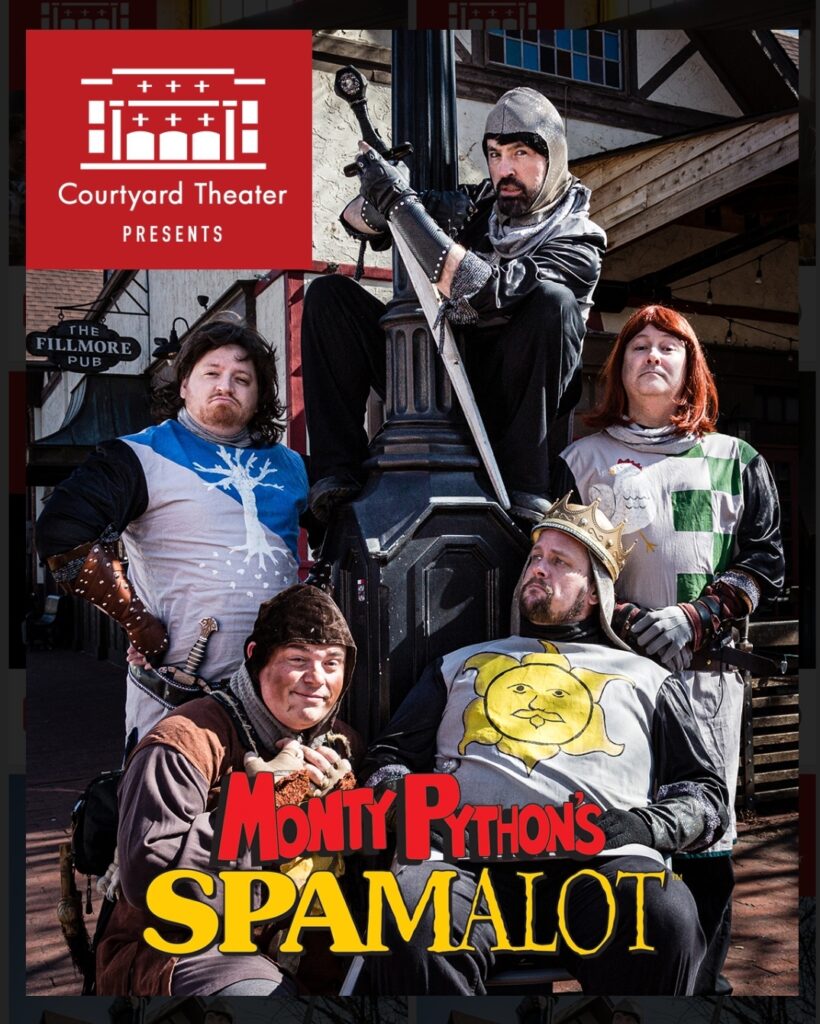 Levall is aiming for her audiences to feel that lighthearted, joyful attitude at "Spamalot" when it begins its run on April 7 at the Courtyard Theater. She's kept the show "a hundred percent as written," meaning her production faithfully adapts Eric Idle's original Spamalot script.
"It is not old. It is not dated. It doesn't need any assistance from me," Levall said of the show, noting its broad appeal and many fan-favorite jokes. "It is a perfectly done show, and we will do it as the creators intended, for this one in particular.
That means Levall's production includes the signature Monty Python humor, including some jokes which certain audiences might find offensive or edgy. Levall explained that while the production notes have options to modify certain jokes, she opted to do the show by the book.
"We're going to do it as written, and we have faith that the people that come to see the show are coming to have a good time and enjoy themselves," Levall said.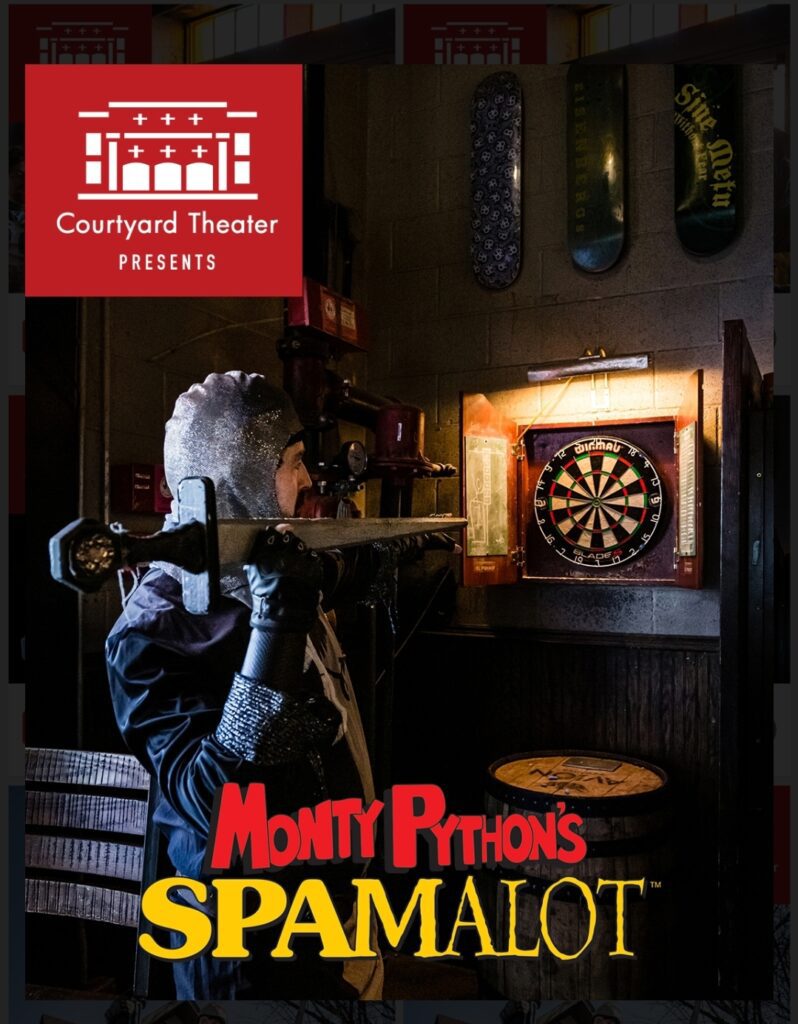 What is different for this particular production is the scale. Levall, an experienced theater director, has already put on two prior productions of "Spamalot" with the RCT. This year's production is going to be bigger and more lavish than any year's past, however, with a larger technologically advanced theater to work with and a full ensemble chorus that helps take some of the pressure off the principal cast.
"Customarily, the main knights play an assortment of characters that are fun little cameos. However, in this production, I have 20 ensemble knight men that come in, and they play our knights and our chorus," Levall said, adding that the main cast has a more streamlined list of cameos. "I just didn't have the heart of hearts to let these five principal knights change costumes and switch roles while these 20 other men stood there twiddling their thumbs."
Also new for this RCT production are the animated projections that happen throughout the show, an element which Levall said was still a trendy, developing technology back when she first directed "Spamalot."
"That is something that I'm super excited about because the Courtyard Theater has this beautiful giant projection wall and a very intense projection system, so now there's a lot of animation that happens in the show," Levall said, detailing how "Spamalot" includes a lot of animations that theater groups can rent or purchase from various artist to incorporate in their productions.
Beyond just those advances in scale and scope, Levall is looking forward to using her own experiences with the past productions and other plays she's directed to help create her best "Spamalot" yet. She singled out elements like the special effects and Black Knight as areas of "Spamalot" she's improved in her third production of the show.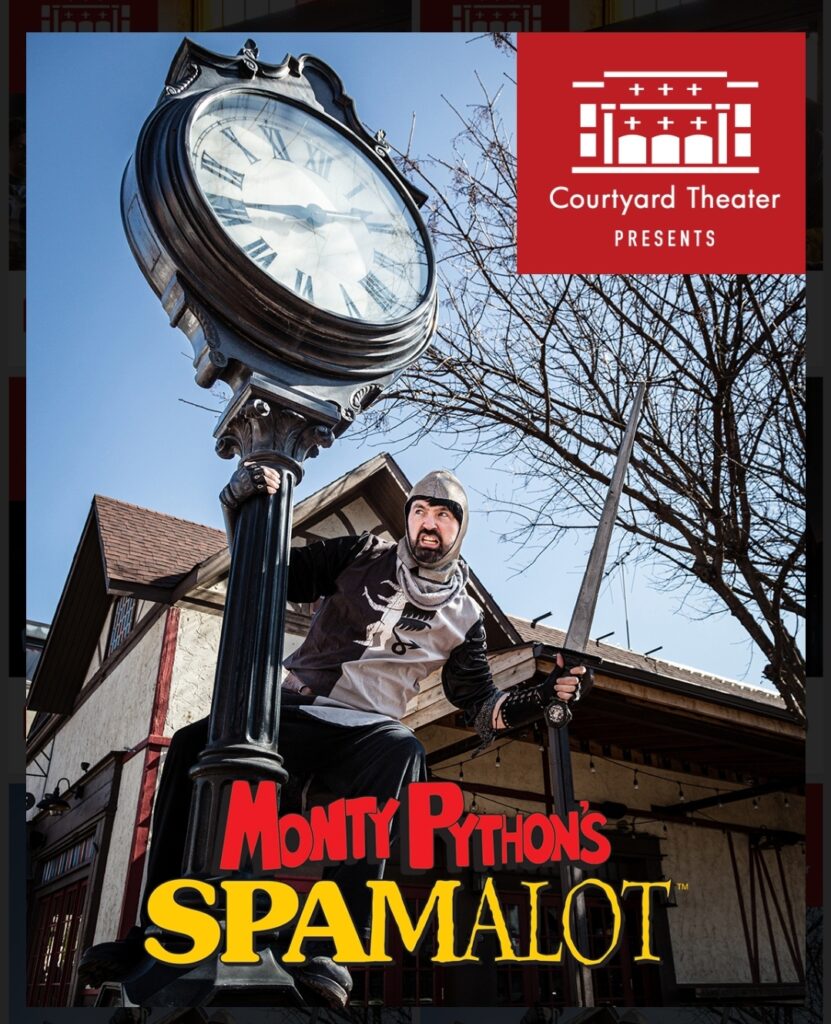 Levall also expressed excitement for working with her "funny and brilliant" cast that she feels has the comedic timing necessary to get the best laughs out of each joke. The RCT's utilization of annual auditions to create a pool of actors for each season's shows has also led Levall's cast to include some returning actors from her past "Spamalot" productions who will now have the opportunity to star in this more grandiose production.
Levall hopes the combination of all of these elements leads to a show that reminds audiences to "look on the bright side of life."
"I think I'm most excited for audiences to come out of the show feeling happy, feeling lighter," Levall said.
The Repertory Company Theatre's production of "Monty Python's Spamalot" opens on April 7 and runs through April 16 at Plano's Courtyard Theater. Tickets start at $35 for general admission, with senior tickets starting at $30. Head to https://www.rcttheatre.com/ for more information.