Watch beautiful springtime creations come alive in real time at En Plein Air Frisco
Local residents will have a chance to see springtime artwork created before their eyes at En Plein Air Frisco from April 13-15.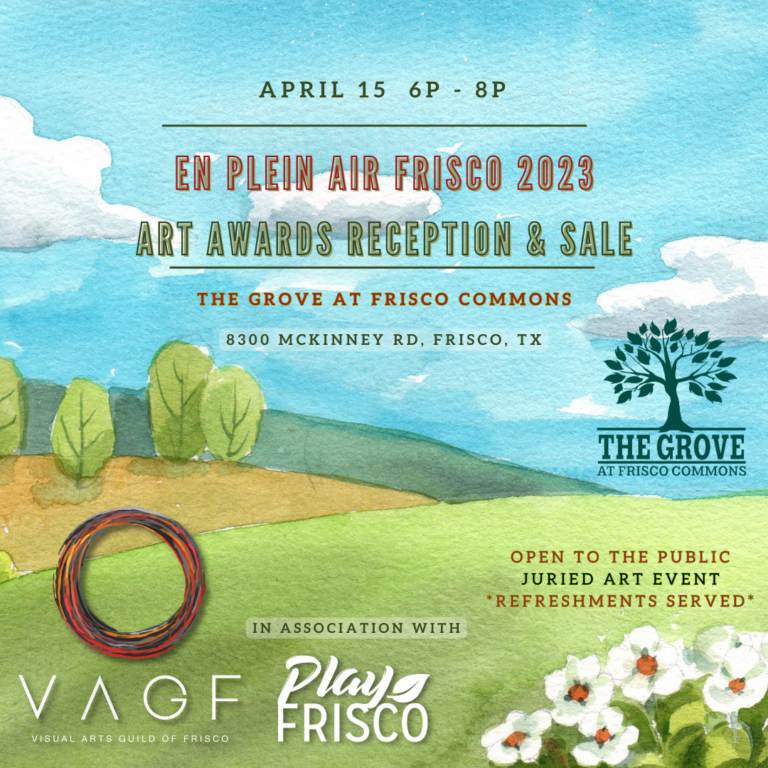 Picture a bright sunny day in the park. Ducks are quacking in the pond, and blooming flowers wave in the gentle spring breeze. A couple sets up a picnic along a trail, while children laugh and play games at the local playground.
It's a scenic visual. In fact, it's just the kind of backdrop that the artists at En Plein Air Frisco will be ready and eager to capture on canvas.
En Plein Air Frisco is a three-day juried art competition and event hosted by the Visual Arts Guild of Frisco (VAGF) in partnership with Play Frisco. This first-time event invites select artists of different skill levels to create and complete full works of art "en plein air" or in the open outside around the city on April 13-15 at three scenic parks: Frisco Commons Park, Freedom Meadow at Warren Park and the Frisco Heritage Museum and historic park.
"The public is welcome to come out and talk with the artists as they are painting and engage with them," VAGF Director of Finance Jennifer Luney said, explaining that the general public will be able to watch the artists work up close, ask questions and even go as far as to set up their own easels to create alongside them if they wanted.
"If the public is interested in engaging with the artists, most artists would welcome that," VAGF Vice President Kalika Antao said, adding that artists look for opportunities to share their creative process and gain visibility for their work.
"Part of our mission is also to cultivate public appreciation for the visual arts, so connecting the community with art and hopefully inspiring them to pick up a pen or a palette at some point," Luney said.
The artists themselves will have a similar level of freedom to find inspiration during the event too. The artists, who can use about any two-dimensional medium they desire, will be free to move between parks throughout the day to create their work. They can even move to other areas in the city if they want.
It's all part of the event organizers' efforts to create a unique, creative opportunity for the attending artists to showcase and develop their abilities.
"Painting outdoors really allows the artist to hone in on their skills and really look at the colors outdoors in nature…and learn to produce them with their paints," Antao said.
She described how En Plein Air Frisco artists will have the chance to be at the city parks during what artists call the golden hour, a time frame specifically valued for its distinctively beautiful colors and lighting.
"A lot of artists will do studies and quick paintings outdoors just to capture the light," Antao said, noting that the small, portable nature of en plein air pieces mean that artists often use them as references for larger, in-studio creations.
She believes the nature of these pieces means that many artists will opt to create multiple pieces throughout the event. En Plein Air Frisco organizers will collect the completed pieces at the different parks each day so they can display them for judging and sale at The Grove at Frisco Commons.
"All three days will be open for the public to view and shop and take pictures," Luney said of the gallery that the event will create at The Grove at Frisco Commons. 85% of the revenue from each piece sold during the event goes directly back to the artist, with the artwork staying in the gallery for judging and a free reception on April 15.
The reception will include live music, snacks and an opportunity to view and purchase all of the artwork created.
En Plein Air Frisco Juror Cathy Cotter-Smith, an award-winning artist and adjunct art professor at Collin College, will choose the best work created on each day of the competition in addition to picking winners for overall prizes at the reception too.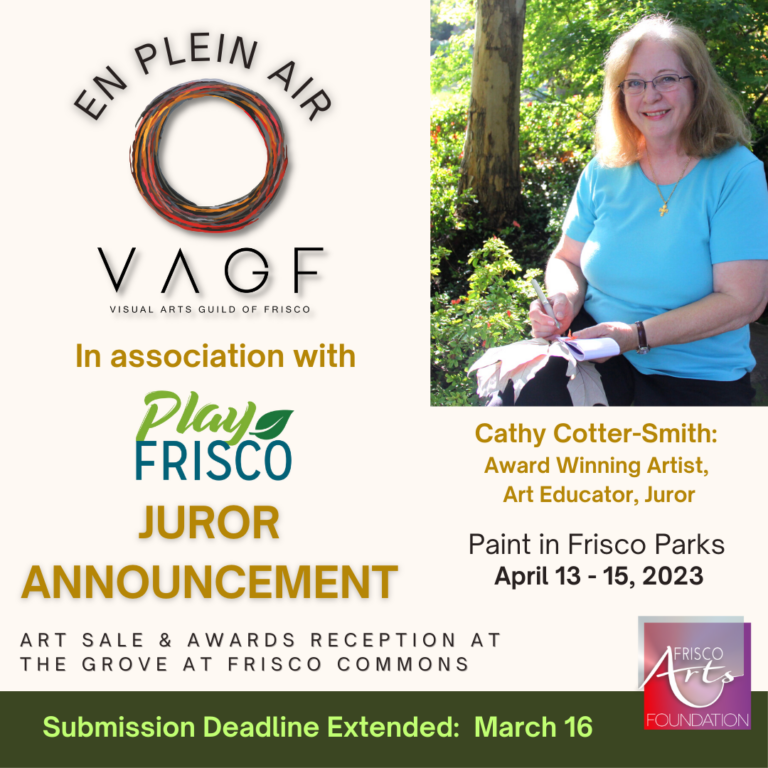 "These are cash prize awards, not just ribbons," Luney said, detailing how the awards will come from entry fees and donations.
On top of that, Cotter-Smith will judge a special additional "quick draw" or "wet paint competition" for participating artists that will take place on the third day of En Plein Air Frisco. The competition only gives artists two hours to fully complete a piece and have it prepared for judging.
Frisco Chief of Police David Shilson will also participate as a juror, handing out an award and prize for the event's "Art That Speaks to Me" competition during the reception. Shilson will pick the piece which spoke to him the most, a task which Luney referred to as the most difficult judging to complete given the sheer number of works that will be eligible for the award.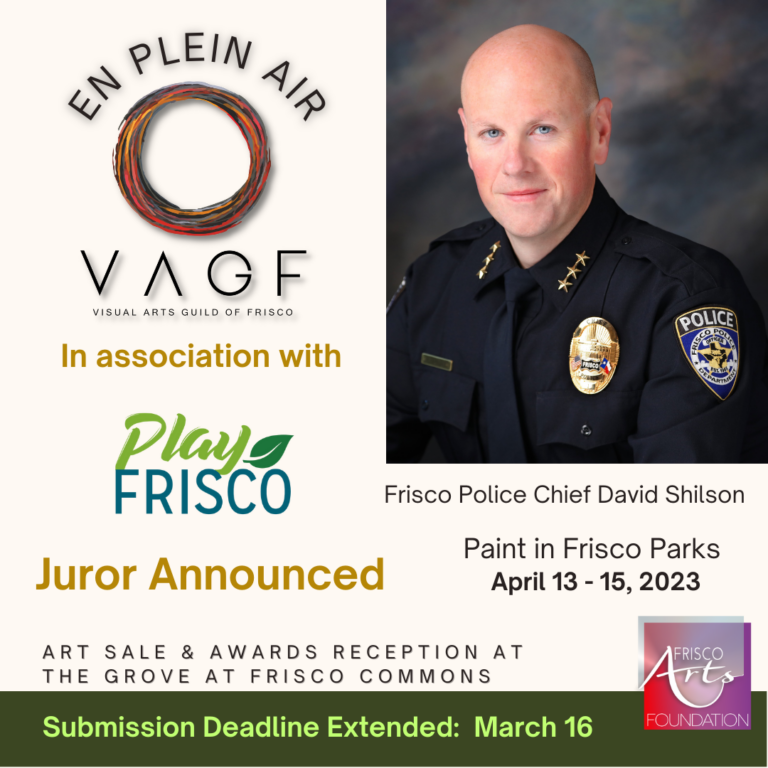 Overall, Luney and Antao both spoke of their hopes that the first year of En Plein Air Frisco is a rewarding, fun and valuable experience for both artists and the public alike.
"I want my artists to have fun. I'm looking forward to looking at all the different art that's going to be produced and looking forward to having this event go well and smoothly," Antao said.
The En Plein Air Frisco competition runs from April 13-15, with completed works on display each day at The Grove at Frisco Commons. From 6:00 p.m. to 8:00 p.m. on April 15, The Grove at Frisco Commons will host a free reception and award ceremony with all of the completed artwork. Head to the Visual Arts Guild of Frisco's event page for more information.