NTX Giving Day Spotlight: OurCalling is taking an individualized approach to homelessness in Dallas
How OurCalling is bringing dignity and respect to it homeless outreach efforts.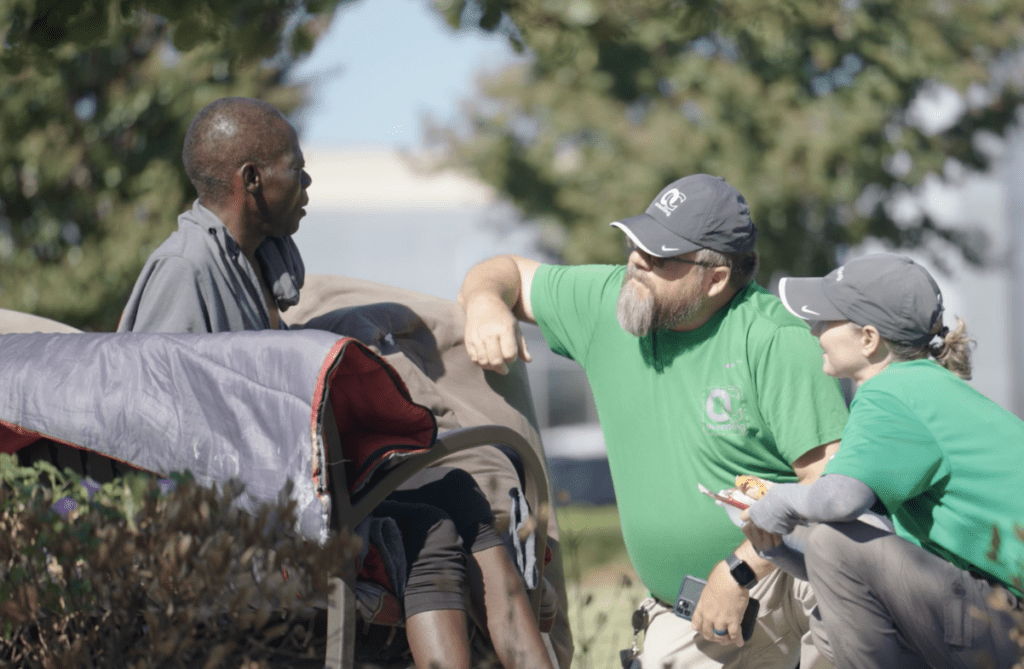 From 2014 to 2022, Dallas has seen a more than 500% increase in unsheltered homelessness, according to the recently released results of the Homelessness, Organizations, Policies, and Encampments (HOPE) Task Force report to Dallas Mayor Eric Johnson. The HOPE task force found that more than 1,300 people were homeless and unsheltered last year, up from 242 in 2014. Out of those individuals, 310 sadly lost their lives last year.
Those stark statistics put the work of organizations like OurCalling into greater focus. The faith-based Dallas nonprofit has taken an innovative, individualized approach to tackling homelessness.
"As of the end of September, we have helped 1,017 individuals off the street," OurCalling Senior Manager of Communications Ali Hendricksen said. For OurCalling, that can mean anything from helping someone find shelter or placing them into a housing program to getting someone into rehab or a specialized program.
The realization that no one solution to homelessness will be right for everyone is a key driving force behind OurCalling's efforts.
"I think one thing we've realized is that there's not a cookie-cutter solution to getting someone off the street because obviously, everyone's story is different," Hendricksen said. Instead, the organization emphasizes relationship-building and respect in its outreach.
"Something we talk about every day at OurCalling is our homeless friends are our friends. They are our neighbors," Hendricksen said, singling out how caring with dignity is a cornerstone belief for OurCalling. "They have a lot of the same stories that you and I do. They just grew up in a normal town – grew up in Dallas – and this one incident occurred that left them homeless, and so we don't look down on our neighbors or our friends. We care with dignity. We give them the dignity that they deserve."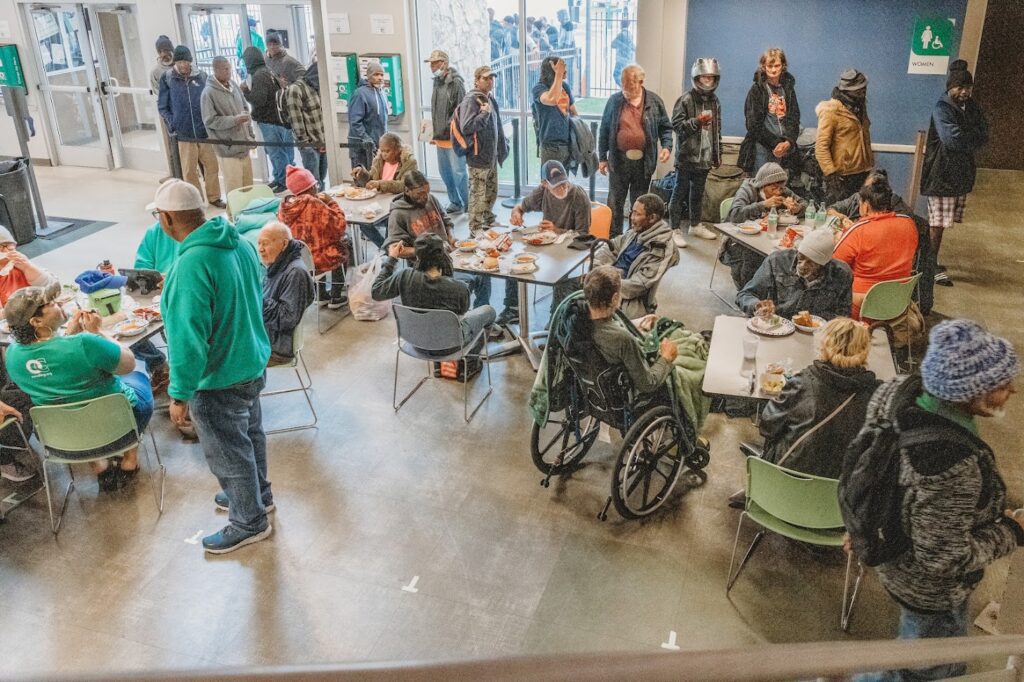 OurCalling's outreach efforts match the individualized approach the organization uses when providing care, taking the form of a facility that provides shelter and meals during the day to around 300 nearby people to "search-and-rescue" outreach teams that drive out to places off the beaten path to begin building relationships that could help get others off the streets.
"They specifically are going into places that you and I have never seen before," Hendricksen said of the OurCalling members on the Search-and-Rescue teams that drive to far-flung corners of Dallas in the nonprofit's signature green vans looking to help individuals start the process of ending their homelessness. She described how the team will look into forested areas, behind convenience stores and into abandoned buildings if needed to start building a connection. "We just go to all the places that you and I would overlook because we're driving down the street, but those are where our homeless friends are, so it's important that we're going to them and meeting them right where they are to help them."
The search-and-rescue team's outreach includes a Christian faith-based approach to broaching the topic of getting off the street.
"We really do believe that Christ can solve a lot of your problems, especially when you're homeless and you might be dealing with loneliness, a lack of community (or) addiction. We as Christians believe that the Bible and the gospel can solve a lot of that, (but) in no way do you have to be a Christian to come to OurCalling and receive our services," Hendricksen said, adding that the policy extends to volunteers.
Overall, Hendricksen said that OurCalling is looking to expand its search-and-rescue teams in the coming years in order to expand its services to match the steep needs of Dallas.
"Right now, we have three minivans and six individuals that are going out on the street, but we need more. We need people on all ends of the city of Dallas talking and working with our homeless friends," Hendricksen said.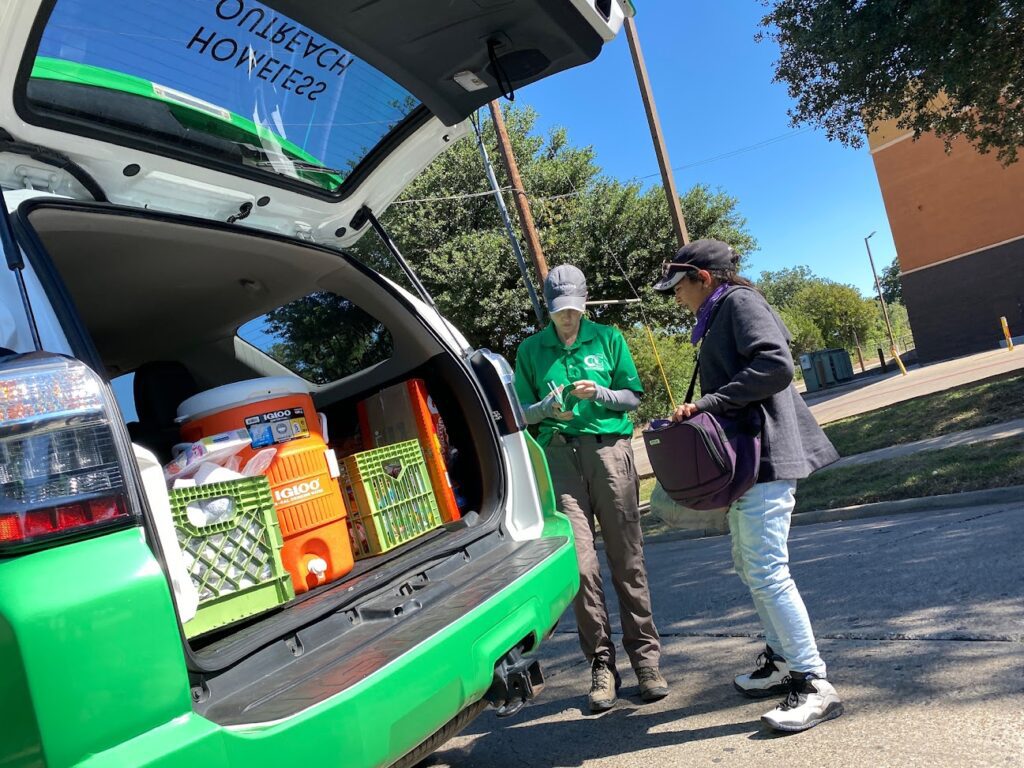 For North Texas Giving Day this year, the organization is accepting donations for a general fundraiser aimed at benefiting the entirety of its services, however.
The nonprofit has already secured $100,000 in matching donations this year, meaning that a donor has matched each individual donation dollar-for-dollar up to that amount.
OurCalling has also received support from Kershaw's Challenge, the charitable organization founded by Los Angeles Dodgers pitcher and Dallas native Clayton Kershaw with his wife, Ellen. Kershaw's Challenge named OurCalling as a 2023 beneficiary as it looks to provide funds to help OurCalling get 120 families off of the streets.
The latest statistics from Dallas homeless organization Housing Forward's annual State of Homelessness shows a 15% increase in family and youth homelessness, even as some of the overall sheltered and unsheltered statistics have finally begun to show signs of improvement.
OurCalling noticed that increase firsthand and raised money during last year's North Texas Giving Day to support the conversion of one of its spaces in its women's center into a family safe space. The space allows OurCalling's staff to help provide families who come to the shelter with specific care and find out their needs.
"We really just want them to be in their own safe place while they're here," Hendricksen said.
It's just another specialized component of OurCalling that shows how the nonprofit's personalized care can be the key to helping people off the streets.
To learn more about OurCalling and donate to its North Texas Giving Day drive, visit ourcalling.org/ntx.