NTX Giving Day Spotlight: House of Shine is helping people find their shine in Grapevine
Inside House of Shine, a Grapevine-based nonprofit looking to empower people through self-discovery.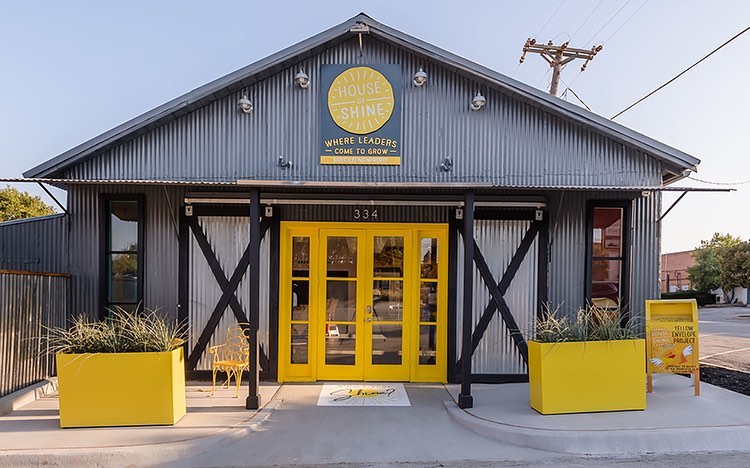 Katherine Behning still remembers the first time she met House of Shine founder Claudia Beeny more than a decade ago.
"I was one of those students that grew up severely dyslexic," Behning said. As a first-generation college student as well, she found herself struggling with insecurities. That's when a mutual friend suggested she meet Beeny back in 2012.
"I told her my whole tale of woe (that) I'm lost; I don't know what to do with my life, the whole thing. She just looked at me, and she smiled. She was like, 'I don't want to talk about what's wrong with you. I want to talk about what's right with you,'" Behning said of that first conversation. "It blew my mind, and it was this whole different concept of how people approach self-development."
Fast forward to today, Behning is now the director of development at House of Shine, a space founded by Beeny dedicated to teaching others that same concept of self-worth and value.
"If you meet most of our staff, the reason that they're here is because this message has directly impacted their lives," Behning said.
House of Shine delivers that message through what it refers to as its self-discovery museum in Grapevine. The museum has interactive exhibits designed to help teach visitors about how they relate to the organization's SHINE framework, an acronym that stands for Strengths, Hobbies, Interests and Irritants, Needs and Experiences.
Behning explained that House of Shine designed each element of the museum to help guests connect with their inner selves and subsequently learn how to express their unique talents and gifts in their daily lives. She described House of Shine's approach as "preventative" to various mental health-related struggles by getting people in touch with the best parts of themselves so that they can hopefully avoid future struggles.
"Instead of tackling a problem that's already happened, the work we're doing is at the foundational level to (try to) negate the problem from ever happening in the first place," Behning said.
The museum's activities are inviting, brightly colored interactive exhibits that help you start to think deeper about yourself in a positive light. For example, Behning detailed how the museum opens with a series of benches representing each of the letters in the SHINE acronym. Each bench takes you through the acronym with a different activity, like a fishing-themed activity designed to help you think more about the hobbies that bring you joy.
Beyond the museum exhibits, House of Shine also includes space for its many educational programs for both children and adults. Programs range from DIY craft-and-share activities for kids to monthly women's workshops called Rise and Shine.
No matter the activity, exhibit or event, Behning said, "every element of what we do is education based," noting that Beeny's background is in higher education.
House of Shine's programming has resonated with educators on a personal level as well. Behning shared a story of how a group of Houston-based elementary teachers found the experience at the museum so fulfilling and inspiring that they wanted to try to bring it back to their school and community.
It's no surprise then that House of Shine has begun teaching others how to implement its programming in schools and other community groups, which Behning views as one of House of Shine's long-term goals.
"Every community deserves to have this at their disposal, and wouldn't the world be a greater and happier place if everybody had a little bit more shine?" Behning said.
In the short term, House of Shine is looking to raise funds to support expanding their space in Grapevine in order to provide more programming for the local community. The organization's North Texas Giving Day fundraising page referred to programs specific to the "Spanish-speaking community, hearing-and-seeing impaired, autistic and neurodivergent" communities as expansion areas.
"We always say at our core, we're community obsessed," Behning said of House of Shine's Grapevine location. "We believe that knowledge of self, but also community mindedness, are really what change the world and change the person."
For more information about House of Shine, visit https://www.houseofshine.com/ or its North Texas Giving Day page.
This interview has been edited for clarity.