The National Soccer Hall of Fame in Frisco is redefining the hall of fame experience
The National Soccer Hall of Fame uses innovative technological advancements to tell the story of the game.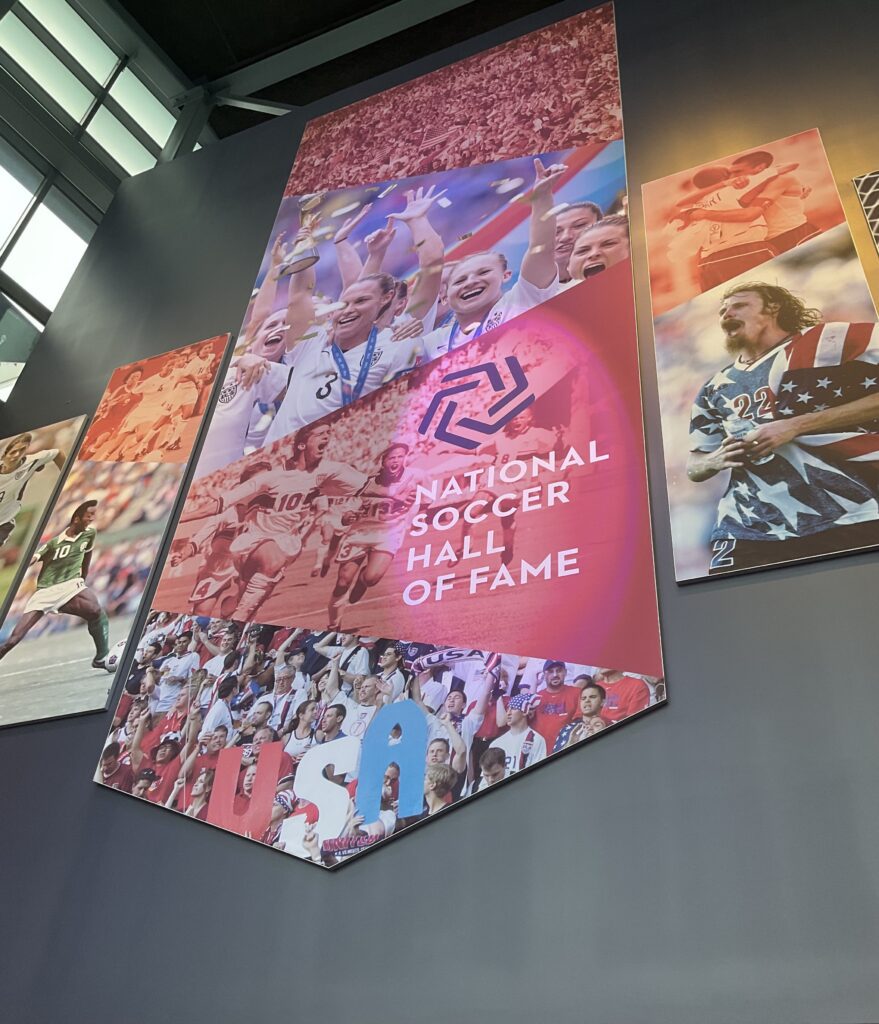 (Frisco, Texas) – The National Soccer Hall of Fame (NSHOF) in Frisco doesn't just recognize some of the greatest players to ever represent the United States in competition; it also recognizes you.
Thanks to advanced facial recognition technology and a host of interactive features, the NSHOF delivers a customized experience for each guest to engage with the history of U.S. soccer on their terms. Considering the spotlight that the U.S. men's team has received from fans around the country through their recent World Cup run, that history has seemed more relevant now than ever in recent weeks.
The NSHOF utilizes its innovative technological advancements to provide a fun and exciting way to engage and learn more about the game and its rich history for both casual fans, such as those whose national pride attracted them to the sport during the World Cup, as well as dedicated followers of the sport alike.
"I think that's what's cool about this building is, you know, you don't have to be a diehard fan to enjoy it," National Soccer Hall of Fame Executive Director Djorn Buchholz said.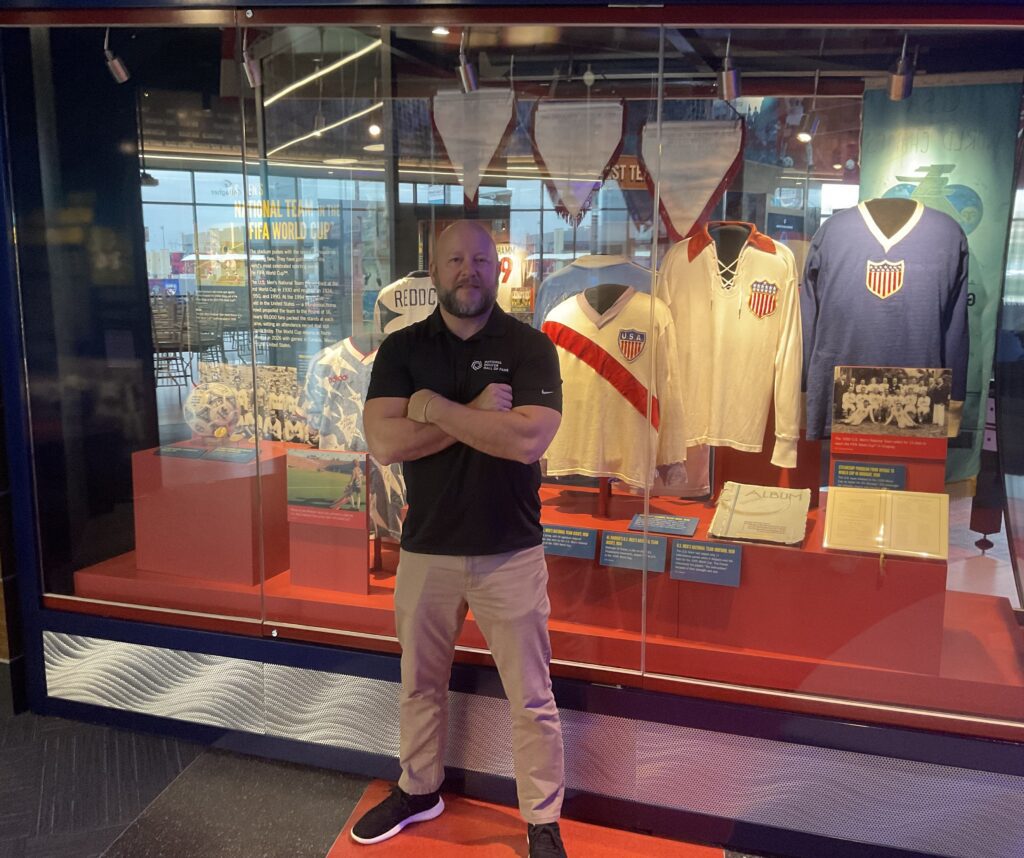 In fact, each guest's level of fandom is actually one of the many data points the museum collects from visitors before they officially enter the hall. By creating a short profile and taking a quick selfie using one of the hall's digital kiosks, the NSHOF is able to keep track of each individual's home state, favorite team, position and experience level with the sport as they visit a variety of exhibits and attractions.
The hall uses that information to help craft custom experiences like a digital display showcasing select hall inductees who match each guest's background. It also uses guest's selfie to scan them into VR games led by some of the most famed players enshrined within and digitally insert them into famous scenes from soccer history.
Buchholz describes these unique features as what differentiates the visitor experience from other similar sports halls around the country in places like Canton and Cooperstown.
"Museums are great, but that's not necessarily what we wanted to be," Buchholz said, explaining the decision to infuse the hall with an array of tech-forward exhibits prior to the completion of its construction as an addition to FC Dallas' home in Toyota Stadium. "I mean sure, we've got over 400 artifacts that tell the history of the game, but we wanted to be much different, right?"
Buchholz notes that the NSHOF refers to itself as an experience rather than a museum to drive home that distinction. An experience which Buchholz not only demonstrated himself but let The Collin-Denton Spotlighter try firsthand.
Starting with the interactive elements, the variety within the VR games immediately stands out. Visitors can practice juggling the ball, hitting headers and taking penalty kicks in designated areas in the hall while competing with their fellow guests for high scores tracked on a virtual leaderboard.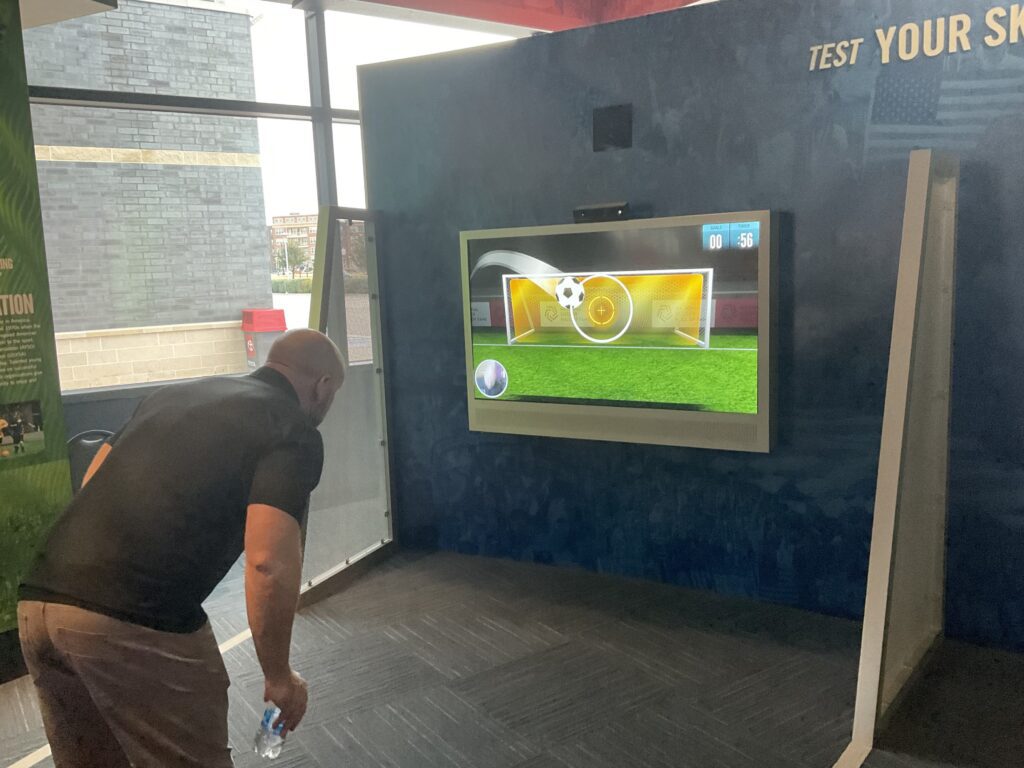 Additionally, VR headsets are employed for an immersive goalkeeping experience that lets visitors relieve major saves in national men's and women's World Cup history as well as try their hand at blocking free kicks.
Each of the games has remarkably responsive input and the direction from hall of fame inductees adds a nice touch that helps differentiate them from typical party game fair. There's also a certain sense of pride in finishing atop the leaderboard, something which the museum shares with guests through email to give some more long-lasting bragging rights.
Of course, even for a hall of fame as technologically advanced as the NSHOF, there still needs to be a fair share of artifacts and items that help tell the sport's rich history.
The NSHOF scores another goal in this respect with a selection of impressive memorabilia, from the U.S. Women's National Team's World Cup trophies to jerseys and game balls from important matches and players. Much of the hall's memorabilia is arranged in a way that lets visitors follow the development of the sport in the United States chronologically, starting with items from the turn of the 20th century and extending to the most recent hall of fame inductees and beyond.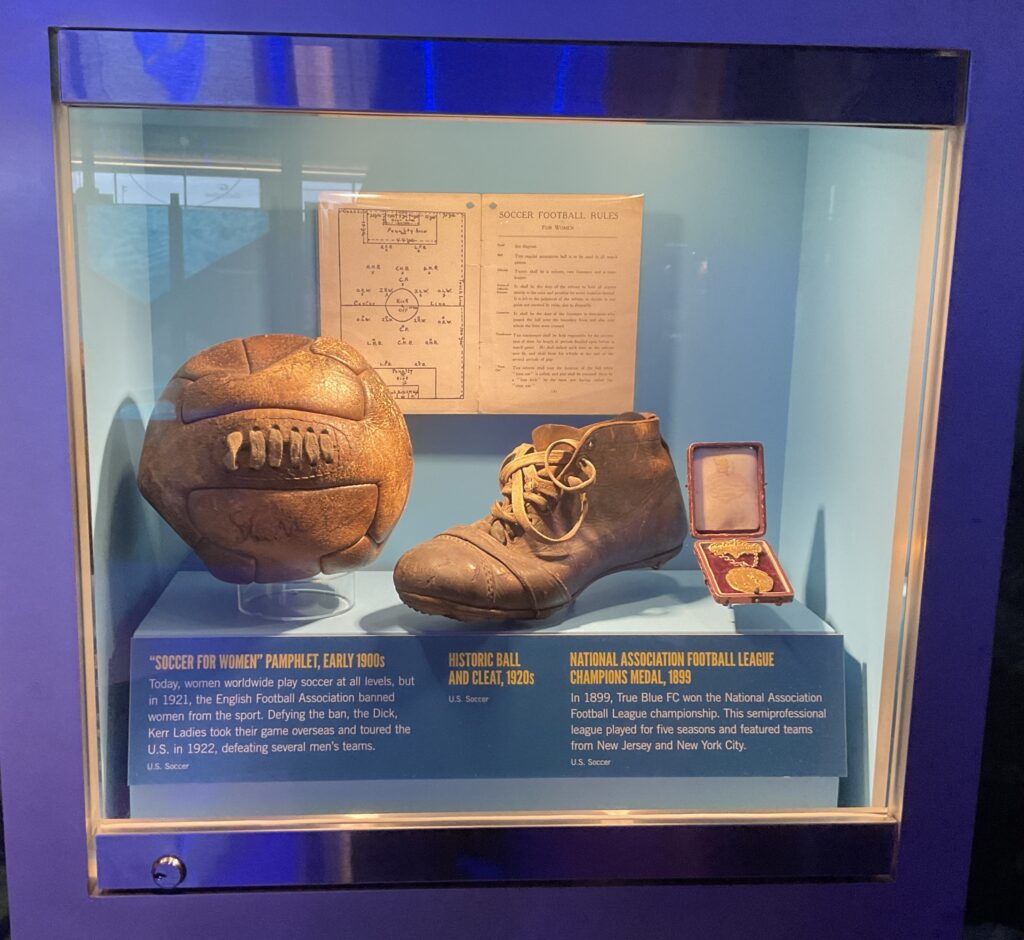 Speaking of those recent inductees, the NSHOF has already begun announcing the 2023 hall of fame class with work already underway to prepare the museum and Toyota Stadium for the upcoming induction ceremony.
"We'll have the induction ceremony as kind of an all-day event on May 6 followed by an FC Dallas match that night and fireworks," Buchholz said.
He notes that the NSHOF, upon opening in Frisco in 2018, has worked to differentiate the new inductee process from the previous standard under its original management and location in Oneonta, New York which closed in 2010.
"When we reopened the hall of fame in 2018, I think the new inductees used to just like get a phone call or something to say, "hey you're in" and I was like "God, we need to change the game and bring more attention,'" Buchholz said.
Buchholz explained that, since the reopening in 2018, the NSHOF has begun to inform its newest inductees of their selection in more creative and exciting ways. This year, the hall had 2022 inductee Clint Dempsey make a surprise appearance during a live World Cup broadcast to tell legendary players-turned-commentators Landon Donovan and DaMarcus Beasley of their induction.
Similar surprise reveals have occurred for the induction announcements of fellow new inductees Lauren Cheney Holiday and Jill Ellis.
The hall is also already planning for memorabilia displays at the museum, such as the one up for the recent 2022 induction class, to honor the new hall of famers.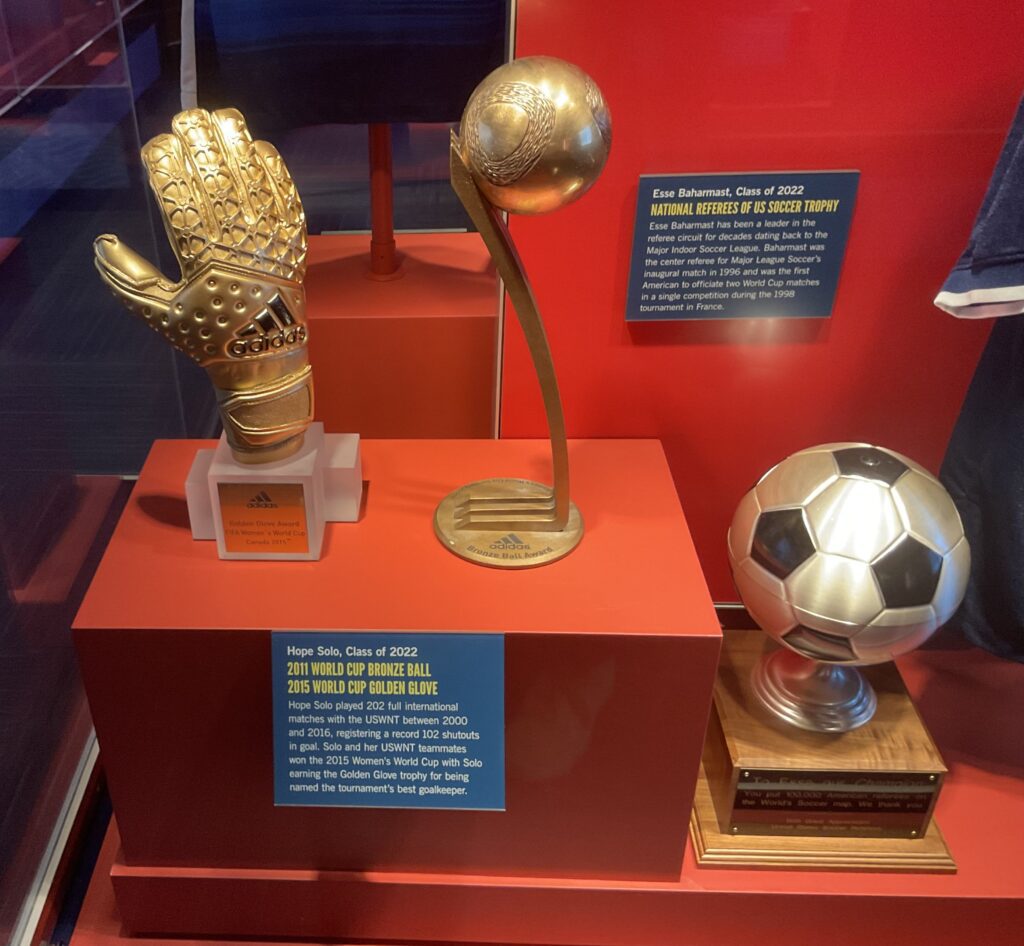 Buchholz also explains that he's planning on gathering some material from this year's world cup, having already sent in a "wish list" of items to US Soccer like Christian Pulisic's shoe and jersey, even as eyes already begin to shift towards the 2026 World Cup which will play key games at AT&T Stadium in Arlington.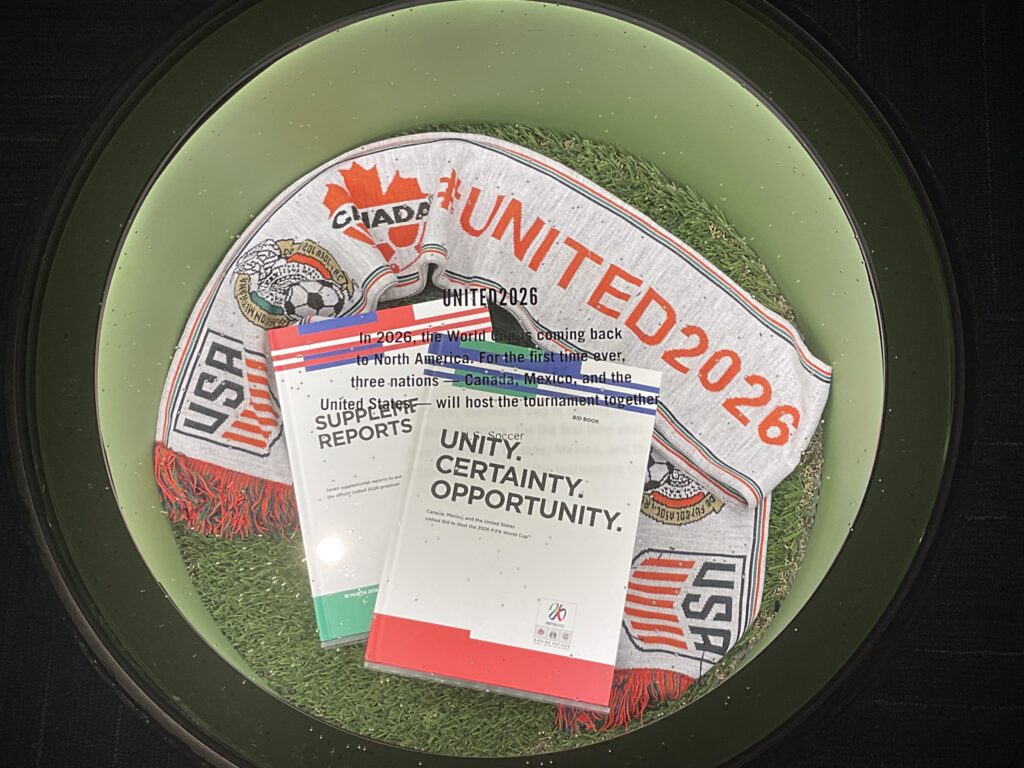 It's just another way that the NSHOF continues to be on the cutting edge of evolving the hall of fame experience in ways that create a unique and enjoyable experience for visitors.