Interview: Marine Corps Veteran Ronnie D. Foster details Veterans Memorial Park in McKinney time capsule
Marine Corps veteran, author and musician Ronnie D. Foster explains some of the extraordinary items going into the time capsule.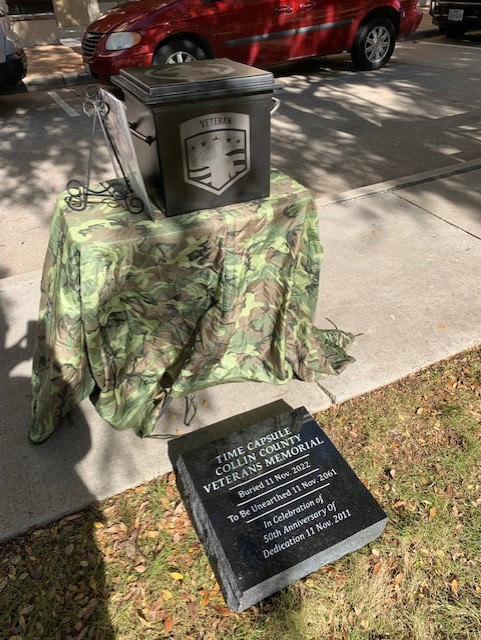 It's 1969. The United States is in the midst of the Vietnam War. An ammo dump explodes in Da Nang. A Marine Corps unit guards the now evacuated area from a bunker in case of attack. Hot shrapnel rains to the ground below. One piece of that shrapnel lands just inches from Marine Corps Corporal Ronnie D. Foster of McKinney and sticks into the side of a sandbag. Once the shrapnel cools, Foster puts it in his pocket.
It's 2022. Foster still has that same piece of shrapnel. This time, instead of landing in a sandbag, that shrapnel is landing in a time capsule. In fact, it's just one of more than 140 items donated by veterans and their families from across Collin County that no one will be able to see again for nearly 40 years.
That is, except for this week.
From service medals and ribbons to challenge coins and uniform patches, the Collin County History Museum is displaying the time capsule's contents through December 10. After they're buried in the capsule at Veterans Memorial Park in McKinney on December 17, Collin County residents won't be able to see those items again until November 11, 2061.
That date marks the 50th anniversary of the park's Wall of Honor dedication. It's a grand honor for any memorial, but also for the man who was instrumental in ensuring that Collin County never forgets the names of those engraved upon it.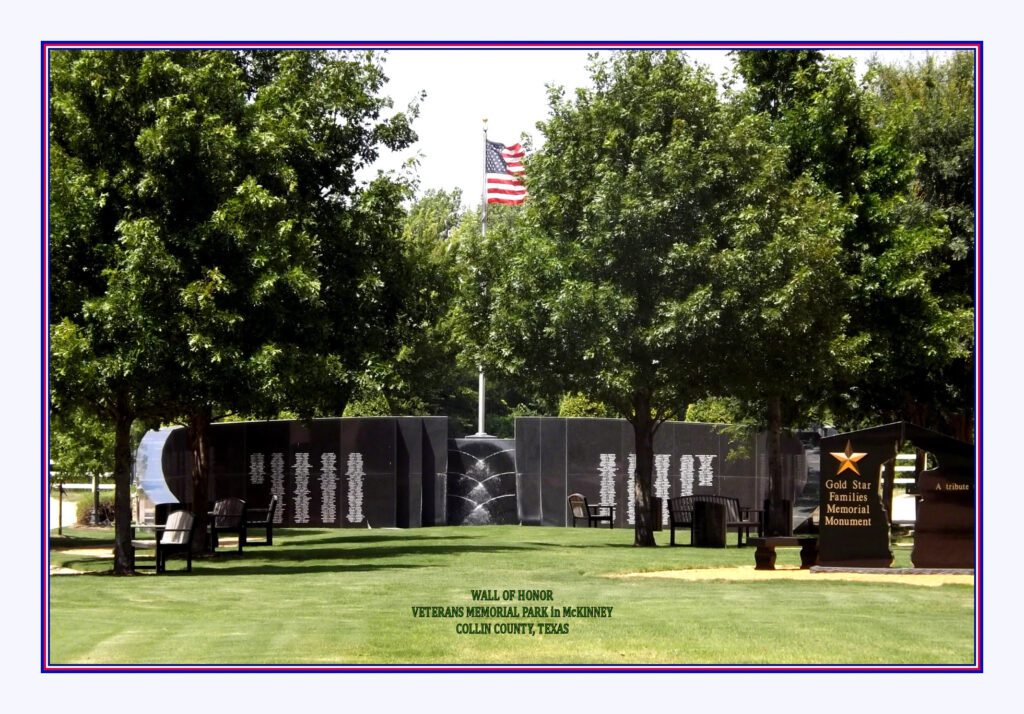 The veteran's memorial and time capsule are the brainchild of Marine Corporal Ronnie D. "RD" Foster who served in Vietnam from 1966 through 1969. In the mid-2000's, Foster spearheaded a grassroots movement and fundraising campaign to honor the Collin County residents who died during military service or as the result of wounds suffered during that service.
That campaign, which Foster details in the remarkably well-researched new book in his Collin County Freedom Fighters series titled The Wall of Honor, led to the wall's construction in 2011. Foster has continued advocating for Collin County veterans since, heading up the McKinney Armed Services Memorial Board where the idea for the time capsule first emerged at one of its recent summer meetings.
"I thought, well if we gathered a bunch of stuff from around this time period and back, then in 40 years it ought to be pretty exciting to the people that are opening it," Foster said.
Donations quickly poured in after the announcement of the time capsule with many incredible items finding their way to Foster.
"I got a tremendous amount of response and within three weeks, we had enough stuff to fill it," Foster said.
Some of the highlights include the shrapnel which almost struck Foster himself as well as shrapnel from an IED explosion in Iraq donated by James Bishop of the US Army. The capsule includes items dating back all the way to the Civil War and World War I up through more recent military operations in Iraq and Afghanistan, the majority of which are from local veterans.
Some of the most emotionally charged keepsakes going into the time capsule are those from veterans who died during their service, including a dog tag from Foster's best friend, Marine Corporal Charles William "Bill" Bryan. The U.S. awarded Bryan the Navy Cross after he died in action attempting to save the lives of his recon team in Vietnam, according to Foster's newest book.
"When I joined the Marine Corps in 1966 right out of high school, my best friend, Bill Bryan, joined with me and we went to Vietnam and he was killed in Vietnam," Foster said, describing the dog tags as his most precious item going into the capsule. "His widow, who we went to high school with, was a real good friend of mine also. She sent me one of his dog tags and that was really something."
Foster also received the rank epaulette, an ornamental shoulder piece used to signify rank, from Lieutenant Russell A. Steindam, who died on duty in Vietnam after diving on a hand grenade to save the lives of his platoon and subsequently received the Medal of Honor as a result, to add to the time capsule. Steindam's name now adorns the Collin County Courthouse and a local park in Plano to honor that sacrifice which has been highlighted by both Foster's book and local government officials in their naming decision.
Furthermore, Foster says the capsule's contents also include the white cover, a kind of military cap, from Thomas Wayne "Tommy" Harris of the US Navy who died in 1967.
With the inclusion of extraordinary items like these, many of which hold such emotional significance, Foster has once again helped ensure that Collin County remembers its veterans for years to come, even when it's 2061.