Maskaras Mexican Grill is bringing authentic food and culture from Guadalajara to Dallas
Trying out tacos ahogados at this lucha libre-themed gem in Dallas.
This article originally appeared in the North Texas e-News.
Dallas, Texas — Rodolfo Jimenez may be a former model and TV star, but it's clear that his love and passion for serving up his mother's delicious recipes is no act.
Jimenez, who's starred on shows for stations like Univision, Telemundo and NBC, is the owner of Maskaras Mexican Grill in Dallas' Oak Cliff neighborhood with his wife Zulma Hernandez, a former beauty queen herself. The restaurant is home to the kind of authentic recipes from Guadalajara that his family grew up with.
"What I did is I just started to remember how my mom used to cook for us," Jimenez said, explaining that he vividly remembers the love his mother showed through her cooking and uses those memories to inspire his own cooking today. "I just go back in time to one of those moments in my house and I will reproduce exactly how she would cook these for us."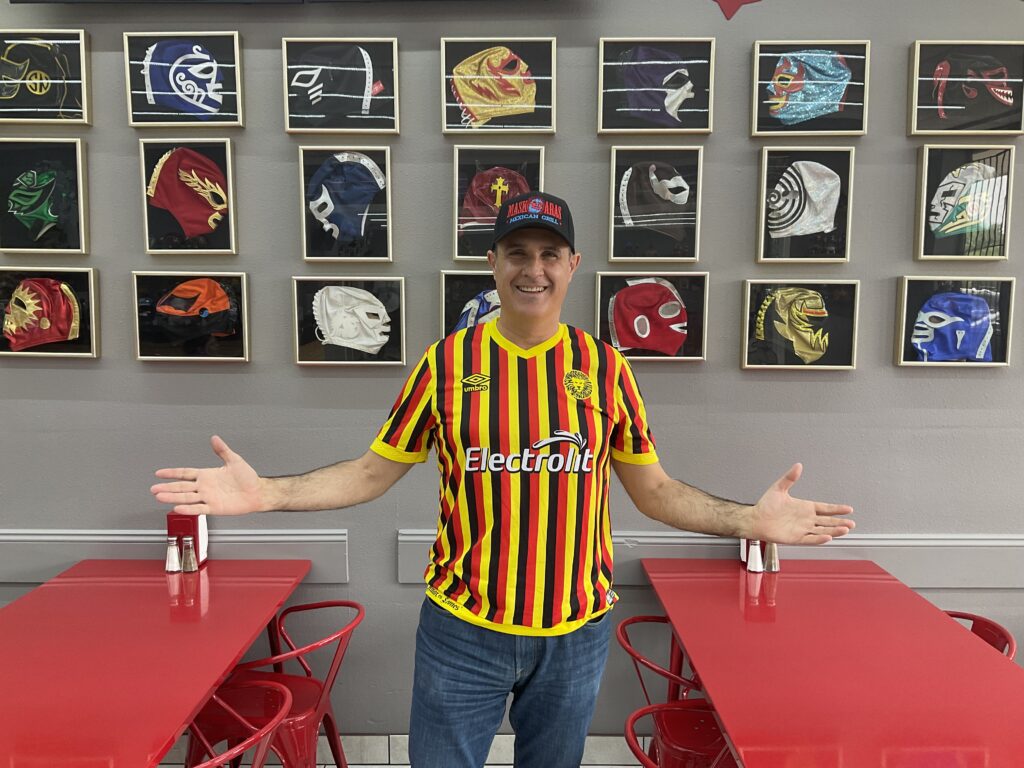 The result is a completely original menu with traditional dishes like carne en su jugo which are seldom, if ever, seen in the perpetually prevalent Tex-Mex restaurants in the area. Those dishes are together on the menu with original creations Jimenez has since developed such as the restaurant's popular burger burrito.
"In the beginning, it was kind of a long process because people would walk into our restaurant and look at the menu, turn around, and leave because they didn't know anything off the menu," Jimenez said adding that he was happy that people eventually gave his food a chance and came to realize how much they enjoyed it.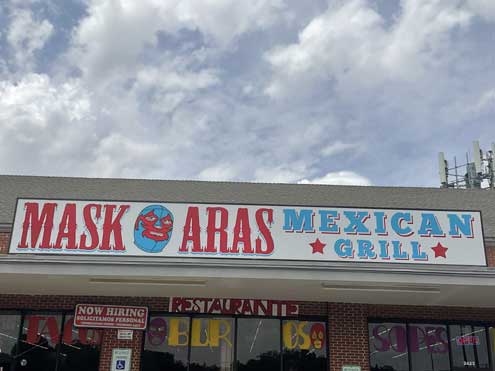 Maskaras has subsequently begun to rack up an impressive list of accolades and acclaims in recent years. If there's a single marquee star at the restaurant though, it's the tacos ahogados. Texas Monthly featured the dish, which is essentially crispy fried tacos "drowned" in a loose tomato sauce and topped with pickled onions, as a Taco of the Week and the Dallas Observer called it a "magical mystery."
Jimenez provided an opportunity to try the dish, and "magical" somehow almost felt like an understatement. In the same way that birria tacos took over the nation in recent years, tacos ahogados should be the next social media sensation. The first of the trio of tacos inexplicably retained a satisfying crunch amidst the sea of tomato sauce before it gave way to the juiciest, most tender carnitas filling imaginable. By time you work your way through the plate, even when the last taco shell begins to finally give way to the surrounding sauce, the amount of flavor packed into each bite remains unparalleled.
Speaking of quesabirria, Maskaras didn't shy away from the trend either, even if they already have its should-be successor lined up. The restaurant's version of birria tacos retain that same crunchiness and juicy filling like in the taco ahogados, except now accompanied with a bowl of warming broth. It makes for a great example of the much-discussed dish.
If the exceptional food, cooked by a former model and actor no less, somehow isn't enough to make Maskaras a must-stop destination, the restaurant's namesake collection of lucha libre memorabilia should do the trick.
Jimenez's impressive collection of ring-worn lucha libre masks from many of the sport's most legendary figures has developed quite the reputation in its own right. The masks, most of which the wrestlers not only wore but also signed according to Jimenez, surround the restaurant and stand as a testament to his decades of collecting.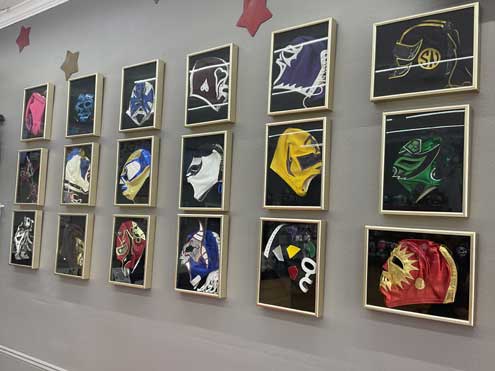 Jimenez started his collection as a kid, thanks to an invitation from his brother to go to a lucha libre show. After the in-ring action concluded, his brother tried to purchase the ring-worn mask from luchador Septiembre Negro who eventually sold it on the contingency that it belong to the 8-year-old Jimenez. From there, Jimenez began buying souvenir masks at shows and reselling them at his school to earn enough money to purchase ring-worn examples from the luchadores themselves.
"We grew up with lucha libre, that was like the best thing ever," Jimenez said. "Same as the U.S. like the superheroes, that's what we grew up with in Mexico."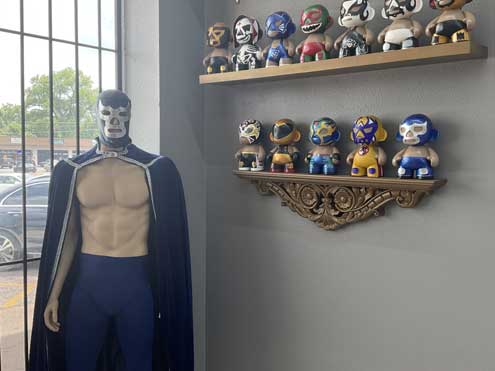 Nowadays, Jimenez's mask collection has swelled to over 2,000 and is still growing. He keeps a rotating selection on display at the restaurant, including some of his most exciting examples like some of the 300-400 masks from the legendary luchador Mil Mascaras that Jimenez owns or the mask from the real-life inspiration behind the film Nacho Libre, Fray Tormenta.
"He came one time here and then he started to look at all the masks that we have here, and he said, 'You know what? You're missing something. Let me go back to my car,'" Jimenez said. "Went to his car, he came back, and we have the mask right there."
Jimenez explained that when a restaurant-goer who knew some of the people who worked on Nacho Libre saw that Fray Tormenta mask, he brought them to the restaurant. They then presented Jimenez with another unique gift.
"They made a copy of the original Nacho Libre mask, and they gave it to us, based on the original design," Jimenez said.
The inspiration to marry Jimenez's love of lucha libre with his wish to open a restaurant came from the desire to create a more authentic representation of Mexican culture at Maskaras, much in the same way he does through his cooking.
"I was tired of seeing the Mexican cliche on most of the restaurants that are out there," Jimenez said. "Because, you know, they hang maracas and sombreros and even the clay pots where you cook all the stuff, and for me; it is a cliche."
From the bright and bold colors of the lucha libre decor to the even bolder flavors of his cooking, there's certainly no denying that Jimenez has achieved that genuine experience of the culture and food he grew up with at Maskaras Mexican Grill.