Find a bit of Britain in North Texas at the British Emporium in Grapevine
Teas, crisps and cookies abound at the British Emporium in Grapevine.
This article originally appeared in the North Texas e-News
Grapevine, Texas — It's hard to overstate the popularity of iced tea in Texas. It might truly be one of the state's most popular commodities, right up there next to barbecue and cowboy boots. It's not only a household staple, but a song lyric, t-shirt slogan, source of regional pride or more depending on who you ask.
For example, take longtime Grapevine resident Sheela Bailey. In a way, iced tea actually led to the creation of her longtime business right here in North Texas. A story like that seems to be more proof of just how popular the beverage is here in the South. The only problem is that Bailey actually started her successful business because she wanted an alternative to the drink.
Bailey is the operator of the British Emporium, a shop that sells all manner of goods from across the pond right near the heart of Grapevine's historic downtown.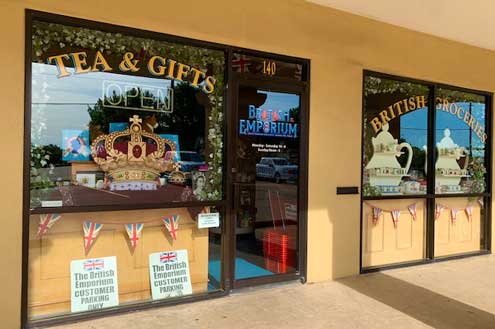 After moving to Texas in the late 80s from Surrey and Sussex in Southern England, Bailey discovered that iced tea was simply far more popular and prevalent in the Lone Star State than the variety she grew up with.
"That's how the whole British Emporium started," Bailey said. "It was very difficult for myself and my other British friends to find the right blend of tea to make hot tea."
It wouldn't be long after until Bailey started bringing hot tea to the states herself. Her friends then quickly realized they would also need some traditional British biscuits, or cookies as we Americans know them, to go with their tea as well. From there, the British Emporium was born, officially opening its Grapevine location in 1992.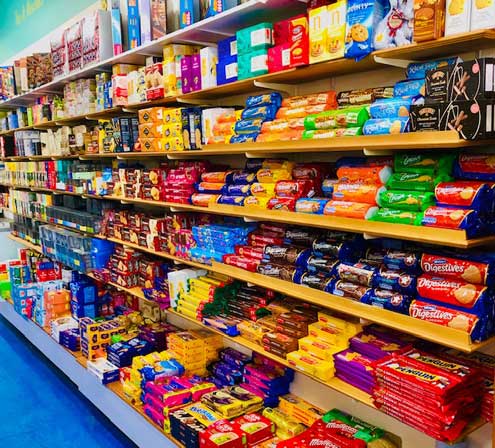 The store is still going strong today 30 years later with the friendly and affable Bailey at the helm. All kinds of English staples are on hand now, from sticky toffee puddings and meat pies to baked beans and, of course, a truly expansive variety of tea.
"How I pick the products really goes back to my days living in England," Bailey said. "You know, everything that was very beloved that we used to eat there. Things for Sunday lunch and items for afternoon tea, British breakfast items, so really every category is very well represented."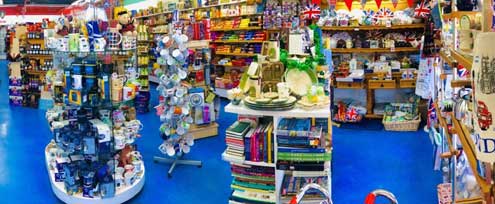 The store even sells memorabilia from beloved British pop culture properties like Doctor Who, Downton Abbey and Monty Python. That mixture of unique and fun items has helped the British Emporium connect with both its English customers who grew up with those goods as well as new American customers who may be unfamiliar with traditional British products.
Those new customers are usually most interested in the store's selection of crisps, otherwise known as potato chips, and chocolates according to Bailey.
"They find that very amusing that we have very different snack foods from what Americans would eat," Bailey said.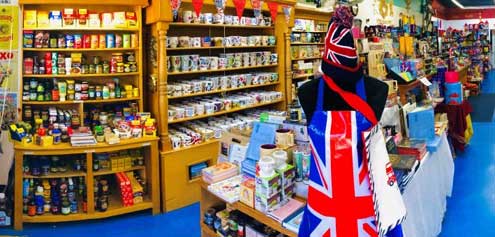 British Emporium stocks startling chip flavors like prawn cocktail, ketchup and pickled onion in brands unfamiliar to those who grew up on Ruffles and Pringles. The store's chocolate selection is similarly extensive, especially during the popular holiday seasons when chocolate stockings for Christmas and giant chocolate eggs for Easter are available.
While those kinds of products may be unfamiliar, that doesn't make them any less delicious. The chocolate, in particular, has a rich and decadent flavor thanks to its increased cocoa content and reduced amount of sugar. The biscuits are similarly enticing, especially those made with wheat which helps provide a distinctive caramelized note different from traditional American cookies.
Even the tea has been a hit at the store despite its differences from the steadfast southern staples Texans love.
"We've had a lot of American customers that come in here saying that they now drink more hot tea than coffee," Bailey said. "Yes, hot tea is becoming a household name."
Bailey clearly takes pride in customer responses like that as she's pushed for the British Emporium to not just be a store, but an inviting source of British cultural pride and education within the local community.
"Over the 30 years, we've done a lot of outreach in the community and had a lot of community events," Bailey said. "And we've invited a lot of the local community into our shop, and we're very happy to share our culture with them."
In fact, the store hosted a new event on June 4 and 5 in honor of the Queen of England's Platinum Jubilee, a celebration of her 70th year as the head of the British monarchy. British Emporium hosted a Jubilee Open House at their Grapevine location in honor of the celebration with a variety of special promotions at the store on both days.
A "Royal Raffle" for a limited-edition Queen Elizabeth II Jubilee Barbie took place in support of GRACE, a nonprofit for struggling families based in Grapevine, as well as individual signings by two authors of British-themed books, Nancy Churnin and Hazel Spire. There was also be a limited number of goody bags available for those who purchased $10 or more of goods from the store during the celebration.
The Jubilee Open House marked just the second event the British Emporium has been able to host since the outbreak of COVID-19. With more events planned for later this year however, including a car show in October, Bailey and her store are back to not only delivering a slice of the United Kingdom through food and merchandise, but also through fun and entertaining celebrations.
With the British Emporium's own 30th anniversary coinciding with the weekend's festivities as well, it's safe to say that the store appears poised to continue offering authentic British cultural products and experiences in a warm and welcoming style for years to come.
"I guess that we would offer British charm with a big dose of southern hospitality here," Bailey said of the British Emporium.