"Lobby Hero" is a nuanced, character-driven play opening June 8 at Plano's Rover Dramawerks
"Lobby Hero" runs from June 8-24 at the Cox Playhouse in Plano.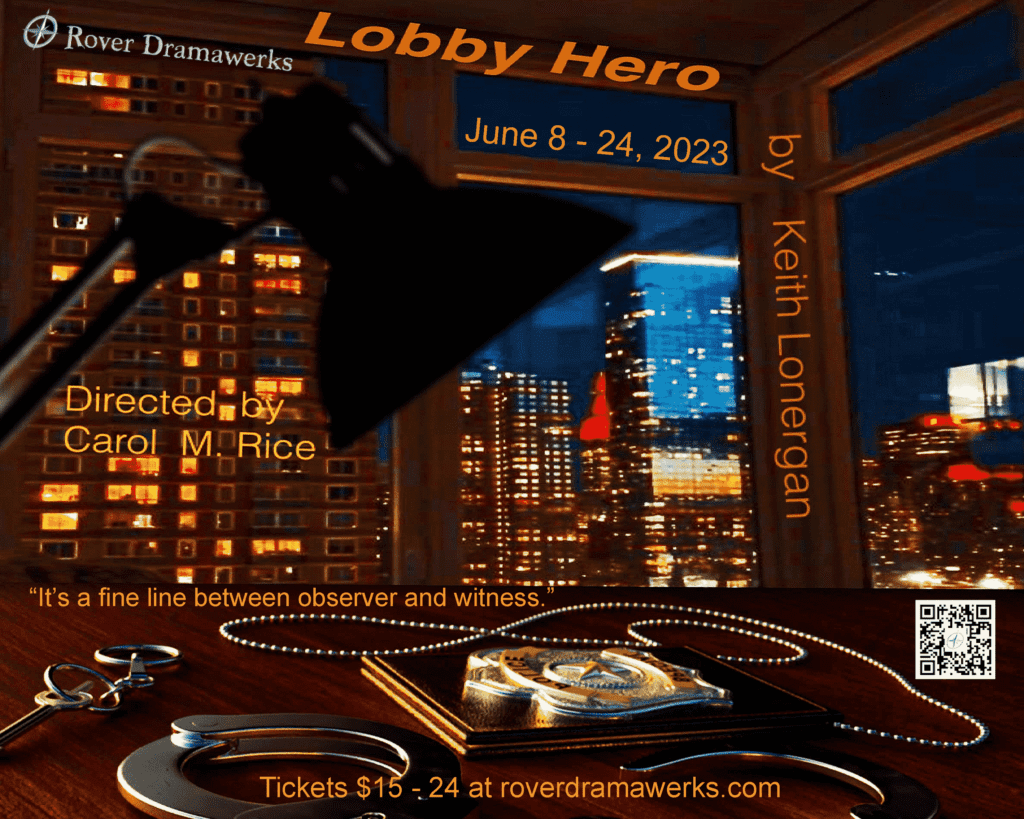 Audiences at Plano-based theater organization Rover Dramawerks consistently request one kind of play, according to Executive Artistic Director Carol Rice: comedies. Nonetheless, that hasn't stopped Rice from directing the organization's upcoming adaptation of the drama "Lobby Hero" opening June 8.
"Every so often, you just have to give them something that maybe they don't know that they want," Rice said of her audience, who she adds have responded positively to dramas in the past. "It's a topical piece. It's a powerful piece. It's got enough humor in it. I think that they will really enjoy it."
The four-person play tells two interlocking stories that eventually collide. The first is about Jeff, a young man booted from the Navy who winds up as a security guard at an upscale Manhattan apartment complex. His boss, William, is around the same age as Jeff but is trying to help set him back on the right track in life. When William learns his brother is accused of a serious crime that he claims he didn't commit, he is faced with a difficult dilemma and asks Jeff to provide an alibi for his brother.
At the same time, "very cocky and very self-assured" longtime police officer Bill is having an affair with someone at the building, Rice said. He's also got a new partner too, rookie cop Dawn. The two cops soon begin having an inappropriate relationship of their own. Everything starts to unravel, however, when Jeff and Dawn start talking and begin having deeper conversations with each other.
The drama, which is confined to the swanky apartments Jeff and William guard and the busy Manhattan street outside it, deals with deeply emotional topics ranging from inappropriate workplace relationships to racism, as William and his brother are young black men. It does so in a balanced manner that doesn't let one issue dominate another though, Rice explained.
"It's a really well-rounded piece, the characters are well-rounded," Rice said. "That's, I think, the main thing that drew me to it."
Rice credits her "amazing cast" with helping bring the nuanced production and characters to life.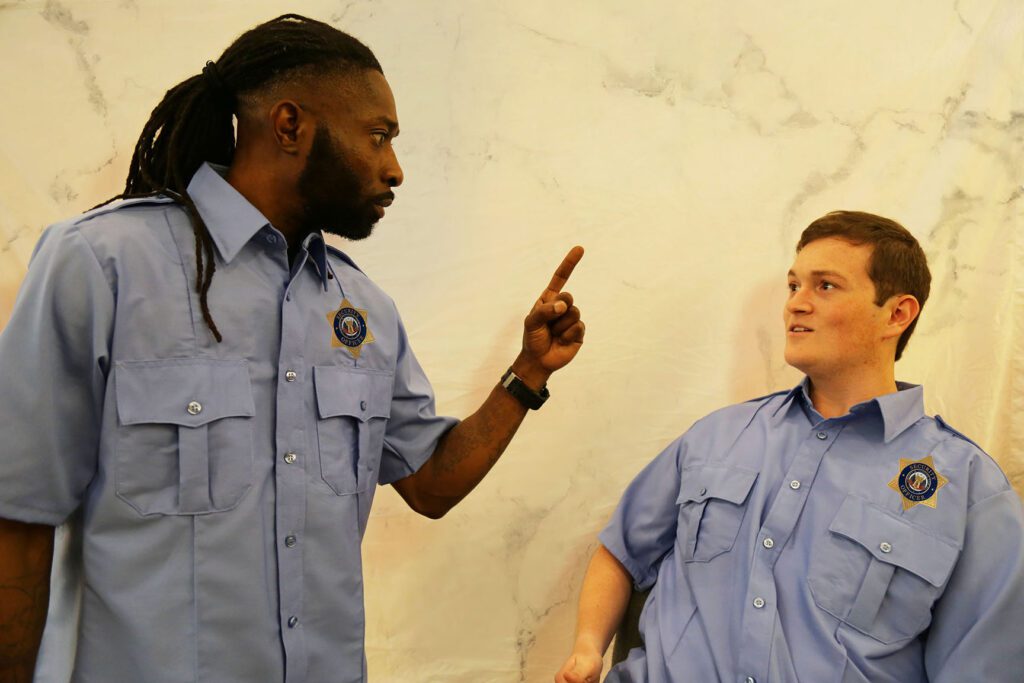 "You can't have one-dimensional people playing these characters. They are fully developed people," Rice said, adding that the chemistry between each of the characters is key as is each actor's ability to bring depth to the different elements of their character. "Especially with a cast of four, you've got to have people who understand the different layers of a character."
That includes comedic layers to the characters, like Jeff's fondness for wisecracking, something which takes centerstage during the earliest portions of the play.
"Then, (the plot) kind of builds from there, and the tension builds throughout the show as well," Rice said.
Overall, Rice hopes that audiences will be able to reflect on what they would do during the play as the tension of the situations the characters find themselves in builds and the problems they face become more complex.
"I think it will entertain and make people think," Rice said of "Lobby Hero."
"Lobby Hero" opens on June 8 at the Cox Playhouse in Plano with a special preview price of $10 online or pay-what-you-can at the door before moving to standard admission pricing of $24 on Friday and Saturday nights and $18 for Thursday night and matinee performances. The play will run Thursday through Saturday each week through June 24, with a 3:00 p.m. matinee on Saturdays in addition to the standard 8:00 p.m. performance. For more information, visit https://www.roverdramawerks.com/.