Broadway Dallas puts community and mental health in the theater industry center stage at FAN EXPO Dallas
A special look at Broadway Dallas' panel at FAN EXPO Dallas on Saturday.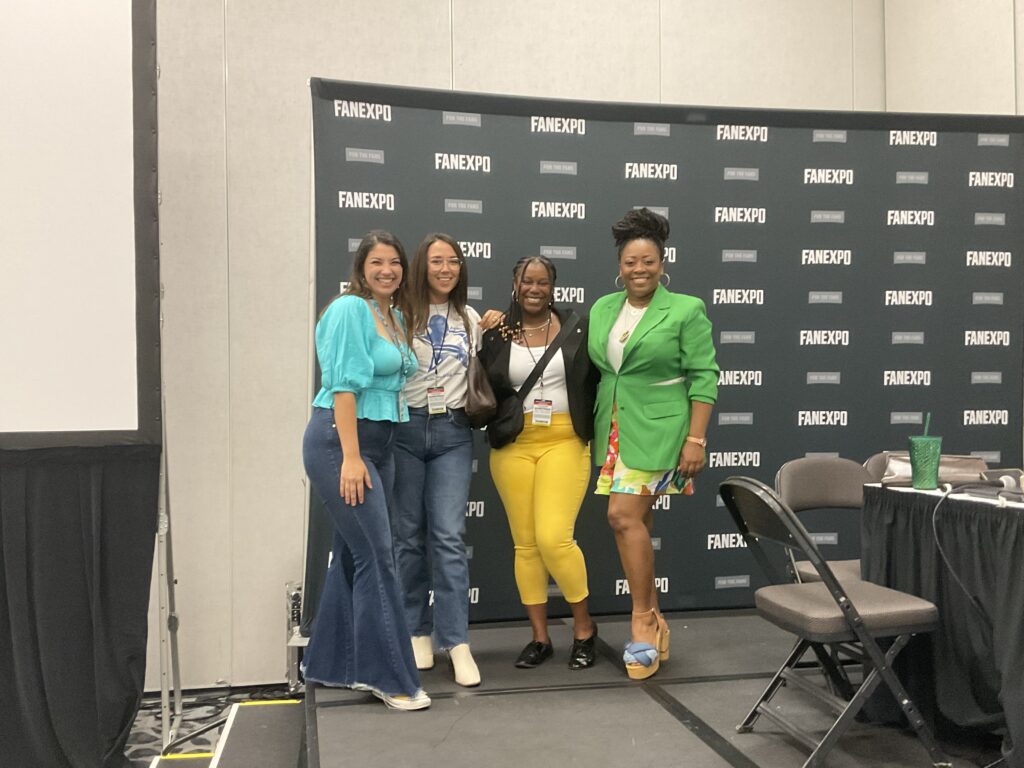 Theater enthusiasts and aspiring stage stars received a special opportunity to learn more about the industry at FAN EXPO this year thanks to Broadway Dallas.
Broadway Dallas' Program Associate with Education and Community Partnerships Tatiana Lucia Gantt hosted a panel on Saturday with three highly accomplished women in the theater industry centered around each of their own unique stories and journeys to finding success during its "Women Behind the Curtain with Broadway Dallas" panel.
"Theater is an interesting industry because there is no set path," Gantt said, a point which rang true as each of the panelists reflected on their careers.
For panelist Cherish Love Robinson, her path in theater came in part by always telling herself, "You can do it all, and you can do it whenever you want to."
It's an appropriate mantra for someone whose career has included an immense number of professional roles ranging from singer, musician and vocal coach to actor, producer and writer. Most recently, that meant starring as The Witch in the Dallas Theater Center's production of "Into the Woods."
Having just started in theater in the past six years, she explained that she evaluates her potential roles and jobs based on if they fulfill two out of her three requirements: if they're "financially incredible," give her networking opportunities or challenge her as an artist.
She explained that it's important for those breaking into the theater industry to speak up for themselves and put their own needs first when looking at potential roles.
"When you pay your dues, you're not invoicing everybody; you're invoicing yourself," Love Robinson said, adding that she believes you need to follow your own path, not the path that others say you should.
Emily P. Faith, a drama therapist and co-founder of the Lily & Joan Theatre Company, echoed those sentiments when talking about her own career and the importance of her current jobs.
After developing what she described as "a chip on my shoulder" coming out of college, she's worked to provide more opportunities for people in the arts, especially women, in her theater company as well as promote positive mental health as a drama therapist.
Faith explained that drama therapy works with "the idea that we play many roles in our lives," some of which stem from trauma and negative experiences. Her job works to find the roles that can help someone personally through theater techniques, rather than focus on those negative roles.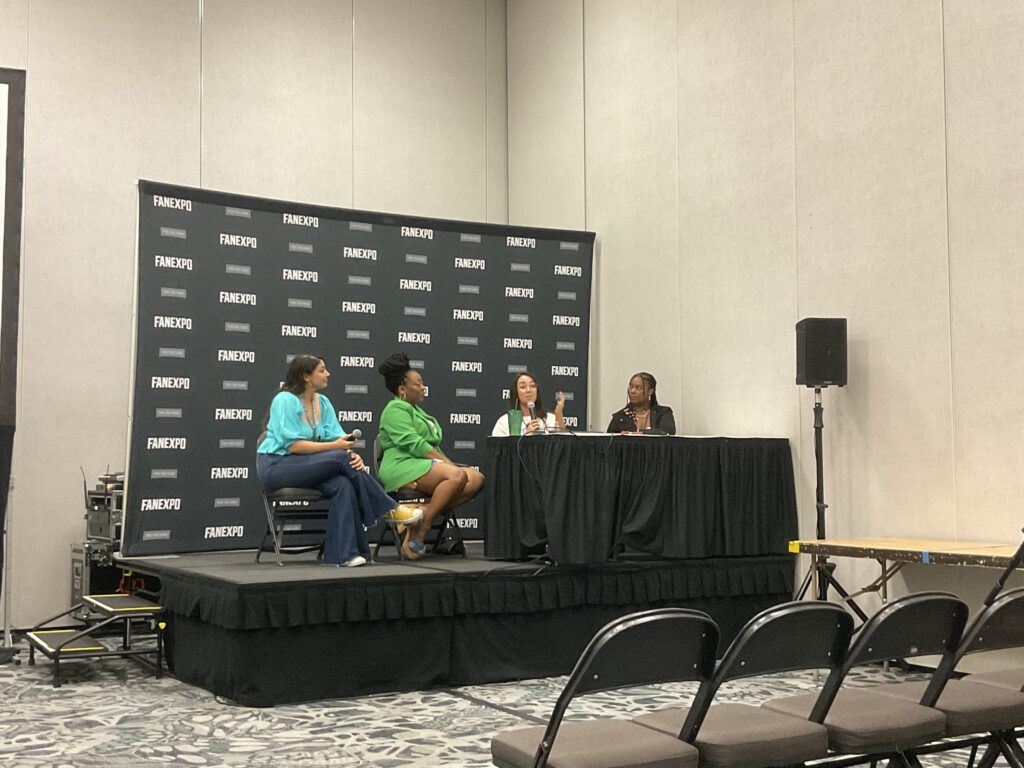 Faith said the first step to success in the theater industry is to "know yourself." Likewise, she also emphasized the importance of understanding when you've spent enough time volunteering your work to build networks and experience without getting paid.
The panel agreed on the importance of being aware of how long you're personally willing to work for free before the industry takes advantage of your generosity, with a suggested limit of three free jobs in any one role before moving to paid work.
That long road and struggle of working to establish yourself in theater is something that the final panelist, Dallas Theater Center Director of Public Works Brandi Giles, knew well. Her story of moving from a theater teacher with 13-years of experience into an assistant role with the Dallas Theater Center before working up to her current position embodied many of the difficulties the panel talked about.
Perhaps that's why she, along with each of the other panelists, spoke at length about the strides theater has made in recent years in providing greater opportunities and mental health support.
"We feel like theater is the birthright of everybody," Giles said, describing how she's worked to help break down barriers to accessibility in theater through free workshops in the community, educational opportunities for students and a large community pageant show that allows people of all ages and experience to work with theater professionals in a real production.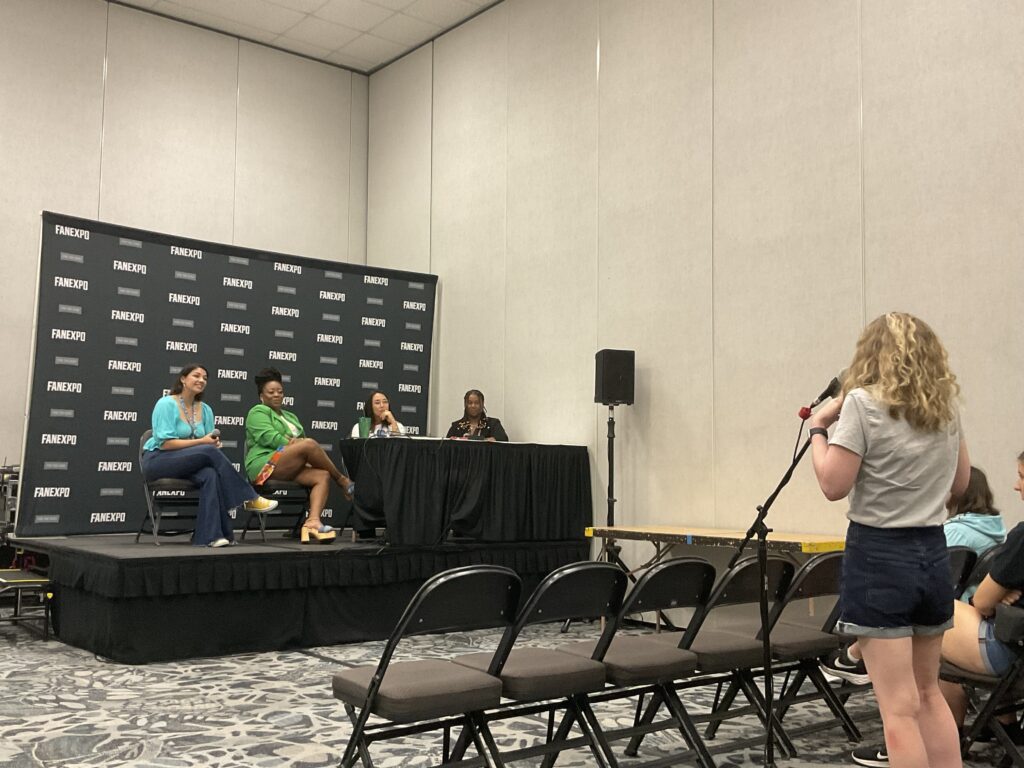 "We definitely want to be a theater of the community," Giles said, adding that 200 spots will be available for community members in the theater's next pageant show, "Disney's The Little Mermaid."
Broadway Dallas itself is similarly working to provide more opportunities for those in the local community with Gantt specifically working to provide more opportunities for Dallas' Latino community, especially through Dallas ISD.
She detailed how she's worked to find ways to bridge the gap between high school theater and professional theater as well as provide community workshops and success training in local areas.
"Our goal of our programming is always to make it accessible, and to make it something helpful," Gantt said.
That extended to Broadway Dallas' booth at FAN EXPO which offered playbills, posters and autographs from past shows in exchange for pay-what-you-can donations towards the organization's ConnecTix program. The program gives tickets to underprivileged children and those in the community who might not otherwise be able to afford a chance to experience theater.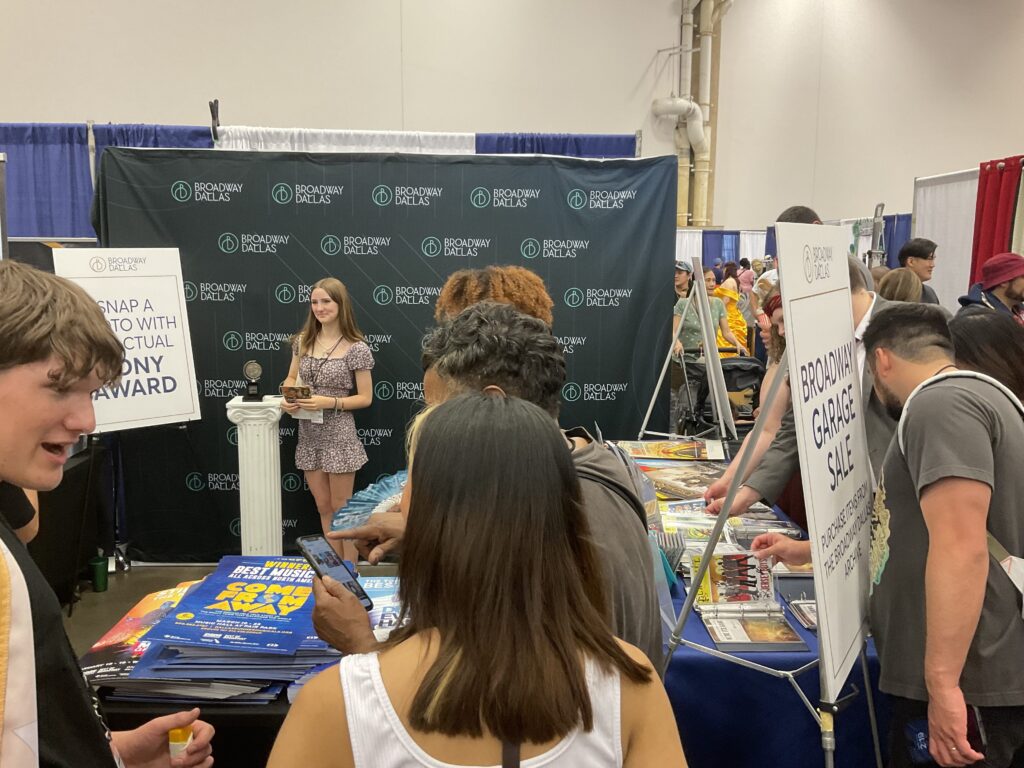 Broadway Dallas' section at FAN EXPO also included the opportunity to meet Major Attaway, best known for his many performances as The Genie in Broadway's "Aladdin," in addition to an opportunity to take a picture with a real Tony Award. Broadway Dallas also hosted a panel with Attaway discussing his time as The Genie on Sunday.
Gantt said that Broadway Dallas' booth received a great response from FAN EXPO attendees, something that she felt showed the intersections between fans of stories on the screen and stage and drove home her belief that "we're all theater makers."
"Cosplayers that are walking around and posing specifically, that is acting. That is their physical body changing to become another persona," Gantt said. "So, I think that's my goal being here is just to (show people), 'you are all theater artists, you just don't know it."
For more information on Broadway Dallas, visit https://broadwaydallas.org/. Also, keep an eye on the Collin-Denton Spotlighter for more coverage from this year's FAN EXPO Dallas!