Leukemia Texas and Frisco RoughRiders go to bat for local leukemia patients at rescheduled charity baseball game May 22
Local high school students are working together for a good cause through this game.
This article originally appeared in the North Texas e-News.
Frisco, Texas — Twenty-four local high school baseball players will come together to swing for the fences in support of a good cause when the Frisco RoughRiders and Leukemia Texas host the rescheduled 1st Annual Strike Out Pediatric Leukemia Charity Baseball Game at Riders Field. The high schoolers will take the field following the RoughRiders' game against the Corpus Christi Hooks on May 22 and receive the full professional experience, from warming up in the bullpen to seeing their names and faces up in the lights while they play.
The game, which moved from April 24 due to inclement weather risk, will assist Leukemia Texas' long-running efforts to provide assistance and relief to area leukemia patients.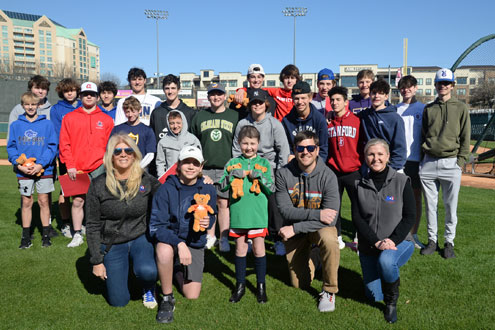 The nonprofit, created in 1970 by Buddy Minyard of Minyard Food Stores following his wife's leukemia diagnosis, has supported 400 patients through aid grants in the past year. According to Leukemia Texas CEO Jessica Dunn, patients have been able to use these grants in a variety of ways to alleviate some of the financial strain that a leukemia diagnosis creates whether that be by funding treatment costs directly, helping with medical-related travel expenses or simply providing the money necessary to pay for both basic household utilities as well as necessary medicines.
The need for that kind of monetary aid only increased due to COVID-19 as recent virus-related financial and institutional strains had already negatively affected so many people even prior to their diagnoses.
"Organizations weren't able to provide the services or resources they had in the past, but also a lot of our patients were facing loss of jobs, loss of insurance so the need increased for additional patient aid," Dunn said. "And so, we've been trying to make sure that anybody who qualifies for assistance gets assistance."
Beyond financial difficulties, the emotional toll that receiving treatment during COVID-19 created also led Leukemia Texas to develop a new initiative called Buddy the Bear. For a $25 donation, Leukemia Texas provides a teddy bear to a local leukemia patient in order to hopefully give them a source of comfort during treatment, especially in these touch-starved times.
As part of the efforts related to the charity baseball game, Leukemia Texas tasked the 24 participating high schoolers with the initial goal of adopting out a minimum of six Buddy the Bears each. The players went far beyond those expectations however, Dunn said.
"They have brought so many new people to introduce our mission to. They brought so many new people that have adopted Buddies or just made donations, it has been phenomenal," Dunn said.
The players were even able to help the organization connect with current leukemia patients who had been previously unaware of the nonprofit's work and their potential to receive patient aid, Dunn said.
Those interested in attending the games and supporting the players' efforts can visit Leukemia Texas' website for more information. All previously purchased tickets to the rescheduled April 24 game, which included the donation of a Buddy the Bear, will be honored on May 22.