Five unique Easter events in North Texas this weekend
Spotlighting some of the best events in Collin County, Denton County and beyond for this coming weekend.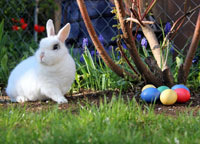 This article originally appeared in the North Texas e-News.
Easter is right around the corner and there's no shortage of events in North Texas to celebrate. From Bon Jovi tribute concerts to life-sized board game recreations, here are some of the most unique outings that residents can hop to this weekend.
Blaze of Glory and First Annual Easter Egg Hunt for Adults at BarnHill Vineyards:
BarnHill Vineyards is more than just its name might suggest. The Anna-based vineyard is also a live music venue on the weekends featuring a variety of tribute acts to top music stars like The Rolling Stones, Jason Aldean and more. On Saturday, Bon Jovi tribute band Blaze of Glory will play the Vineyards in conjunction with a flashlight Easter egg hunt for fun prizes ranging from chocolate to free concert tickets. The 21-and-over event begins at 7:30 p.m. with tickets starting at $24.
Easter Skate at Credit Union of Texas Event Center:
The Easter bunny will be live on ice in Allen on Saturday for an event that brings a little winter spirit to this spring holiday. Both new and veteran skaters alike will be welcome from 11:45 a.m. to 1:45 p.m. at the Allen Community Ice Rink event this Saturday. Entry is $5 while a donation of a non-perishable sauce or seasoning to All Community Outreach, a local charitable organization helping families in need, will earn attendees a free skate rental.
Easter Mercadito Festival:
Food, music and children's activities highlight this Garland-based event on Saturday. Easter Mercadito is a free outdoor festival at St. Phillip's United Methodist taking place from 10 a.m. to 4 p.m. The event will also feature an easter egg hunt along with goody bags for the first 300 kids in attendance courtesy of Raising Cane's. Registration is free at Eventbrite.
Life-Size Candy Land Adventure – Easter Fun Fest:
A childhood favorite comes to life at the Northeast Bible Church in Plano this weekend at a free event for kids up to 12 years old. From noon to 2 p.m. on Saturday, the Candy Land board game will come to life along with free candy, treats and games to play as children move through the life-sized rendition of the classic. Registration is free at Eventbrite.
Jazzy Easter Brunch at Legacy Food Hall
Plano's Legacy Food Hall will host the jazzy Bobby Falk Group for an Easter brunch. Some of the food hall's top vendors will offer up a variety of unique dishes for the event including cinnamon rolls, quiche and chicken and waffle tacos. The bar will also feature an original take on an Easter classic in the form of a peep mimosa. Bobby Falk will take the stage from 1:30 to 3:30 p.m. with brunch starting at noon. Table reservations, which include brunch and drink options, are available for purchase with railing seats starting at $70, but reservations are otherwise not required for free standing-room-entry.