FAN EXPO Dallas brings an exciting convention experience to North Texas this weekend
FAN EXPO HQ Vice President Andrew Moyes discusses what makes this year's event unique.
This article originally appeared in the North Texas e-News.
Dallas, Texas — The Kay Bailey Hutchison Convention Center in Dallas holds a unique distinction this weekend. It'll be the only place on the planet where you can meet Superman, Frodo and the Undertaker all under the same roof.
FAN EXPO Dallas marks a chance for people interested in all kinds of different pop culture genres and mediums to come together to celebrate their fandoms and meet some high-profile celebrities. From comic book creators and anime voice actors to stars from series like Star Wars and Cobra Kai, the convention is set to host a truly broad range of special guests.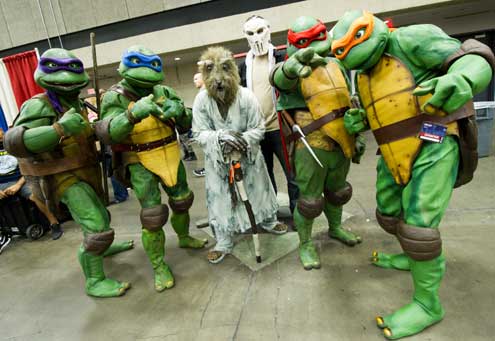 "With so many incredible movies out there, everyone's more connected to the characters, both on the small and the large screen. And I think our access to these characters too has broadened," Vice President of FAN EXPO HQ Andrew Moyes said. "So, I feel like everyone's a fan of something, and we deliver for all fandoms."
The event, which starts on Friday at 4:00 p.m. and extends through Sunday, will provide attendees opportunities to interact with those special guests through autograph and photo opportunities as well as fan panels.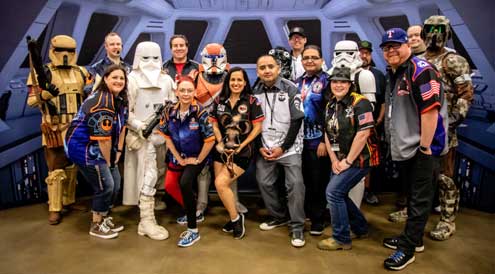 One of the highlights of this year's set of touring FAN EXPO events is a reunion of the Hobbits from Peter Jackson's acclaimed Lord of the Rings film series. Elijah Wood, Sean Astin, Dominic Monaghan and Billy Boyd will participate in a special onstage event on Saturday night at the expo after meeting with fans. It's a panel that's been years in the making after COVID-19 caused the cancellation of the originally planned reunion at FAN EXPO in 2020.
"I've seen them on stage together in a couple of cities leading up to the event happening this weekend. And I've got to say, it's so electric," Moyes said. "And every time it happens, it still feels like a feat that these incredible actors are actually sitting there on stage sharing incredible stories."
Another highlight of FFAN EXPO's guest list is the opportunity to meet a variety of WWE stars and legends. The convention offers one of the biggest gatherings of WWE talent since WrestleMania 38 and will include appearances by both current and former main event-caliber stars like Seth Rollins, AJ Styles, Edge and Ric Flair.
Moyes said it was important for the expo to bring in some of the best wrestling talent possible, including "anchor" guests like the Undertaker, in order to give fans an experience they'll love. It's a practice which the convention organizers apply to the celebrity guest list as a whole, which helps shape the overall Fan Expo experience.
"What we find often is that you come in as a fan of one thing, and you walk out with exposure and excitement about other fandoms as well which is just so wonderful," Moyes said. "It all feeds into that sense of community, that sense of discovery and that sense of belonging."
In addition to stars of film and television, the expo will also feature a variety of top comic creators including DC Comics' Chief Creative Officer Jim Lee, former Batman writer Tom King and popular artists like Ryan Ottley and Humberto Ramos. Some of the artists will even be squaring off in friendly "sketch duels" where they'll create drawings in real time, allowing fans to see the progress as they work.

The expansive slate of celebrity guests will accompany traditional convention standbys like cosplay meetups and contests, including The Masters of Cosplay Grand Prix competition which stretches across the entire Fan Expo show series, as well as a number of shopping opportunities and different panels with fan-centric content creators.
"Truly, there's something for everyone at FAN EXPO Dallas," Moyes said.
Single-day tickets for FAN EXPO Dallas start at $32 and are available at the FAN EXPO website. Moyes encourages prospective attendees to visit the website and download the official app to plan out their activities prior to going.
North Texas e-News will be attending and reporting at FAN EXPO Dallas this weekend.