Allen Contemporary Theatre shows audiences the beauty of "On Golden Pond" through October 22
An inside look at "On Golden Pond" with the show's director, Leigh Wyatt Moore.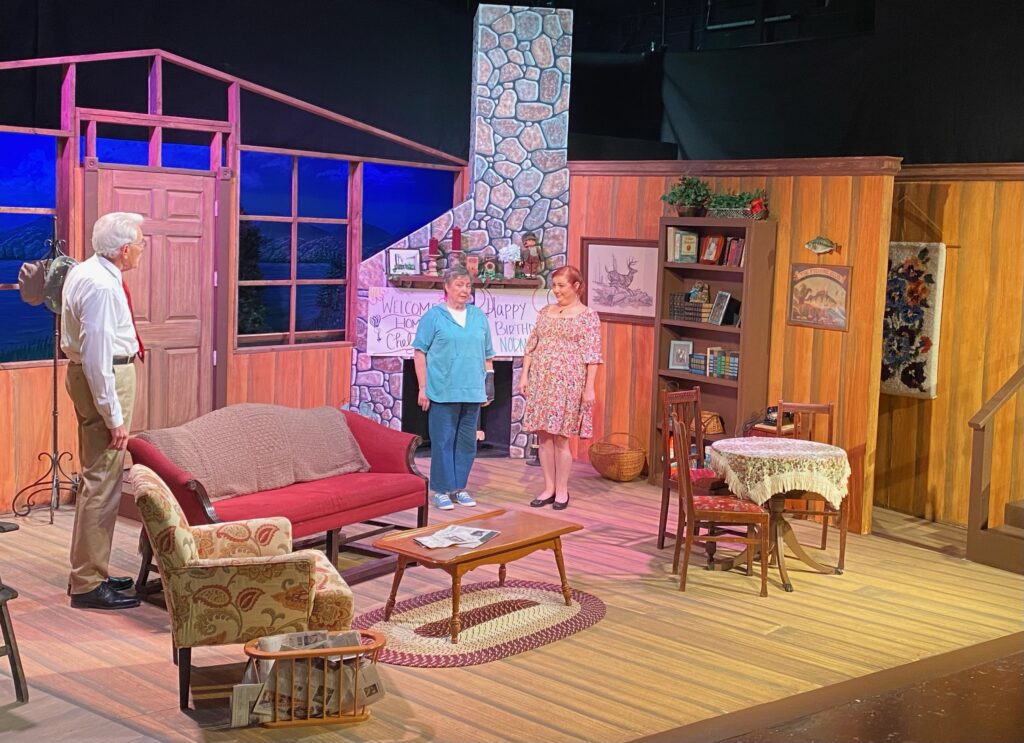 "On Golden Pond" is more than simply a popular film or play to Leigh Wyatt Moore. It's a beautiful locale she's visited twice herself already, at least via the magic of live theater.
"I've been in ("On Golden Pond") twice. It had been a bucket list role of mine for many years. It's one of my favorite films," Moore said, explaining how she starred in two past productions of the story at Richardson Theatre Centre and Theatre Coppell respectively.
Moore played Chelsea in both productions, the daughter of Ethel and Norman Thayer. The aging couple find themselves once again at their summer home on Golden Pond for the 48th year, even as Norman's declining health becomes more and more apparent. Nonetheless, they await the arrival of their daughter along with her fiancé and his young son for yet another summer at the pond.
"It's about the strained relationship between Chelsea and Norman, but there's a lot of sweetness and lightness tucked inside of it," Moore said. "It's about forgiveness and redemption, new beginnings. It's just such a beautiful story."
Moore now finds herself returning to admire the beauty of Golden Pond in a different light thanks to her role as director of Allen Contemporary Theatre's ongoing production of the show, which runs through October 22.
"(By) doing two productions of the show, I know the play backwards and forwards, so it's very easy to direct it, and yet it's difficult because I want to put my own stamp on it and not bring too much into it from the two productions that I was in," Moore said.
She noted that she's found it particularly difficult to direct a role she's so intimately familiar with when working with her production's Chelsea, played by fellow Allen Contemporary Theatre director Sara Jones.
"I didn't realize how hard it would be to direct someone in a role that I played twice and trying not to expect her to do what I did," Moore said.
Coincidentally, though, the initial uncanny similarities between Jones' take on the character and Moore's own led her to joining the cast in the first place.
"Every other Chelsea came in with anger and I didn't want that," Moore said, describing Chelsea as "broken" coming into the events of the play rather than angry. "That's what Sarah gave me, and it was really great…She did so many things that I did, and it was just really weird and comforting all at the same time."
Moore said she "loved the work" Jones has done in the production since then. In fact, Moore detailed how she felt "very blessed" to work with the entirety of the cast, praising each of them for their unique abilities in their roles.
For example, she highlighted the chemistry between the show's Norman and Ethel, played by Budd Mahan and Mary Tiner respectively.
"They just play off each other very well because she's so soft and light and bright, and Budd himself is very quiet and reserved," Moore said, adding that she got to know Mahan personally and developed a relationship with him when he starred as Norman in the Richardson Theatre Centre production she performed in. "He brings a lot of that into Norman, which works so well with Mary."
Moore also praised strong performances from the rest of the cast, which includes Russell Sims, Ken Schwartz and Joshua Brown.
"I'm very spoiled with my cast," Moore said.
When it comes to the show's only character not in that cast, Moore looked to the play's production crew to bring the role to life.
"The character of the house and the lake are just as important as the people in the show," Moore said, calling the creation of her vision for the set the most challenging component of the production.
At the end of the day, she praised the Allen Contemporary Theatre "On Golden Pond" team for being able to craft eye-catching scenery accented by equally strong lighting and music, including a scenic pond that she hopes to obscure from the audience as they come into the show to create a riveting reveal when they first have the opportunity to see it.
"I've been even more detailed with this show than I think I have with any other show that I've directed, and I'm very, very pleased with it," Moore said, later adding that she hopes the show inspires audience members to embrace seeing more live theater and encourage others to follow suit. "I just want them to walk out and tell their friends about it and say, 'Wow that was beautiful. That was complete.'"
"On Golden Pond" runs through October 22 at Allen Contemporary Theatre. For more information, including how to purchase tickets, visit https://allencontemporarytheatre.net/.
Allen Contemporary Theatre is an official advertiser with the Collin-Denton Spotlighter. Advertising does not guarantee coverage, nor does it affect the content of any coverage on the Spotlighter. This interview has been edited for clarity.