Allen Contemporary Theatre is hosting auditions for "Irving Berlin's White Christmas – the Musical" in August
Auditions for the production will take place August 19 and 20, with dance callbacks on August 22.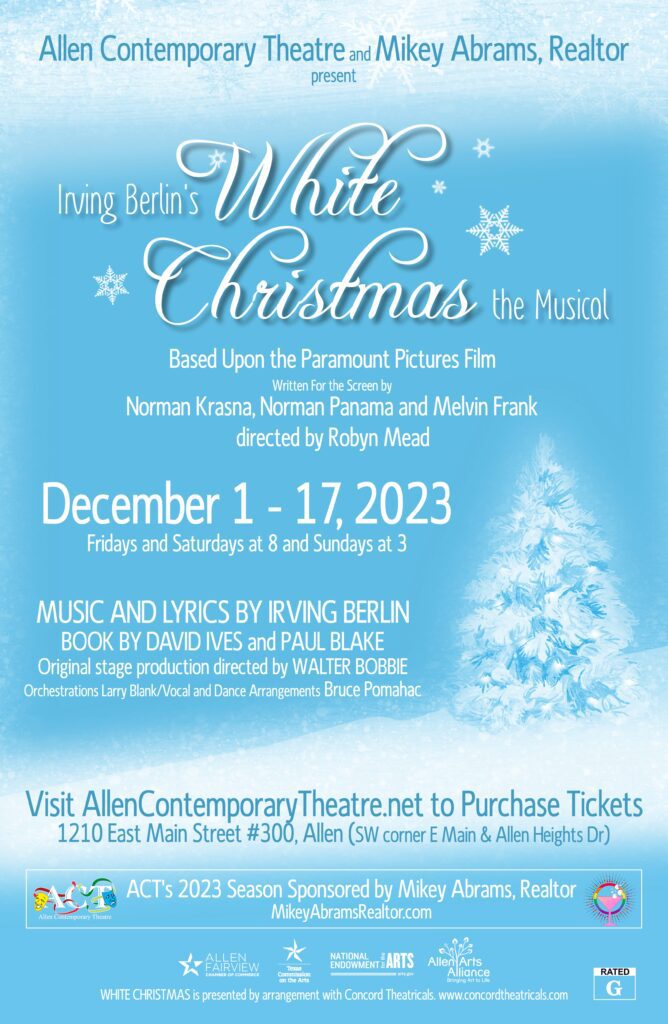 Allen Contemporary Theatre is looking for actors already feeling the holiday spirit this summer. The organization will soon host auditions for its upcoming December production of "Irving Berlin's White Christmas – the Musical" directed by Robyn Mead.
The theater's website describes the classic musical as focusing on "veterans Bob Wallace and Phil Davis, who have a successful song-and-dance act after World War II. With romance in mind, the two follow a duo of beautiful singing sisters en route to their Christmas show at a Vermont lodge, which just happens to be owned by Bob and Phil's former army commander. With a dazzling score featuring well-known standards including 'Blue Skies,' 'I Love A Piano,' 'How Deep Is the Ocean' and the perennial title song, 'White Christmas' is an uplifting musical worthy of year-round productions."
According to the theater, auditions will run from 1:00 p.m. to 3:30 p.m. on August 19 or 7:00 p.m. to 10:00 p.m. on August 20, consisting of singing and cold reads from the script. The theater will then host dance callbacks from 7:00 p.m. to 10:00 p.m. on August 22, with tap dancers encouraged to bring their tap shoes if called back.
Those interested in attending should "prepare a song that is approximately 32 bars long" for the audition in addition to bringing their current resume, headshot and a list of scheduling conflicts.
Rehearsals for the musical begin October 22. The theater notes that it typically runs rehearsals Sunday through Thursday, with the exception of a Thanksgiving break.
Tech week runs from November 26-30. Performances start on December 1 and run through December 17. Allen Contemporary Theatre does not allow scheduling conflicts during either tech week or the performance run.
Those interested in signing up for available audition times can do so through the theater's SignUpGenius page for the musical here. For more information, including available roles and character descriptions, visit the Allen Contemporary Theatre website here.
The Allen Contemporary Theatre is an official advertiser with the Collin-Denton Spotlighter. Advertising does not guarantee coverage, nor does it affect the content of any coverage on the Spotlighter.