Unique North Texas events this weekend: January 21-22
Spotlighting some of the best events in Collin County, Denton County and beyond for this coming weekend.
Lunar New Year Events – Across North Texas
January 22 is Lunar New Year and there's a multitude of events around the local area on both Saturday and Sunday dedicated to the Year of the Rabbit. Here are just a few of the most intriguing ones:
Dallas – NorthPark Center Mall is hosting a Lunar New Year celebration in conjunction with Bookmarks, the local Dallas Public Library inside, as well as The Crow Museum of Asian Art. The event will kick off with a festive story time at Bookmarks at 9 a.m. on January 21 followed by a lion dance and performance from the Dallas Asian Wind Symphony at 10 a.m. and 11 a.m. respectively. The event will also include crafts with The Crow Museum of Asian Art and the opportunity to pet a rabbit with the entire event wrapping up at noon. Check out the Dallas Library website for additional information.
The Colony – Grandscape at The Colony is set to host this celebration from 2:00 p.m. to 4:00 p.m. on January 22. Live stage performances, crafts, food and giveaways are all on deck at the free celebration with additional information available at Grandscape's website.
Dallas – Emmy and James Beard Award-winning celebrity chef Martin Yan will be giving a live cooking demonstration in honor of the Lunar New Year at the Central Market Cooking School on Lovers Lane. "Welcome to the Year of the Rabbit" includes a four-dish meal prepared by Yan who will go in-depth on the dish's history, significance and preparation. Tickets start at $90 before fees for this 18-and-up event with more information, including a full menu, available at Eventbrite.
39th annual KidFilm Festival
The USA Film Festival is working to make the latest and greatest in family-friendly film available to the public with their annual KidFilm Festival. The festival, which takes place at the Angelika Film Center on January 21 and 22, is a free opportunity for children to see a variety of creative cinematic works ranging from live action shorts to animated adaptations of popular kid's books. This year's featured guests and movies include the debuts of a trio of short films based off the work of New York Times bestseller Peter H. Reynolds. The popular author and illustrator, known for his work on the "I Am" and "Judy Moody" series, will be showcasing the adaptations alongside his brother, Paul A. Reynolds, who's an award-winning author and film company CEO in his own right. The brothers' will be showing their new shorts as well as doing a free book reading and signing from Peter's new book, "The Word Collector," at 12:30 p.m. on January 21. Later, the festival will also be honoring the 100-year anniversary of Warner Bros with a special showing of The Wizard of Oz along with a number of other events and showings. Tickets for each showing are free and available an hour before each show time on the day of the show only. For more information, head to the USA Film Festival website. Also, be sure to check back with The Collin-Denton Spotlighter for an in-depth feature on the festival with comments from USA Film Festival Managing Director Ann Alexander.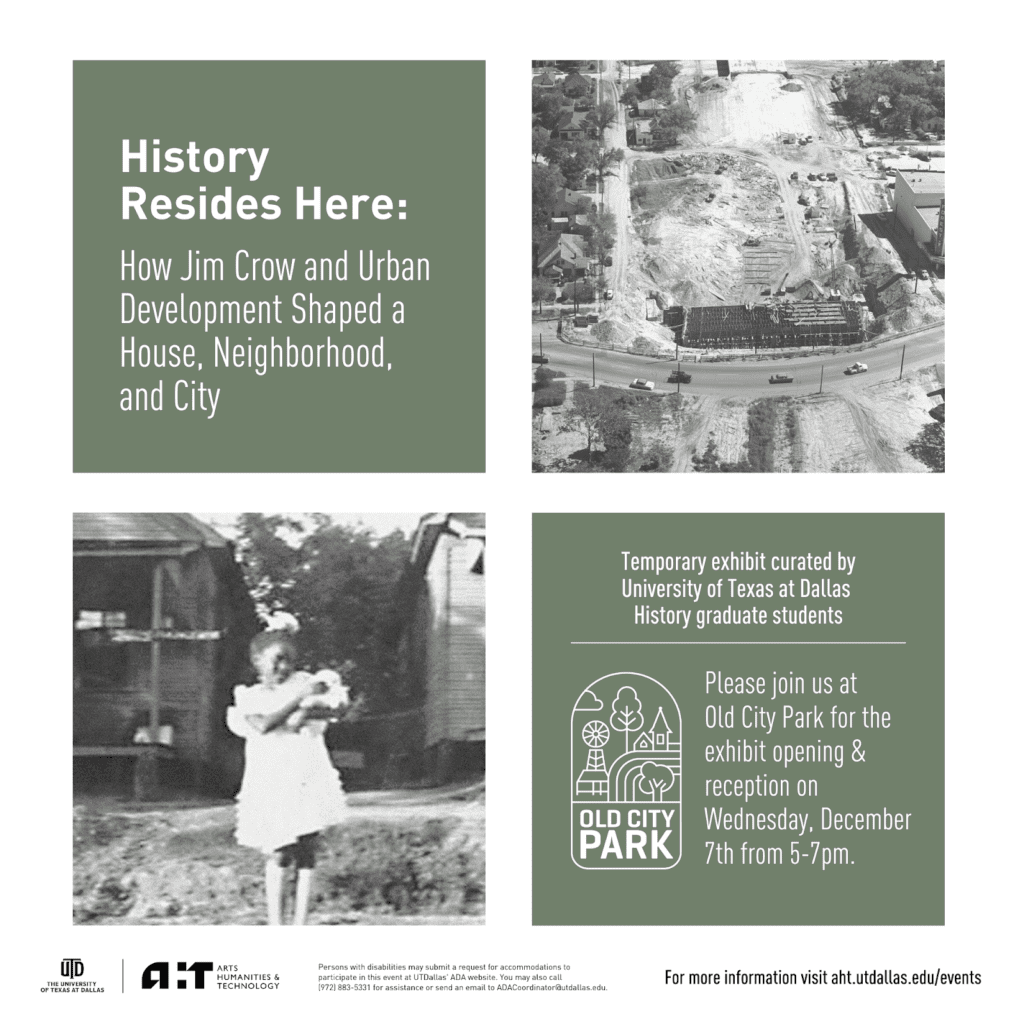 New Old City Park Exhibit – Dallas
Old City Park is exploring the past with the help of graduate students from The University of Texas at Dallas. "History Resides Here: How Jim Crow and Urban Development Shaped a House, Neighborhood and City" is a new exhibit that looks at the park's 1906 Shotgun House, according to a recent release. The project looks at not only the house, but the area surrounding it in an effort to explore the challenges that black residents faced as a result of Jim Crow laws and their effects on local construction. The exhibition will be open at the park, which offers free admission, until February 28. Visit https://oldcityparkdallas.org/ for more information on the park.
Running with Bonnie & Clyde: The Story of Ralph Fults and the Barrow Gang – Frisco
The exploits of Bonnie and Clyde once took the infamous crime duo to North Texas and local historian Pat Rodgers has the story. Rodgers, an accomplished storyteller, will be at the Frisco Heritage Museum Theatre on January 21 9:30 a.m. to 11:30 a.m. for this entertaining special performance that aims to showcase the Barrow Gang's time in the local area and their association with fellow criminal, and North Texas native, Ralph Fults. Head to the Heritage Association of Frisco's Facebook page for additional details on this free event.
Dallas Area Train Show – Plano
Hop aboard for a chance to see 11 different model train displays and nine panels across this two-day show at the Plano Event Center. On January 21 from 10 a.m. to 5 p.m. and January 22 from 10 a.m. to 4 p.m., the North Texas Council of Railroad Clubs is hosting its 39th iteration of this family friendly event. The club will only be selling tickets at the door for $10 with children under 12 years old getting in for free. Visit the North Texas Council of Railroad Clubs website for more information.