Saber Guild brings Star Wars to life to help do a galaxy worth of good in DFW
A FAN EXPO Dallas report on the DFW chapter of Saber Guild.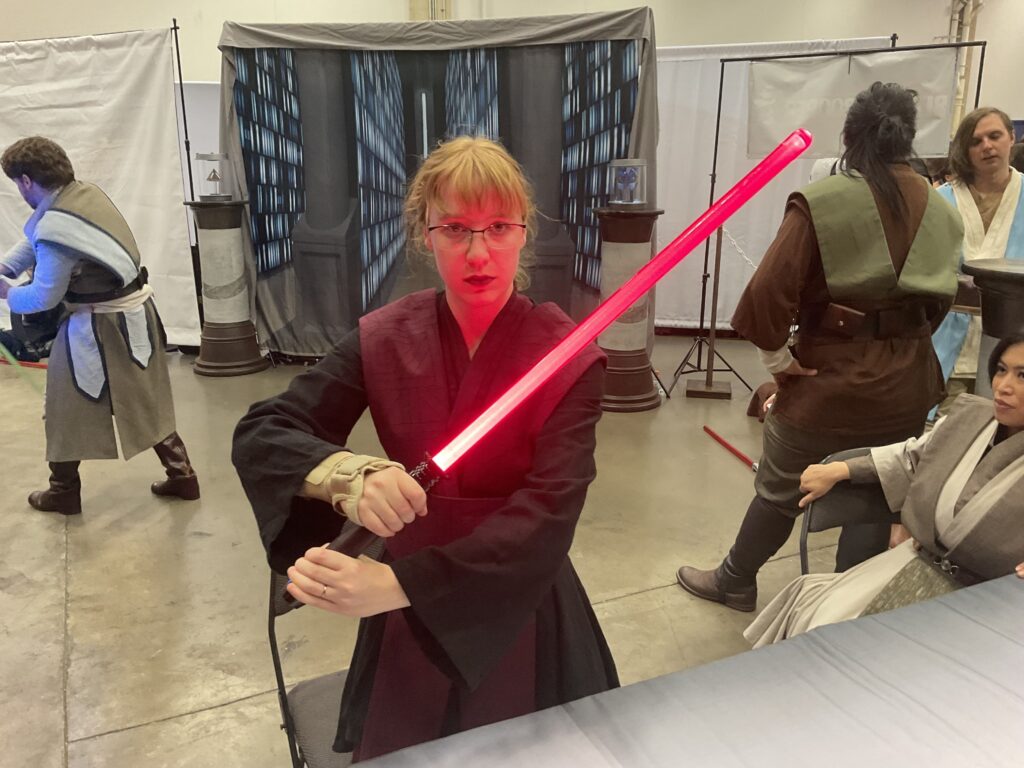 Whether you're a fan of the prequels, original trilogy or Disney entries, odds are some of the best scenes in your favorite Star Wars films involve a lightsaber duel. Epic battles and elaborate fights set the stage for some of the most iconic moments not just in the franchise, but in cinema as a whole.
While those moments may be part of silver screen legend, a local not-for-profit is bringing the eye-catching spectacle of a lightsaber duel to life right here in DFW. Saber Guild is a global organization whose members perform their own carefully choreographed lightsaber shows for charitable causes.
"We had (a show) a few weeks back where we were part of a Make-A-Wish wish reveal, which was fantastic," Erica Hawvermale said, referring to the guild's performance at the Make-A-Wish North Texas Wish Night charity gala in May.
Hawvermale is the local assistant director of the Coruscant Temple, the DFW-based chapter of the Saber Guild that appeared at this year's FAN EXPO Dallas. The chapter has worked to support a wide variety of charitable causes, from veterans' groups and local children's hospitals to Big Brothers Big Sisters of America and Make-A-Wish. The guild picks a different organization to fundraise for during each of its convention appearances in addition to performing live shows for different charity events.
"We had five fights running around the room at the same time. They all had to line up. The Jedi had to be defeated all within 10 seconds of one another," Hawvermale said, describing the precision that went into the guild's wish reveal performance, which also included a pre-choreographed battle with the child receiving his wish.
"It was probably the biggest show we've ever done," David Snowden-Bailey, the local stage director with the guild, said as the show took three months of preparation for the guild's veteran members.
Guild members are no strangers to practicing intricate choreography, however, even if most of the group's shows don't need to follow such a meticulously timed schedule.
"We usually practice really hard because we're doing this for kids," Snowden-Bailey said.
New members of the guild usually go through a three-to-six-month training program just to learn the basic fight choreography for the guild's shows. From there, members can add their own stylistic flair to capture the different kinds of fighting styles and characters from the Star Wars universe.
"Our choreography system uses a set amount of strikes based on body targets," Snowden-Bailey said, adding that, although not all chapters of the Saber Guild use the same system, the Coruscant Temple chapter choreographs every strike. "As long as you know that, for example, our number one strike goes to the left shoulder, whatever you want to do until you make contact is up to you."
Structured guidelines help guide the guild's performances and keep the performers safe while still allowing them to develop their individual characters and capture the audience's imagination.
"When we step out on stage, we normally only have 30 seconds to tell a story," Snowden-Bailey said. "We want to be very clear that this is a Jedi (and) this is a Sith…and especially for little kids, we want them to light up and be like, 'Oh wow, this Jedi looks just like in the movies.'"
The guild allows its performers to create their own costumes, fight styles and lightsabers as long as they adhere to the Coruscant Temple's guidelines.
Hawvermale explained that each of the guild's lightsabers, for instance, are one inch in diameter and bend like a real blade would. Those traits are crucial for protecting the performers so that if a hard swing misses the mark or someone doesn't set a block in time, the lightsaber will only bruise the other performer rather than inflict more serious damage.
The end result is a safe, carefully constructed show showcasing the wide galaxy of unique characters that fans expect to see. In other words, Saber Guild brings some of the best parts of a Star Wars movie from the screen to the stage all in support of some great causes.
For more information about Saber Guild, visit https://saberguild.org/. To learn more about the Coruscant Temple DFW chapter of the guild, check out the chapter's Facebook page here.