North Texas-based voice actress and singer Stephanie Nadolny on the fan response to her iconic Dragon Ball roles
Talking with Stephanie Nadolny about voicing Gohan, her music career and her recent convention appearances.
This interview originally appeared in the North Texas e-News.
At an early age, Stephanie Nadolny knew she wanted to make a career out of using her voice. From recording herself singing and performing radio shows on her own cassette player to participating in children's theater and even creating her own "Weird Al" Yankovic style song parodies, Nadolny always had a passion for vocal performance. She just probably never would have imagined her most famous performance would be playing a young boy.
Nadolny is best known for her time as the English voice for Goku, the youthful protagonist of the seminal Japanese anime Dragon Ball, as well as the voice of Goku's son Gohan in the sequel series Dragon Ball Z. Despite Nadolny's time in those roles ending more than a decade ago, their immense popularity has continued well into present day, something which initially surprised the North Texas-based singer and voice actress.
"The fans follow you, longer than you realize, especially for a show that iconic as Dragon Ball Z," Nadolny said.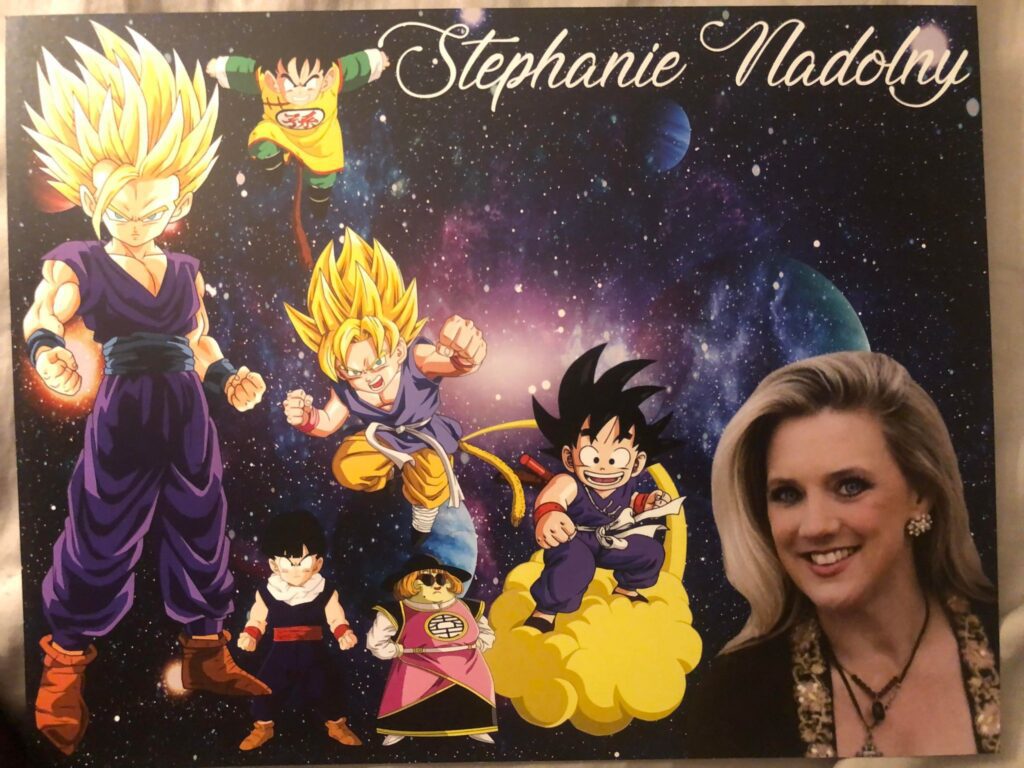 Nadolny's tenure as the famous characters began early in her vocal career after a brief time doing voice work for a rather non-traditional role at Chuck E. Cheese.
"I was hired very briefly to be the voice of Helen the Hen (Helen Henny) for Chuck E. Cheese and the director there recognized my voice being very animated and asked me if I had ever done voice work," Nadolny said. "And I said, 'I do it for fun. I've been doing it my whole life. What do you have in mind?'"
Six months later, she got the call to audition for the English voice cast of Dragon Ball Z. At the time, then North Texas-based entertainment company Funimation was in the process of reviving the series for American audiences following a prior short-lived attempt. Nadolny went into the audition anticipating to hopefully play one of the series' female characters but ended up cast as the protagonist's son, Gohan.
"I didn't know at all anything about what was going on, so I just auditioned naturally for the female characters," Nadolny said of the casting process. "They just said, 'Can you do the voice of a little boy?' and I said, 'Well I'll give you whatever I think a little boy would sound like' and they liked it."
After Nadolny officially received the role a week later, she would go on to become a major part of Funimation's English cast for the "Dragon Ball" franchise for years to come. The immense pop culture status and loyal following the franchise cultivated means Nadolny's voice work in the "Dragon Ball" series is still easily recognizable to anime fans across the globe today, even after the franchise recast the roles in more recent adaptations.
"I didn't realize at all how much it reached so many audiences around the world," Nadolny said of the response she receives from fans due to her time playing Gohan. "And that dub of that voice of that character had gotten them through hard times whether it be like being suicidal or trying to hide from life or being bullied at school."
Nadolny credits the strong fan response she's received as sparking her desire to return to making appearances for signings at conventions and comic stores across the country between performances with her current band, MoonGlass. She also credits these events with helping her get through some of the struggles she's experienced in her own personal life as well.
"I was able to latch on to the comic cons and the fan response to get me through my personal trials and tribulations and adversity," Nadolny said. "And so, it's kind of like a full circle thing in having done the work and then relying on that character platform to help others. And in doing so helping myself because it's helping youngsters and even, you know, people who grew up watching the show that are in their 20s and 30s now, and now they're watching the show with their children and friends."
Nadolny will be appearing at the unofficial Dragon Ball fan convention, Kameha Con, at the Marriott Dallas Allen Hotel and Convention Center from April 29 to May 1. Her band MoonGlass, composed of former members of the WinStar World Casino and Resort house band, will be playing their wide variety of classic 40s to modern pop hits in Hurst on April 22 for the city's spring concert series.