More than 50 years of history hops on stage at Theatre Denton for its upcoming production of "Harvey"
"Harvey" runs from August 18-27 at Campus Theatre in Denton.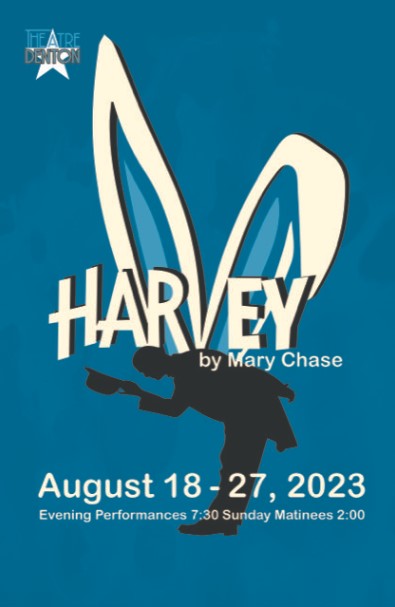 There's more than a half-century of history driving Theatre Denton's next mainstage production, thanks in no small part to a 6-foot-3-inch-tall imaginary rabbit. "Harvey" is the latest play taking center stage at Campus Theatre for the long-running organization which traces its roots back to the founding of the Denton Community Theatre in 1969.
According to the theater, the play focuses on the "kind, eccentric" Elwood P. Dowd, who happens to be friends with a giant rabbit named Harvey that only he can see. When his "social climbing sister" Veta disapproves of her brother's unique relationship, she has him committed to a mental institution where "a zany comedy of errors ensues."
The play, originally published by Mary Chase in 1944, is a passion project for Theatre Denton's Managing Director Mike Barrow, who's heading into his 15th year guiding the organization. In fact, "Harvey" will mark the first time Barrow has stepped into the director's chair during his tenure.
"When I first took this job, the board made it very clear that they did not want somebody as a managing director that was going to be acting or directing," Barrow said, describing how the board was looking for someone with a background in business like himself.
Prior to joining what was Denton Community Theatre at the time, Barrow had two decades of business acumen behind him. Perhaps just as important, though, he had a passion for theater instilled in him thanks to his parents' longtime support of Denton Community Theatre.
Barrow's parents, Frank and Betty Ann Barrow, were involved with Denton Community Theatre for more than 30 years, acting, directing and supporting it in a number of ways.
"So, I've been involved with the theater since I was 11 off and on, and of course, my parents stayed involved with it for as long as they could, health-wise, up until their 80s and 90s," Barrow said. "In fact, my mother was in her last production when she was 92, so a lot of people look at mom and dad as part of that (Denton Community Theatre) founding group."
In a 2011 story through the University of North Texas (UNT), Betty Ann Barrow explained that she worked in local theater productions during her time studying at the school. Her support of local theater didn't begin in earnest, however, until one particular production came along in 1970.
"In 1970, Frank got the main part in the play 'Harvey,' which was performed at Denton's Firehouse Theatre. From that time on, my passion for theater was renewed," Betty Ann Barrow, who played Mrs. Chumley in the play, said.
Now, 52 years later, her son is directing that very same production for Theatre Denton. Barrow said that seeing "Harvey" caused him to fall in love with theater. It became a passion that brought him to UNT where he even earned a scholarship opportunity from the university for a performance of a portion of the play.
While Barrow said that his love of theater never went away, it became less of an "integral part" of his life while working in corporate America and starting a family after schooling. When he did have an opportunity to rejoin the theater in 2007, Barrow made it known that he wanted an opportunity to direct the play that ignited his passion.
"(It) was the one show that I always said, 'If 'Harvey' ever comes up, I want to direct it,' and the board knew that, and they had sanctioned that," Barrow said. "Pretty much everybody that knew me knew that 'Harvey' was my bucket list show."
When the opportunity finally arose for Barrow to direct the show, he assembled an experienced team from Theatre Denton to aid him in the production, starting with Assistant Director Melanie Barth.
"I asked Melanie if she would be my assistant director because I felt like, having never directed before, I needed somebody with some experience just to kind of make sure I didn't stumble anyplace," Barrow said of Barth, who recently helmed "Elf" at Theatre Denton. "Melanie's just been fantastic to work with…and we both kind of shared the same vision for the show."
Barrow credits the whole production team and cast with helping execute that vision. In spite of the 1940s origin and setting, he sees "Harvey" as a timeless comedy with a message that's as relevant today as it was back then.
"I think (Mary Chase) was ahead of her time in saying that there was going to be a time in our world where different people were not accepted, and really how short-sighted that is and how much those different people have to offer this world," Barrow said.
He explained that Dowd's friendship with Harvey, the giant imaginary rabbit, doesn't define him. Instead, it's the kindness and friendship Dowd offers that define him; traits Barrow saw reflected in real life in his dad.
"My dad was Elwood P. Dowd in real life. He was just the nicest guy in the world. There was never a closed door," Barrow said. "Everybody he met was his friend."
He credits the cast of "Harvey" with fully grasping the individual nuance and depth of their characters to help realize the show's meaning and execute his vision for this deeply personal production.
"One thing I feel tremendously confident about is that throughout this process, everybody in this show totally…understands their character," Barrow said, explaining that the cast has been receptive to notes from Barth and himself on how to deliver lines to reveal what Chase intended from this production. In turn, the cast has also helped Barrow surprisingly discover meaning behind certain lines that he hadn't considered before. "I think through this process, everybody really grasps the whole show now."
Overall, Barrow views the play as showing audiences how to look beyond someone's differences to see what they truly offer. He sees Dowd's character and relationship with Harvey as symbolic of "anything that's different about anybody" in today's world, delivering a message to audiences that, "it's okay to be different."
From a personal standpoint, Barrow also said that his entire experience with "Harvey" has surpassed his personal expectations for finally delivering his vision for the play to North Texas audiences.
"I have literally had the time of my life doing this," Barrow said, thanking his wife, Carol, for supporting him throughout the production.
Theatre Denton's production of "Harvey" runs from August 18-27 at Campus Theatre. For more information about the play, including how to purchase tickets, visit https://theatredenton.com/.