McKinney Repertory Theatre invites you aboard its production of "Murder on the Orient Express"
An inside look at the production with Director Lindsey Humphries and the play's Hercule Poirot, Dale Gutt.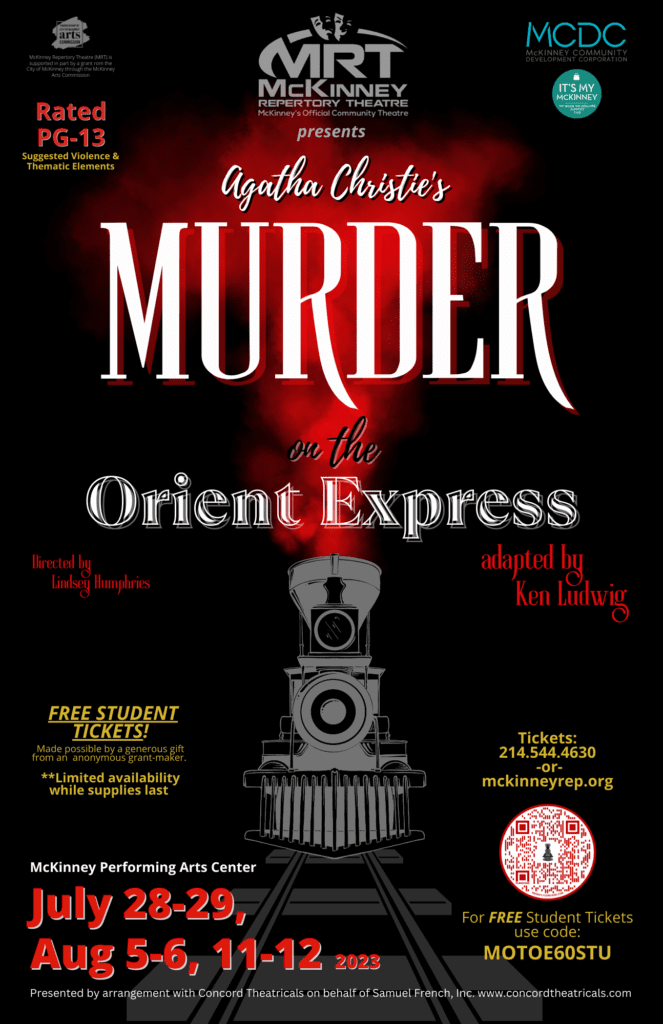 When it comes to the McKinney Repertory Theatre's Lindsey Humphries, it doesn't take a master detective to discover her appreciation of Agatha Christie's writing.
"I absolutely love Agatha Christie," Humphries said, explaining that a childhood love of the movie "Clue" led her to seek out the source material driving its jokes about common mystery tropes.
Since then, Humphries has not only brought Agatha Christie's works to life on stage, but she's also brought the famed mystery writer herself into the world of theater.
"I've actually played Agatha Christie herself on the stage. I got to be in a play once about her creating Poirot," Humphries said, referring to Christie's famous literary sleuth who's found his way into countless TV and movie adaptations over the years. "That's how deep my love of Agatha Christie runs. I've played her; I've played with her work."
Now, Humphries is directing one of the definitive Hercule Poirot novels for the McKinney Repertory Theatre, "Murder on the Orient Express." The production of the popular murder mystery, which runs from July 28 through August 12, uses an adaptation by famed playwright Ken Ludwig and features a leading actor whose knowledge of Poirot might just rival Humphries' own admiration for the character.
"When I sat down and tackled the show, my (version of) Poirot was David Suchet, always," Humphries said, referring to the longtime star of "Agatha Christie's Poirot" on BBC. Now, after her work directing the play, Humphries said the version of Poirot she envisions is between Suchet and Dale Gutt.
Gutt will be the man behind the iconic character for the McKinney Repertory Theatre production of "Murder on the Orient Express." He described how his interpretation of Poirot pulls from different elements of all the character's past iterations, from Charles Laughton's 1928 stage portrayal in "Alibi" to Kenneth Branagh's recent theatrical run as the detective.
"As an actor, you want to represent Poirot from Christie's perspective, but you also want him to be representative of what the culture, what the theater, what the public is looking for as well," Gutt said, adding that each individual might have a different Poirot they envision in their head before he walks out on stage. "So, what I'm trying to do is I'm trying to find salient points of each one of those actors."
With that method in mind, it should come as little surprise that Gutt has intensively researched his role for the play, down to listening to interviews with past Poirot actors about how they worked to capture his unique accent.
"It's a subtle French accent, actually. It actually sounds more English than French, but it has a French lilt to it," Gutt said, detailing his conclusions after studying how actors like Suchet and Branagh worked to reflect the mix of Belgian and French influence in the character's backstory with their vocals. "That's what I'm doing with the character because that seems to be most genuine to Suchet, to Branagh, to Poirot in general."
Even with that informed view of the character, Humphries has found excitement in seeing Gutt bring his own twists on certain scenes that feel unique to his thorough approach.
"In addition to picking up those bits from every Poirot, there are things about this performance that are Dale," Humphries said, noting how Gutt recently tweaked part of Poirot's discovery process in the show. "I've seen this play 20 times…and I was so excited that I was a little bouncy during notes because of the newness he has brought to it while still honoring and being true to what else Poirot has been."
That approach of originality meshed with authenticity is evocative of the McKinney Repertory Theatre production as a whole. While Gutt noted that this adaptation of the story strays closer to Christie's original writings compared to certain past iterations, the play drops the number of suspects down from 12 to eight.
"They use them really well. It doesn't feel like there's a hole in purpose or motive or meaning," Humphries said of the suspects.
Ludwig, who Humphries calls the "farce and comedy king of the 21st (century)," added some comedic touches to the production as well. Humphries explained that she felt it important that each actor contextualize any potential over-the-top moments or behaviors to still work within the reasoning of the play's overall mystery though, praising the cast for their knowledge of their character's backstories and motives.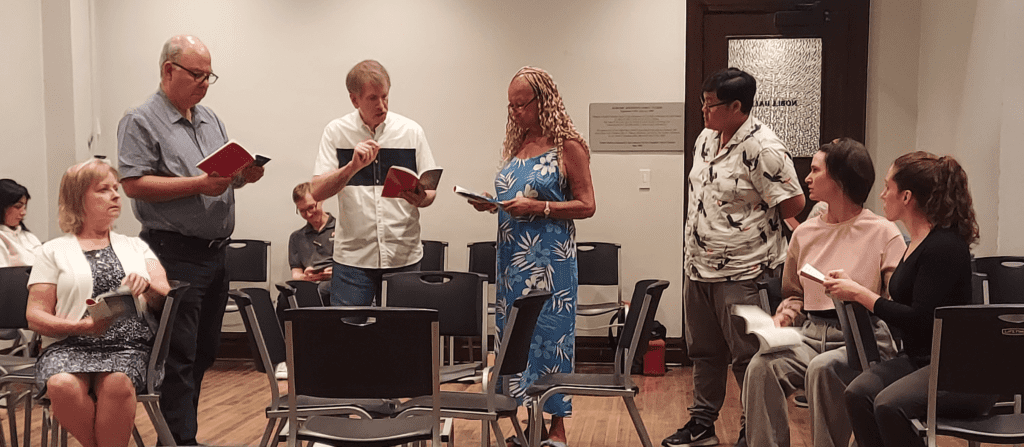 "I have a speech I gave to the cast at the very beginning of the process of the importance of having a reason for what we do on stage, not just putting that reason out in the audience of 'it will be funny if I do this and someone will laugh,' but having a reason for why their character would do what they do in that reality on the stage within the fourth wall," Humphries said.
That care and thoughtfulness that's gone into crafting the production and all of its nuances should go a long way towards helping Humphries achieve her goals of directing a celebration of the whodunit mysteries that helped shape her, creating a murder mystery that even seasoned veterans of the genre can enjoy.
"I want this to be a fan moment for those that already know and love them. I want the clues to be there and the story to be there for the people who love the genre and know how it's going to end…but also, I want murder mysteries and Christie specifically, who is such a talented classic writer, to feel accessible to a new generation – to people who don't read or see theater – and I think we're doing a really good job of that," Humphries said.
McKinney Repertory Theatre is reaching out to the local community to help promote the production via free student tickets, an ASL interpreted matinee performance on August 5 and a panel discussion with McKinney Chief of Police Joe Ellenburg and McKinney Public Library Technician Alayna Herod after the July 29 matinee performance.
"It's the first time Poirot's had to wrestle with the difference between law and justice," Gutt said, hoping that audiences will see how the character grows throughout the play.
The July 29 panel will touch on that moral dilemma and look at how real-life detective skills compare to those used by Poirot in the book and production among other topics of interest to the local community.
"I want the Half-Price Books down the street to sell out of Christie novels – get them all, check them all out of the library," Humphries said of her goal of helping the community embrace the genre through this production.
The McKinney Repertory Theatre production of "Murder on the Orient Express" runs from July 28 through August 12 at the McKinney Performing Arts Center. For more information, including how to purchase tickets, visit https://mckinneyrep.org/.