Luxury supercars roll into North Texas in support of Make-A-Wish this Saturday
This article originally appeared in the North Texas e-News.
Plano, Texas — Lamborghinis, Ferraris and Rolls-Royces are not just the luxury cars of your dreams this weekend. They're also the cars that could help make some of the dreams of North Texas children come true thanks to a fundraising event at Legacy West in Plano this Saturday.
The Greater Dallas Regional Council and Premier Autos of Dallas are partnering to host an expanded Super Cars for Super Wishes event on April 9 from 10:00 a.m. to noon in support of Make-A-Wish North Texas. The event will showcase as many as roughly 300 luxury supercars for ticket holders to see up close in all their sleek and striking glory, with more than 100 such cars already registered, as well as a silent auction featuring Dallas Cowboys memorabilia and unique experience packages.
"Any funds raised through this event will go just directly to our mission and to our operations here to keep granting wishes," Make-A-Wish North Texas Development Officer Emily O'Brien said.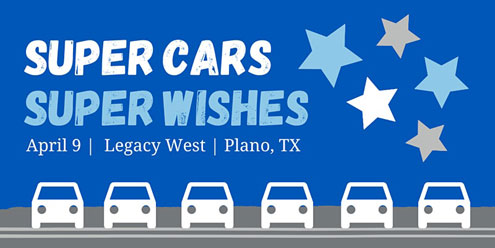 Make-A-Wish North Texas is working closely with the event's organizers to help plan Super Cars for Super Wishes. The organization will have children who saw their wishes granted share about their experiences at the event in addition to a "Wish Reveal" for a current child looking to have their wish fulfilled.
According to the organization, Make-A-Wish North Texas was able to grant 41 wishes in March for eligible children across the 161 counties it serves stretching from El Paso to Dallas and beyond. With more than 1,000 children currently at some point in the process of working with Make-A-Wish North Texas though according to O'Brien, this fundraiser could clearly be very beneficial in helping the organization reach its goals.
Wishes can range from shopping sprees and new electronics to playhouses and trips to Disney World or just about anything in-between.
"We really work to make each wish as special as the child is that is receiving it," O'Brien said.
O'Brien explained that the smaller-scale, roughly 50 car offerings at Super Cars for Super Wishes were successful at raising anywhere between $20,000 to $50,000 in support of Make-A-Wish North Texas in the past. The dream to expand the event seems to have already paid off for organizers however as more than $50,000 in sponsorships came in before tickets even went on sale, O'Brien said.
"It just kind of keeps growing, keeps getting bigger and it's just been really, really well-received by the community," O'Brien said.
North Texans interested in attending the fundraiser can purchase individual tickets for $25 or VIP tickets which include access to an exclusive area of the event along with complementary food and drinks for $125 via eventbrite.