How a 19-year-old director and brand-new theater company are bringing a timeless classic to Plano
A stage adaptation of Jane Austen's popular novel, Pride and Prejudice, heads to the Art Centre Theatre in Plano beginning January 6.
The popular media that truly deserves the label "ageless" can sometimes feel few and far between these days, yet there's little doubt that Jane Austen's Pride and Prejudice is the embodiment of the term. The beloved novel is a celebrated bestseller even more than 200 years after its first publication, having inspired a litany of adaptations throughout the generations since.
The Art Centre Theatre (ACT) in Plano is set to provide continued proof of Pride and Prejudice's long-standing popularity with another adaptation set for January 6 directed by a member of one of the youngest generations today, Gen Z.
The ACT's Pride and Prejudice may mark 19-year-old Nathan Menser's debut in stage direction, but he's no newbie to directing or the stage despite his youthful age. An online student at the Los Angeles Film School, the Commerce, Texas resident has already directed three of his own short films and acted in past stage productions like an adaptation of Evil Dead.
"I'm pretty sure Nathan has more directing experience than I did," Pride and Prejudice's Producer and veteran actor of 10 years Jeremy Bukaty said. "I have a few years of it, but he definitely has more experience in the classroom and being around it more than I have."
Bukaty first met Menser when the two acted together this past Summer in the ACT's adaptation of Clue, Menser played Mr. Green and Bukaty played Wadsworth. During that production, inspiration struck Bukaty, who was just returning to acting after getting a "normal job" due to the COVID-19 pandemic.
"There was just a new group of people at the theater and they're all absolutely wonderful and amazing, so I decided I gotta do more," Bukaty said of returning to acting.
That group proceeded to form a yet-to-be-named theater company with the goal of producing some of their "dream works" together, the first of which is Pride and Prejudice. Bukaty and the group then brought Menser in to direct the production, which follows an adaptation of the original work written by Jon Jory.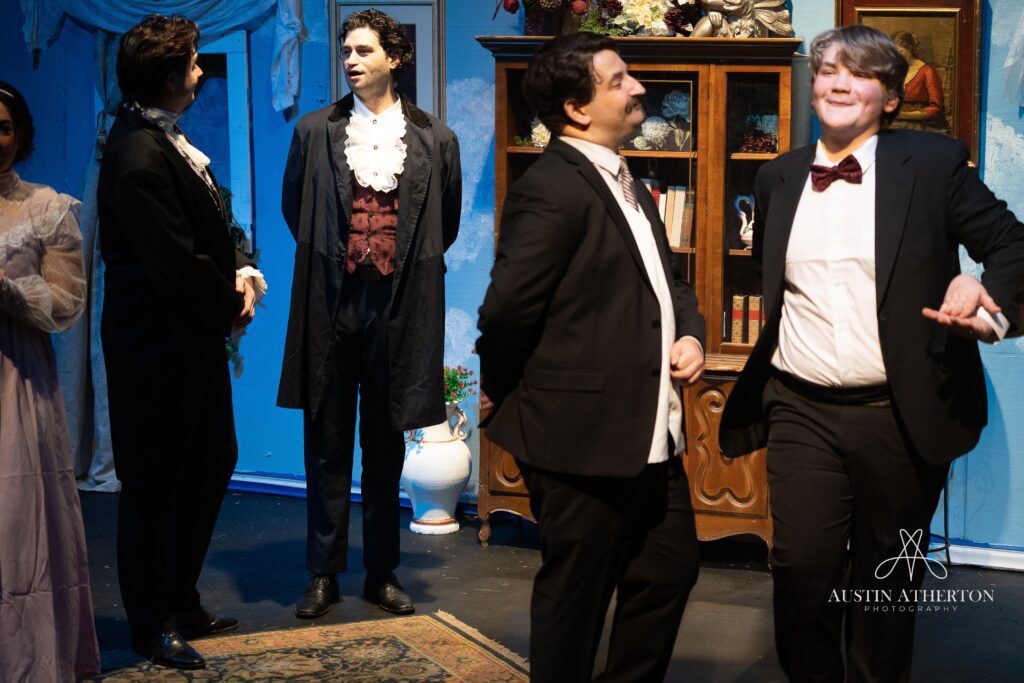 "He just went full throttle and has just been doing an amazing job," Bukaty said of Menser's directing.
Rehearsals began the second weekend in November, according to Bukaty, as the two juggled their other life commitments with the play.
"I think what's great about community theater is that if you do it, then nobody there sleeps. And so, myself, between school and work and committing and directing, I think it's something like a 75 or 90 hour a week commitment any given week," Menser said, adding that Bukaty and the rest of the acting cast put in similar hours.
Menser explained that this particular version of Austen's work, which he describes as a "wonderful and hilarious adaptation," allows for the same castmate to take on multiple roles, sometimes even portraying their own enemies in certain cases.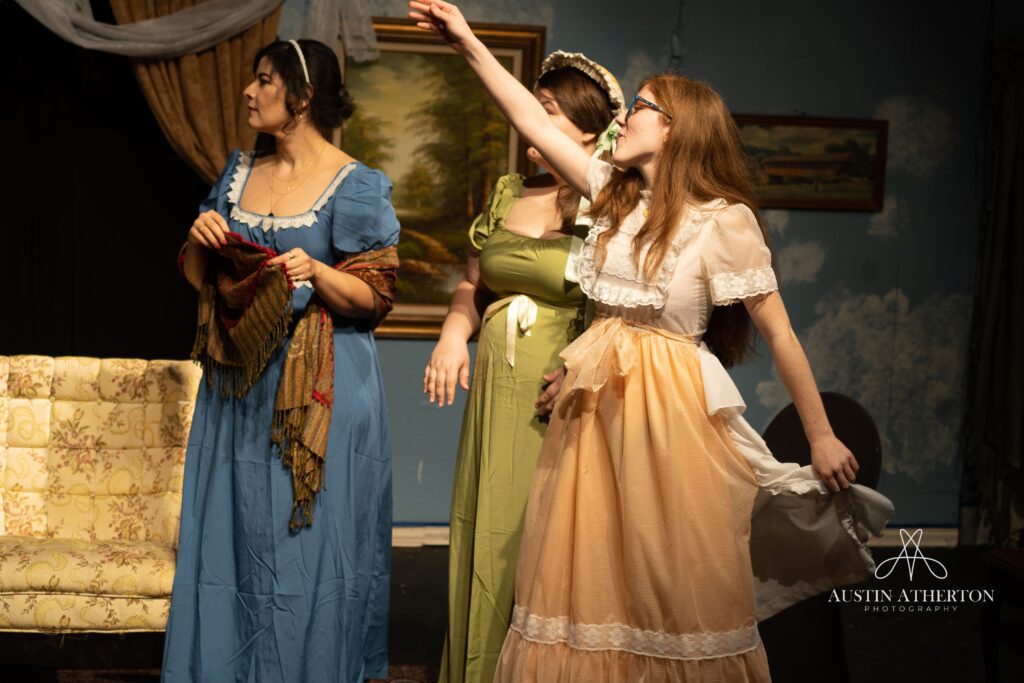 While Menser won't be acting in the play himself, he's taken on dual roles of his own as well. Menser serves as both the director as well as the tech lead of the production in charge of designing the sound and lights during the show. Similarly, Bukaty serves in dual roles acting as the leading male in the cast, Mr. Darcy, in addition to his job as the production's producer.
Menser and Bukaty's extensive commitments show the exhausting effort that's gone into this production which Menser expects to run between 2 hours and 10 minutes to 2 hours and 20 minutes.
"It's taken a lot more effort than a show might usually have because of all of the set changes, the tremendous amounts of dialogue and then trying to figure out how to separate the scenes from one to the next," Menser said. "So, it's taken a lot of behind the scenes work out of rehearsal and in rehearsal both."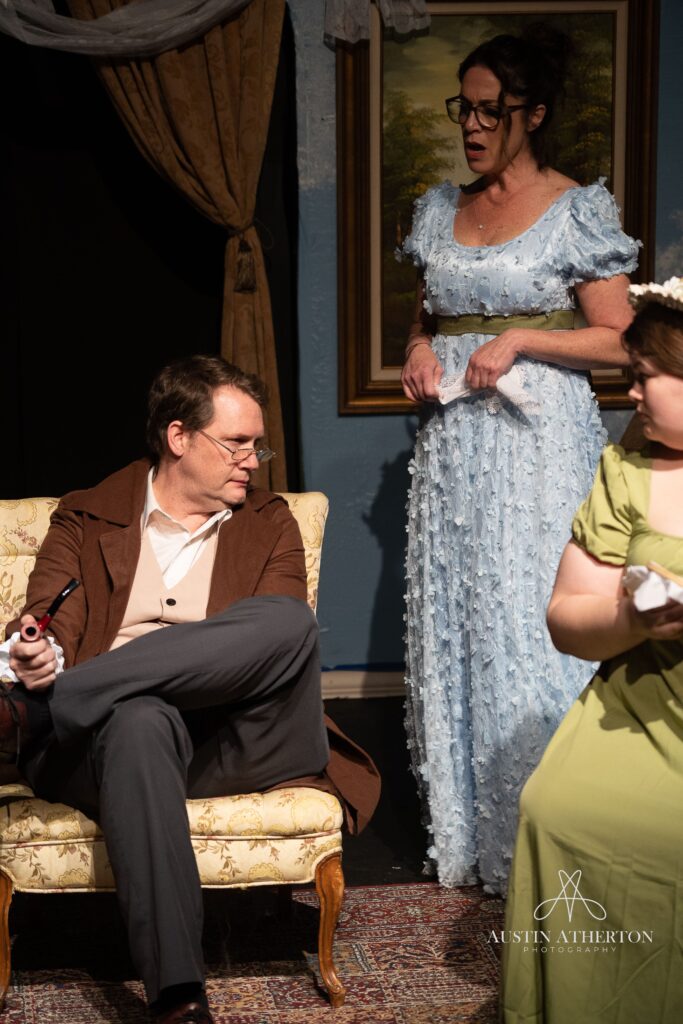 That work will soon pay off with a series of shows beginning at 7:30 P.M. on January 6 and extending through January 15 at the ACT. It will mark just the latest performances of this popular, ageless story.
"I'm excited to share the passion of theater and to be telling such a timeless classic," Menser said. "And being able to give people some entertainment for a night, that means a lot to me."
For more information about Pride and Prejudice at the Art Centre Theatre, visit https://www.artcentretheatre.com/.