Fight Collin County hunger by filling your own artistic bowl at Empty Bowls McKinney
Empty Bowls McKinney starts at 6:00 p.m. on May 4 at the McKinney Performing Arts Center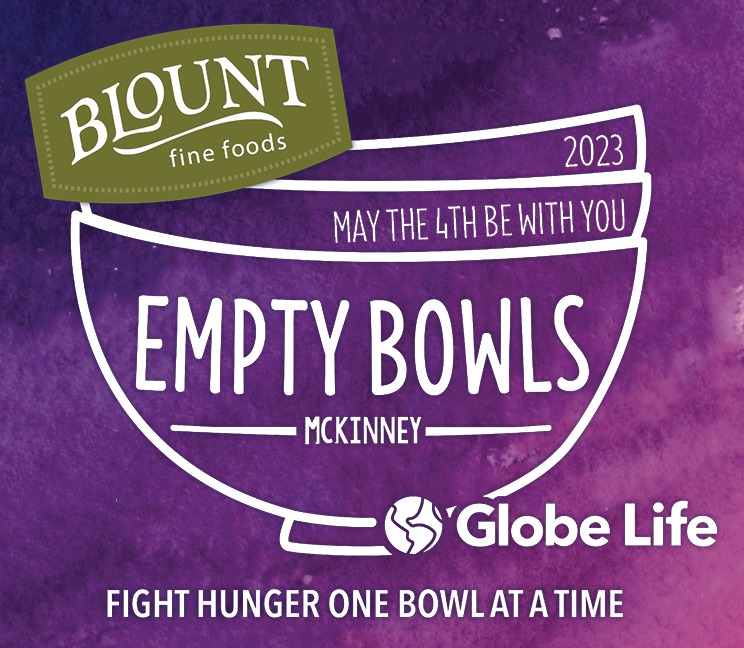 There are more than 100,000 people experiencing food insecurity in Collin County, according to 2021 data by Feeding America. That's 100,000 people who don't have access to enough food to live a regular, healthy lifestyle living in your county, city or even next door.
The face of hunger is not just one of a certain age, race or religion either. Food insecurity affects people of all walks. In fact, one in four McKinney ISD students experiences food insecurity per Community Garden Kitchen.
It's this issue facing the local community which Empty Bowls McKinney helps to address through its yearly fundraiser. The event raises money to support the charitable efforts of two local hunger-fighting charities, Community Lifeline Center and Community Garden Kitchen, through the sale of artistic, handmade bowls and the chance to sample a variety of delicious soups.
"It started in our church, St. Peter's Episcopal Church, as a fundraiser to raise money to buy hams for Easter baskets," Empty Bowls McKinney Sponsors Coordinator Molly Jones said, explaining that the fundraiser organizers partnered with potters who were renting a building from the church to raffle off some bowls while members of the congregation made soup. "They raised $4,500 the first year, and they go, 'Oh, maybe we're onto something here.' Over the years, it has just gotten bigger and bigger."
Jones noted that the event raised $120,000 last year, with $80,000 going directly back to the community charities. Jones added that Empty Bowls McKinney stipulates that the donated money goes towards purchasing food, thus benefitting programs like Community Lifeline Center's food pantry and mobile food operations as well as Community Garden Kitchen's dining hall dedicated to providing fresh meals for food insecure residents.
Now in its 12th year, Empty Bowls McKinney returns on May 4, bringing around 1,000 bowls to the McKinney Performing Arts Center and Kentucky Street.
Those 1,000 bowls are what Jones calls "general admission bowls" as a standard $35 ticket gives attendees the opportunity to pick their own artistic bowl before sampling soups from 11 local chefs.
"We have a lot of artists that we invite to make bowls that have done them for us before. They're professionally trained artists," Jones said, detailing how three primary studios from McKinney's vibrant arts community help to make the bowls: Jump Into Art Studios, St. Peter's Artist Run Community (SPARC) and Glaze Ceramic Studio.
Adam Knoche, owner of Glaze Ceramic Studio at the McKinney Cotton Mill, explained that he's been a longtime participant in the fundraiser by creating bowls with other local pottery associations while teaching at Dallas College.
Having recently opened his own studio with his wife Angie on July 25, 2022 at the McKinney Cotton Mill, Knoche now hosted his own two-day community event bringing 30 local DFW and McKinney artists together to make bowls for the fundraiser. The result was 180 bowls which Knoche showed the Collin-Denton Spotlighter prior to glazing and firing them.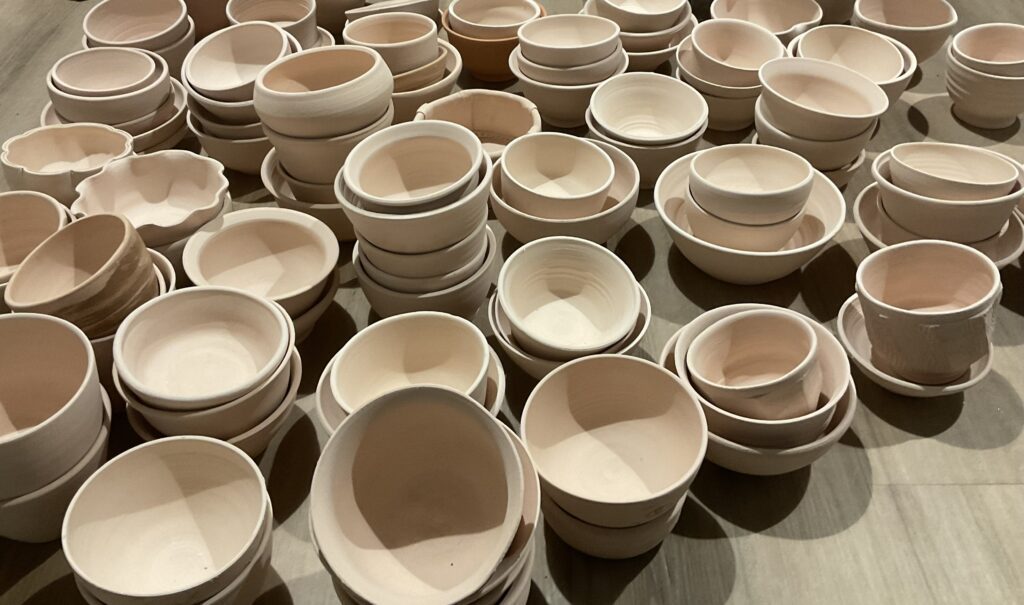 "It was great to have the community here, bringing the artists together," Knoche said. "Everyone got to mingle and meet each other, which was really exciting because that's kind of our whole thing – creating a community around clay and ceramics. It was a really cool two days."
Knoche described how he would choose different glazes from the studios' selection of 17 glazes to create the eye-catching final products. Empty Bowls McKinney organizers will then add a prayer card that features stories from real Community Lifeline Center and Community Garden Kitchen clients to each of the bowls at the event, according to Jones.
"The bowl is there to remind you of people that do not have food in their bowls," Jones said.
Overall, she said the event's unique ability to let attendees pick and keep their handcrafted bowl before enjoying all-you-can-eat soup and a festive atmosphere, all while simultaneously helping others, makes it "the best date night ticket you can get."
"I mean, where else can you go for $35 to raise money, eat all you can eat and go home with the bowl?" Jones said.
Empty Bowls McKinney runs from 6:00 p.m. to 8:00 p.m. on May 4 at the McKinney Performing Arts Center. General admission tickets cost $35 and are available at the link here. There will also be an opportunity to purchase specially designed art bowls via an auction and raffle here. Visit https://www.emptybowlsmckinney.com/ for more information.