The Allen Contemporary Theatre is hosting upcoming auditions for its production of "On Golden Pond"
Auditions are scheduled for July 9-10, with callbacks planned for July 11 if needed.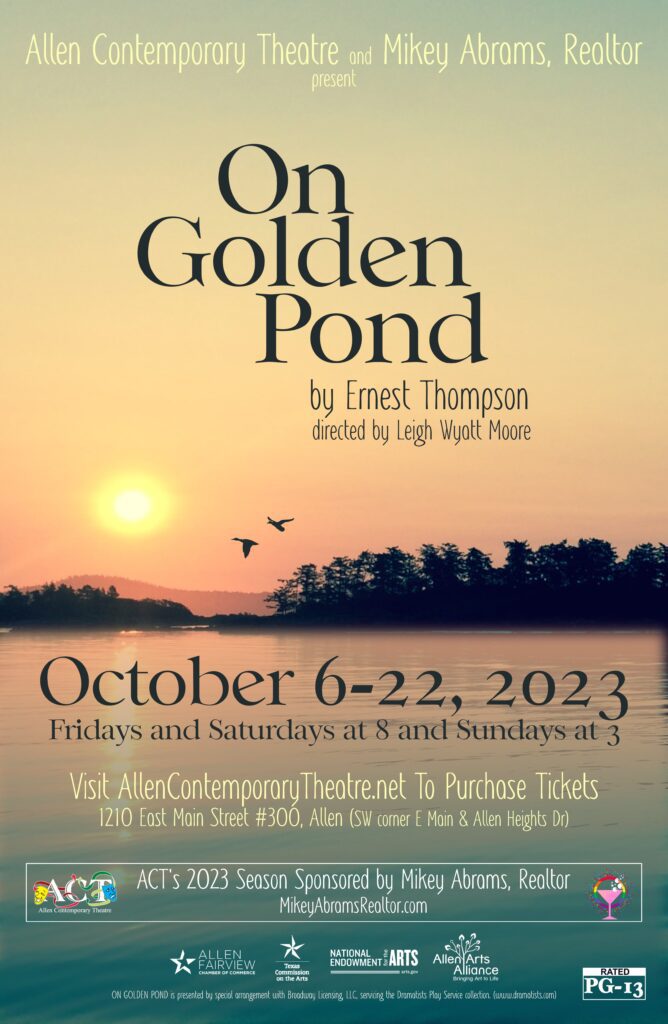 The Allen Contemporary Theatre (ACT) is hosting auditions for its upcoming production of "On Golden Pond" from 6:30 p.m. to 9:30 p.m. on July 9 and 7:00 p.m. to 10:00 p.m. on July 10. Callbacks, if needed, will be at 7:00 p.m. on July 11. The play, directed by Leigh Wyatt Moore, will run October 6-22.
The ACT describes the 1979 play by Ernest Thompson as focusing on an aging couple who spend their summers at their lake home on Golden Pond. The play takes place one year when the couple's daughter visits along with her fiancé and his son.
The ACT's plot description notes that "the play explores the often turbulent relationship the young woman shared with her father growing up, and the difficulties faced by a couple in the twilight years of a long marriage."
Those interested in auditioning for a role in "On Golden Pond" should arrive 10-15 minutes early and bring a resume, head shot and list of scheduling conflicts to the theater. The ACT will accept walk-ins during auditions, but the theater prefers scheduled times through a link posted on its website.
Read-through begins August 21 at 7:00 p.m., with rehearsals starting September 5 and generally running Sundays through Thursdays. Tech week will be October 1-5. Performances will then run Fridays and Saturdays at 8:00 p.m. and Sundays at 3:00 p.m. for the duration of the show's run.
The ACT will not permit scheduling conflicts on tech week or the listed performance dates.
For more information about the auditions, including the list of available roles with character descriptions, head to the ACT's website here.