Addison's WaterTower Theatre is going big with the world premiere of "Goin' Hollywood"
An inside look at the upcoming world premiere of "Goin' Hollywood" with the show's Director Gabriel Barre and WaterTower Theatre's Producing Artistic Director Shane Peterman.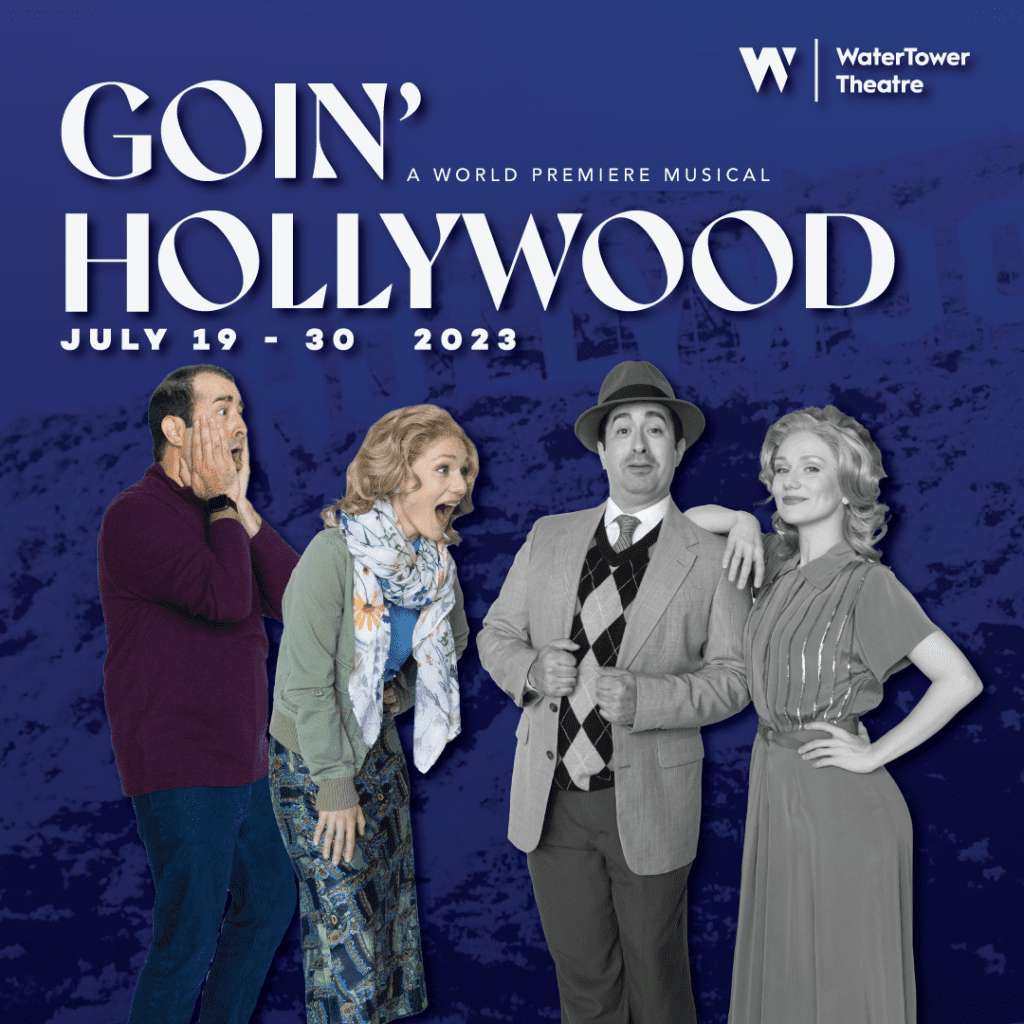 Times have been tough for lots of people lately, something the theater industry knows all too well. It's no secret that live theater is still deep in the midst of recovering from the COVID-19 pandemic shutdowns, fighting to bring people and profits back to the arts amid recent economic uncertainties. Combine that with all the other issues in the world these past few years, and just about anyone might be longing for a simpler time.
That wishful thinking is what brings out the magic behind "Goin' Hollywood," the talent-packed original musical comedy making its world premiere at Addison's WaterTower Theatre under the guidance of Broadway Director Gabriel Barre.
"Goin' Hollywood" is a jazz-infused musical centers around Alice Chandler, a writer who finds herself transported back in time to 1948 with her best friend and writing partner Garson Stein. In that golden age of Hollywood musicals, the duo gets their dream jobs writing for the screen's biggest stars at MGM.
Even surrounded by all that glitz and glamour, however, Chandler and Stein still find themselves forced to confront sexism, McCarthyism, antisemitism and a film industry in crisis during their year in the past leading up to the star-studded MGM 25th Anniversary Luncheon of 1949.
"The whole notion about the grass is really never greener…that theme really resonates in this piece," Barre said, adding that he views such a message as an important lesson to reflect on following what he describes as the "pandemic pivots" and complicated struggles of the past few years.
In fact, "Goin' Hollywood" itself wasn't immune to those struggles. The show's co-creators, Stephen Cole and David Krane, spoke about the difficulties the production experienced during the pandemic in a conversation with Dallas Morning News' Michael Granberry.
"It was tough on all of us," Cole told Granberry about the pandemic. "We just had to sit and wait."
That waiting will pay off once "Goin' Hollywood" officially premieres on July 19 and embarks on its nearly two-week run through July 30 as the conclusion of WaterTower Theatre's current season.
"I think it's just a perfect show for this time, for our audiences," WaterTower Theatre Producing Artistic Director Shane Peterman said. Peterman said that he "jumped right on" the musical when he saw the opportunity for WaterTower Theatre to host its debut. "There's a lot of great moments in it that I think our audiences will really enjoy."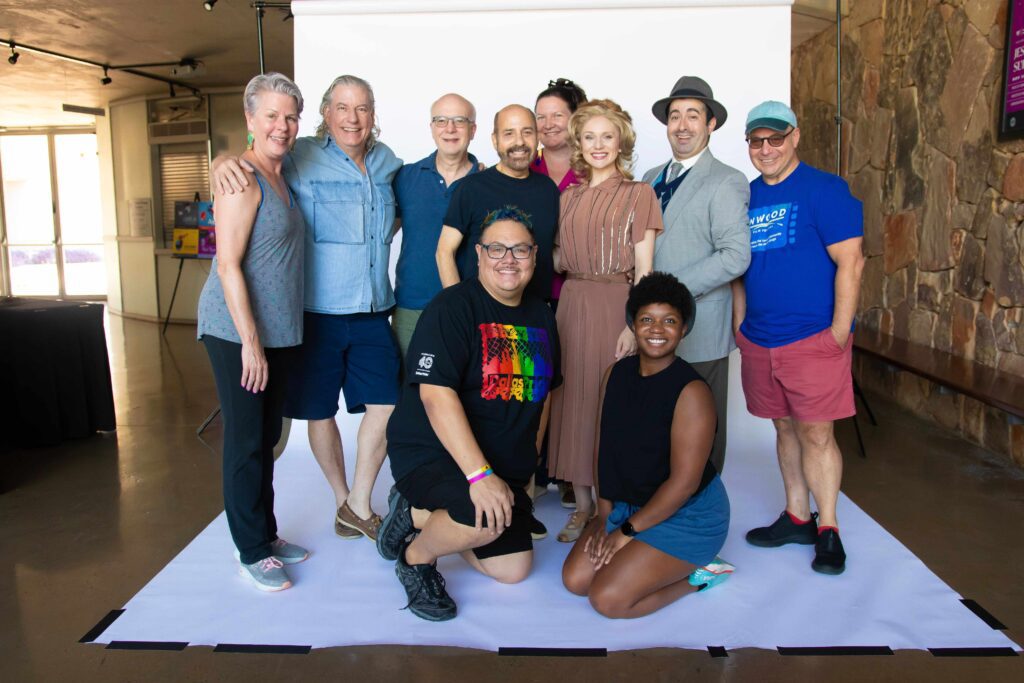 Some of those moments will include opportunities to see stars of the era come to life on stage. Barre detailed how he's worked with Costume Designer Sarah Mosher to help bring recognizable icons like Judy Garland and Katharine Hepburn into the show, which pulls from the full extent of the MGM musical catalog for inspiration.
"There are scenes loaded with stars, and we don't necessarily identify who they all are, so it will be fun for an audience to 'name that star' in a couple of party scenes," Barre said, noting how the production team and actors came together to come up with design choices to embody the various actors.
Beyond including a litany of references that cinema buffs will surely enjoy, Barre praised Peterman and the WaterTower Theatre overall for "producing a show of this size and ambition" coming out of the pandemic.
He explained that "Goin' Hollywood" uses the framework of an MGM soundstage to breathe life into different scenes of the production, informed by looking through hundreds of historical photographs showing what those soundstages would look like. The audience will then serve as part of the crew observing the movie scenes as they're created from a backstage or behind the camera perspective.
"The things I'm most excited about are those wide shots where you're seeing the crane, and you're seeing the director, and you're seeing 150 people supporting an intimate love scene on a bed between two people," Barre said. "To me, that's the magic of moviemaking. It's the magic of illusion. It's the magic of theater too."
Barre also described how the production will use video projections to help create different scenes, including a few glimpses of MGM productions at the time, and "to propel the action of our story." Barre said he worked closely with the show's production team, including Set Designer Bob Lavallee, to fully bring the classic Hollywood setting to life.
"He (Lavallee) and I were the first ones to try to sort of crack the code of the show and figure out a way that we could do this not just minimally to suit the budget and the performing space we're in, but in a way that I always feel every show should be done that not only leaves room for the audience's imagination but demands the audience's imagination is part of the production," Barre said. "So, it's been really fun to find the right core way of stylizing this, and we're doing it with just a few minimal pieces that, through the use of projections, can change identity."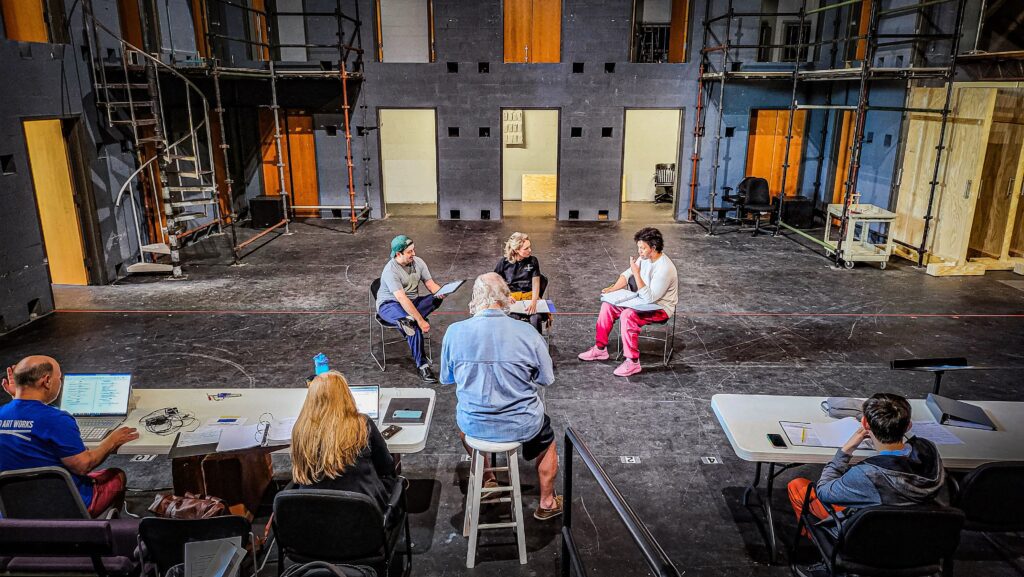 Both Barre and Peterman expressed excitement about the opportunity to see all of the elements of "Goin' Hollywood" realized on stage at the world premiere, from the technological aspects to the unique story brought to the stage by what Barre referred to as a "terrific and absolutely New York-caliber or anywhere-caliber" cast.
"There's gonna be a lot of laughing in this theater, and that always warms my heart. There's also some really beautiful, touching moments between our leads," Peterman said. He believes the "energy exchange" of those moments helps to differentiate live theater from other forms of entertainment confined to the screen, referencing his own emotional experiences returning to live acting after the pandemic as proof. "That is what has fed my soul and given me life, and I hope that as folks continue to come back to the theater that that's what they feel because this is the perfect show to touch on all of those heartstrings for them."
"In addition to the humor and the emotion and the music itself, what I'm most proud of is the moments that we're creating, and those are the moments that can make you cry, can make you laugh," Barre said of the culmination of the show's elements. "Those moments become memories for audiences, but they also become bonding experiences for audiences…I felt that all over the world in countries where I don't even speak the language. You can still feel that catharsis, if you will, of your shared experience (which) it's true you can only get in the theater."
Even in a post-pandemic environment, the show's guiding team appears energized about their unique opportunity to use this premiere as the first step towards "Goin' Hollywood" finding its own path towards the future, whether that be in New York, London or elsewhere around the country or the world.
"What I hope to come away with artistically is a show that is worthy of having a life," Barre said.
The world premiere of "Goin' Hollywood" runs from July 19-30 at WaterTower Theatre in Addison. For more information, including how to purchase tickets, visit https://www.watertowertheatre.org/.