The 38th Annual Texas Storytelling Festival was proof of the power of the spoken word
Experiencing the power of storytelling firsthand at the Texas Storytelling Festival in Denton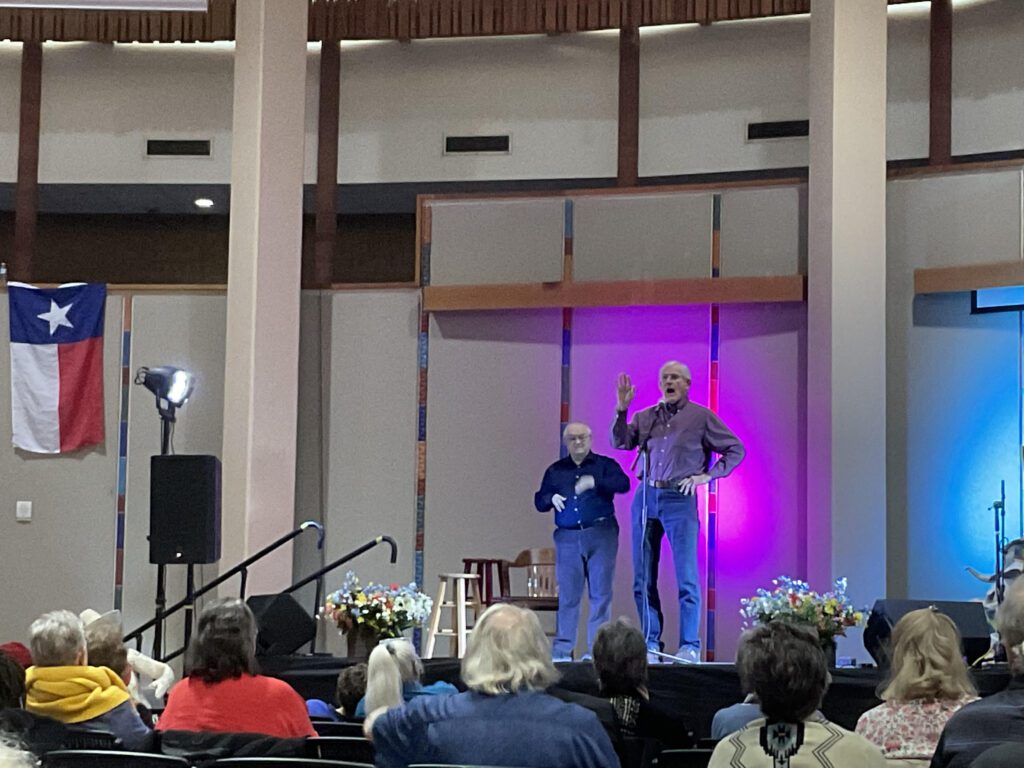 There was a feeling of rich history and culture in the air that early afternoon. The audience was on the edge of its seat, united in anticipation of each word as storyteller after storyteller spun tales both heartfelt and hilarious. It was the power of the spoken word that brought people from all walks of life to the Denton Civic Center for a four-day festival to celebrate the richness and diversity of storytelling.
The 38th Annual Texas Storytelling Festival, hosted by the Tejas Storytelling Association (TSA), featured everything from ghost stories and lying contests to the kinds of cultural tales that storytellers pass down through the generations.
"I usually tell people, 'You know how long it takes you to learn a story? From the day that you first think you would like to tell it to the last time in your life that you tell it, that's how long it takes you to really learn the story,'" Joe Hayes said. Hayes, a specialist in Southwestern folktales and an award-winning author who's published more than 25 children's books, was one of the five storytellers who took the stage at the festival's featured storyteller concerts.
The concerts provided attendees the chance to see masters of the art of storytelling at work. Tellers who have spent years refining their skills and stories, reciting tales that are both unique to their individual heritage and representative of common shared experiences, all while still continuing to "learn" those stories themselves as Hayes noted.
Bernadette Nason, another award-winning featured teller and an actress, author and voiceover artist, explained that stories evolve from the time they're written on paper to when they're first told to the audience.
"It's different every time," Nason said of telling a story. What doesn't change though is the skill of the storyteller or the unique qualities they bring to a telling.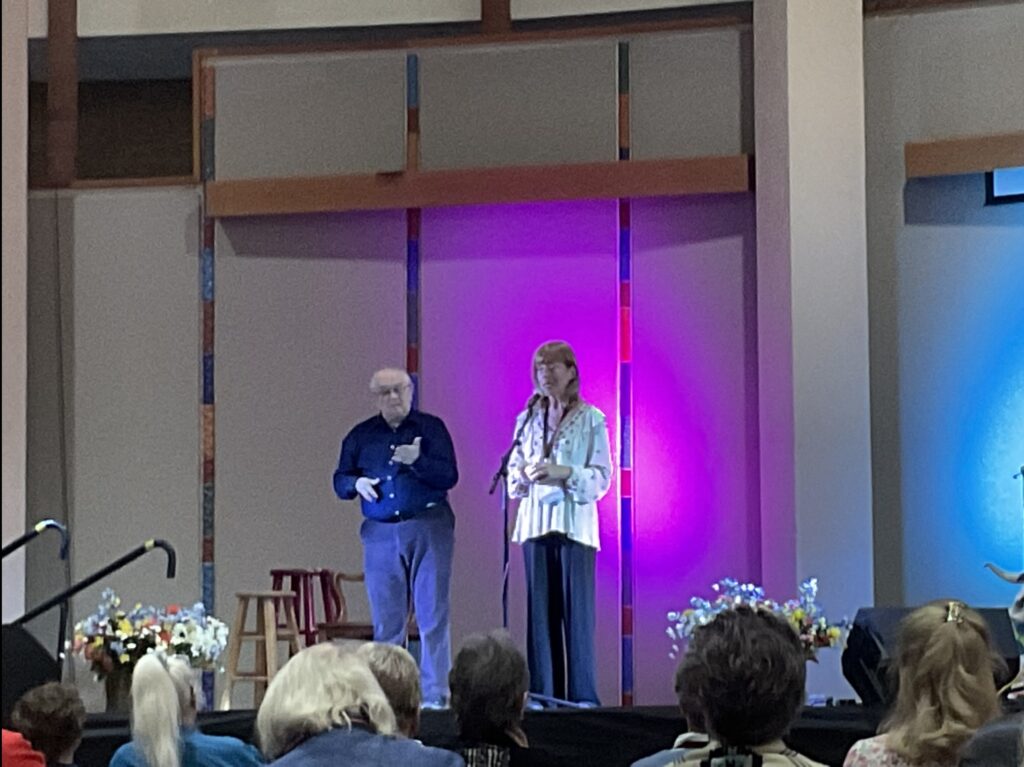 "It's an expression of who you are," Hayes said of the art of storytelling.
That expression extends beyond true stories, like Nason's description of her unexpected culture shock upon arriving in Texas armed only with British perceptions of the state, into the realm of fiction that the four other featured tellers chose to enter.
Professional singer and songwriter Colin Urwin's Irish folklore made way for nationally recognized teller Sheila Arnold's historically recognizable Southern fairy tale. Traditional Appalachian and Southwestern sensibilities comprised the concert's final two performances as longtime festival advisor and organizer Elizabeth Ellis took the stage followed by Hayes, whose fictional tale of a Southern childhood upbringing ended the performance with a lighthearted twist.
All those stories varied wildly in tone based on the teller. Urwin, for example, mixed song and dramatic prose for his legend of an Irish fisherman's mysterious new partner. It was a rivetingly engrossing performance, almost as if a fellow fisherman was on stage telling the tale.
Stories from Arnold, Ellis and Hayes all kept the audience's attention in distinctively different ways. Arnold and Hayes weaved different kinds of comedy and audience participation into their stories while Ellis brought the feeling of listening to stories on a front porch deep in the countryside.
Unlike the tone though, the themes in which each storyteller spoke on echoed one another at times. Similarities emerged, shared messages on family and ingenuity that seemed to ring through each storytelling.
That's not by coincidence either. The concert format combined with the age-old nature of storytelling lend itself to a certain sense of unity in story.
"I'm going to add something because this is an audience that appreciates such and such. I've just seen it. I've just heard the response to someone else," Nason said, explaining her thought process in environments like the Texas Storytelling Festival. "I can apply my story to what someone else has said."
Even beyond that, the roots of each story often have certain commonalities, even as they're viewed through the looking glass of the teller reciting them.
"Colin's story is based on a lot of folktale stories I've heard, but he did a magnificent job of telling it a different way," Festival Advisor and TSA Board Member Jaye McLaughlin said. She described the global reach of the festival in attracting guests, almost a word-of-mouth way of bringing together talented individuals from around the country and world each year.
Perhaps it's no surprise, then, that the stories themselves take such inspiration from cultures near and far.
"The story I told was an Appalachian variant of a European and English story, (there are) Jewish variants of it, etcetera," Ellis said. She spoke with Nason and Hayes after the concert about the similarities and differences in their respective regions even as they each noted how today's shifting landscapes, with rapidly growing metropolitan centers and international corporate influences, simultaneously spread and degrade the unique culture elements worth keeping.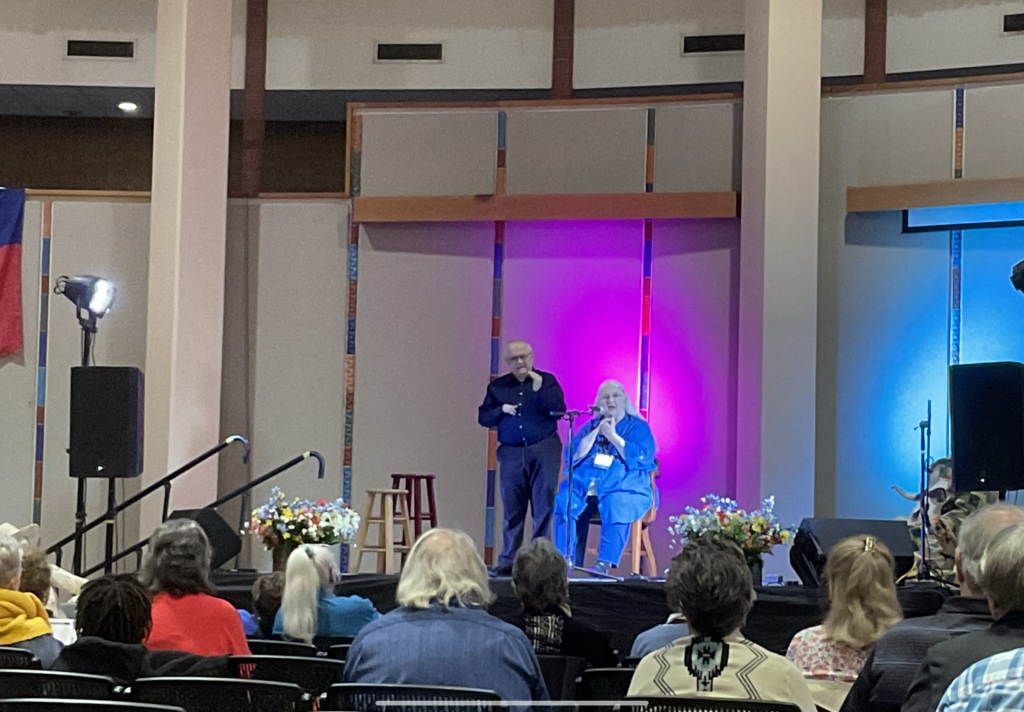 "People come in and they bring their stories with them and that's kind of unbelievable," Nason said, describing how she's personally seen the storytelling community around her home in Austin grow significantly over the years as a result.
It makes these collections of storytellers who spread and preserve their own cultures through the power of the spoken word into stories truly worth sharing in of themselves.
For more information about the Tejas Storytelling Association, visit https://tejasstorytelling.com/. The Texas Storytelling Festival will return for its 39th year on March 7-10, 2024.