The 2023 Denton Black Film Festival aims to showcase a more expansive and diverse film festival experience
The Denton Black Film Festival returns in-person on January 25-29 and continues virtually from January 29-February 6.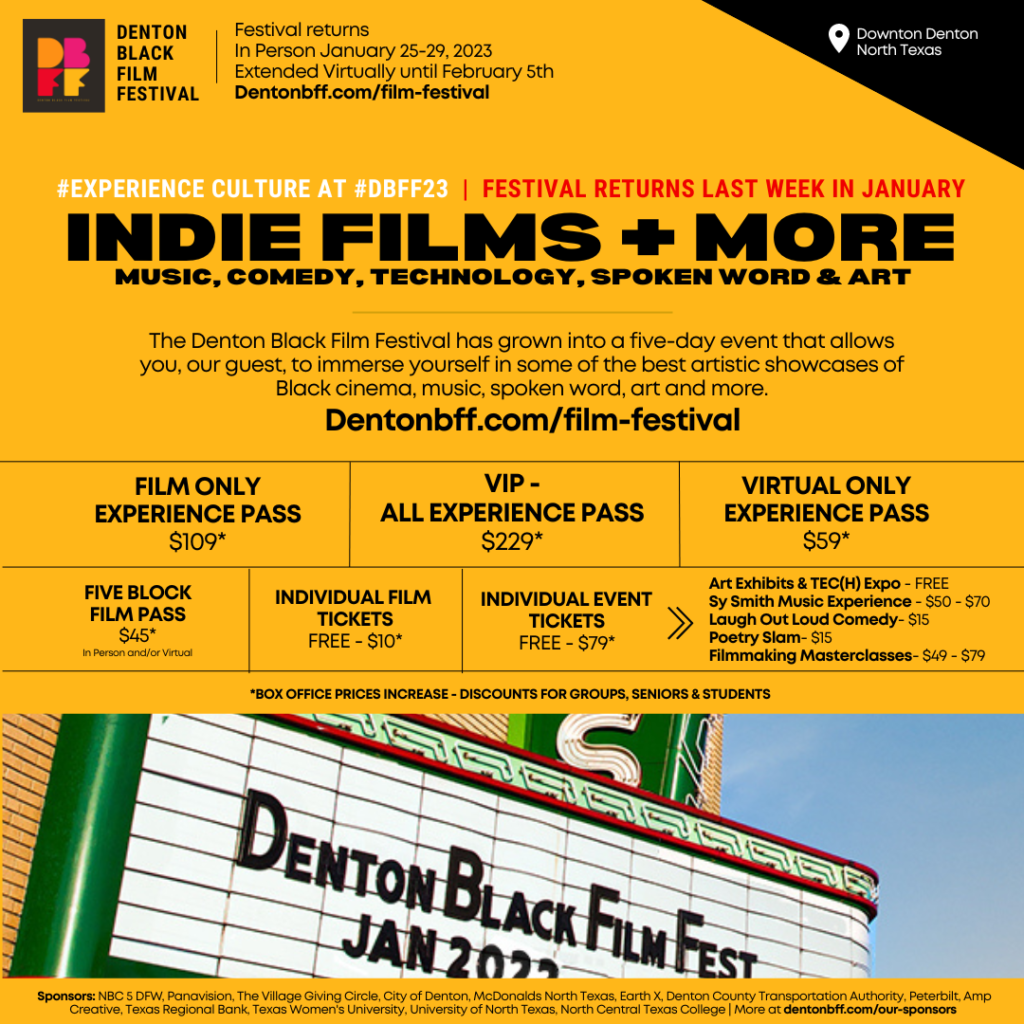 With nearly 100 movies spanning a wide variety of genres, from deeply emotional documentaries to lighthearted comedies, spine-tingling thrillers and nearly everything in between, the Denton Black Film Festival (DBFF) is certainly a cinema-forward event.
The festival, which returns as an in-person event from January 25-29, includes a number of highlight cinematic attractions such as the premieres of films like William Greaves: Remembering an American Filmmaker which highlights the life and career of the pioneering documentary filmmaker. Echoes from the Hill, a story of a Texas community founded by formerly enslaved people, will also premiere at the festival as one of just several locally inspired or produced films there.
The festival is about more than just movies, however. Much like this year's leading Oscar nominee, the festival almost feels on track to being everything everywhere all at once. The DBFF has become a veritable multimedia cultural experience under the guidance of DBFF Institute Executive Director Harry Eaddy.
"I think the best way to describe us is we're more like a South by Southwest," Eaddy said. He explained that the festival attempts to encompass all kinds of culturally relevant media to the black experience including, but not limited to, film. That means featuring music and spoken word performances, standup comedy and even a techology expo during the festival.
"One of the things we've discovered is not everybody's a film person, not everybody's a music person," Eaddy said. "Some people are just more curious about technology, or they want to laugh, and so we try to provide those offerings, including workshops and panels, just so people can spend that weekend or five days with us and have just a great experience."
The DBFF is bringing renowned artists from all those mediums to a variety of venues across Denton such as the campuses of the University of North Texas and Texas Women's University as well as the Denton Civic Center.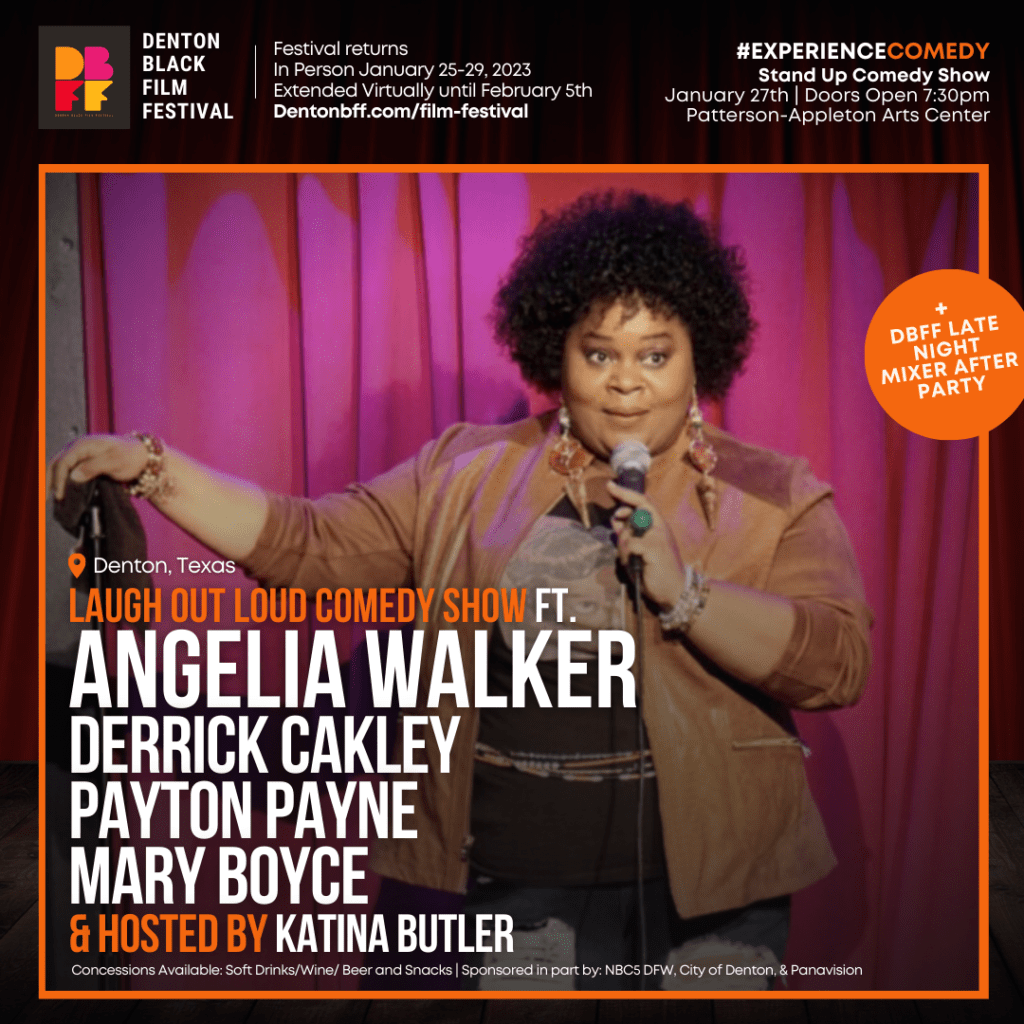 McKinney-based comedian Angelia Walker is one of the standouts among those artists. Walker, who's headlining the festival's Laugh Out Loud Comedy Night on January 28 at the Patterson-Appleton Arts Center, opened for famous comedians like Katt Williams and Jon Lovitz and has headlined clubs around the Southwest according to the DBFF.
For the festival's musical side, acclaimed artist Sy Smith will be performing on January 26 at the Margo Jones Performance Hall. The DBFF describes Smith as an originator of the nu-soul genre whose band has included fellow nationally recognized acts like bass virtuoso Thundercat and saxophonist Kamasi Washington.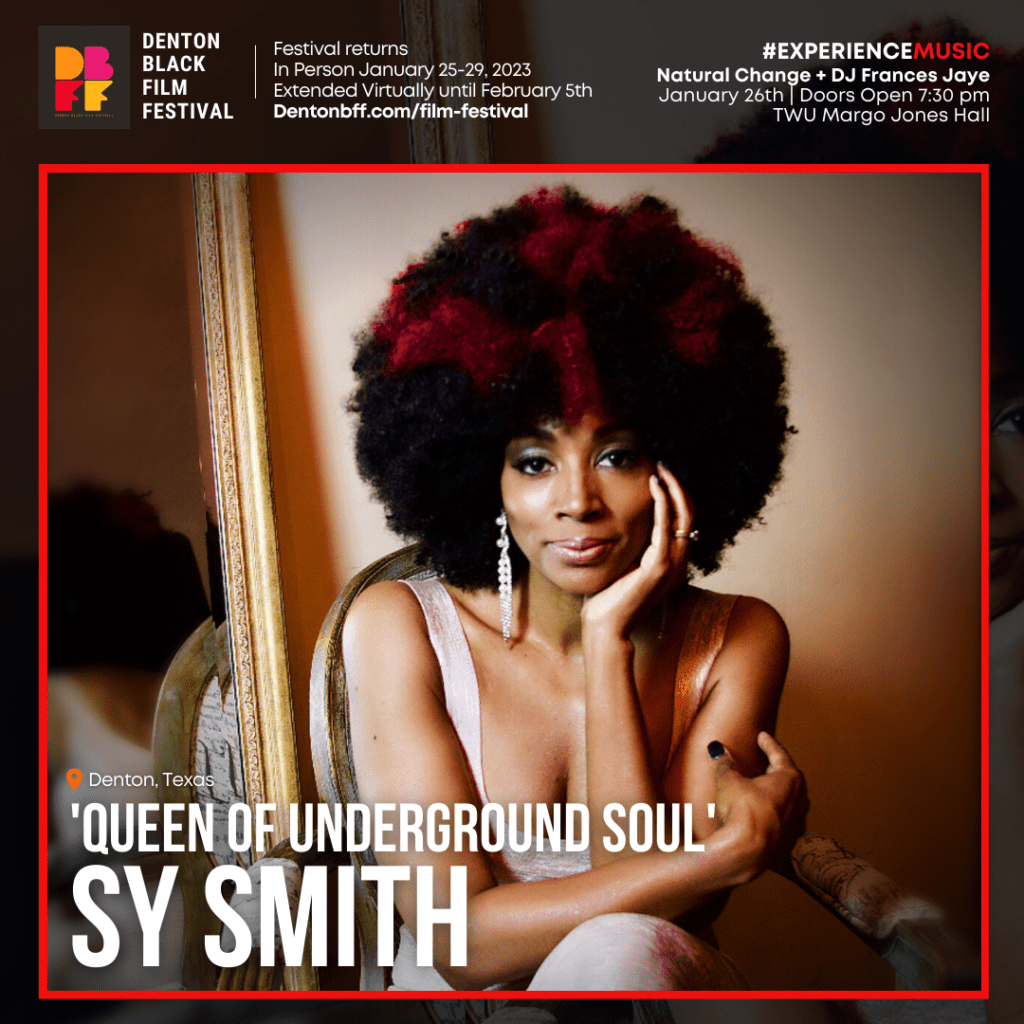 Those performances come alongside the festival's newest initiative, the Technology, Education and Culture (TEC) expo, which Eaddy describes as an area of the DBFF he hopes to see grow exponentially in the coming years.
"I feel like technology is one of those things where you're going to be impacted by it whether you like it or not, whether you want to know about it or not," Eaddy said, adding that he views the expo as a way to help people understand the different technological advancements that will soon be affecting culture and society.
That thoughtful approach to the festival and its programming is a central tenet of the DBFF. Eaddy views the DBFF as more than just an opportunity to entertain, similar to how he's guided the festival to be more than just a film event.
"Our tagline is 'educate, entertain and inspire,' but if all we do is entertain people; we think we're missing the mark," Eaddy said.
From a cinematic perspective, that's means the festival highlights stories from different cultures and drives collaborative conversations about them.
"One of those things that we think is really important is to try and help people see the world differently," Eaddy said. "And a lot of people come to the festival, really because of our films, because they realize that they can have safe conversations about race, about gender, about ethnicity and LGBTQ issues, really just being different, right? So, people just want to have those conversations, and so many people have told us we are a safe haven in that regard."
The DBFF has even designed blocks of movies at the festival to spark such conversations. For example, the documentary #BlackAtSMU, a look at the experience of being black at the private Dallas-based university inspired by a trending hashtag in the Summer of 2020, is paired with Hampton University: One of the Wonders of the World. The latter documentary explores the legacy of Dr. William R. Harvey as an advocate for Historically Black Colleges or Universities (HBCUs) as well as the president of the historically black Hampton University.
"We not only try to curate the films, but we also try to curate some of the audience as well so that they may find something very interesting to talk about or investigate," Eaddy said of the programming block.
As far as those audiences are concerned, Eaddy notes that the festival is also inclusive for all to attend with non-black attendees making up a significant portion of the audience. Eaddy calls it, "a tremendous opportunity to share and talk about things that may be similar or dissimilar."
"People just ask questions that may be on their mind and then you just talk about it, right?" Eaddy said. "So, that's what we think is really important that we help people understand is that this is not just for black people. This is really for all people."
It's that audience-focused, communicative element that marks another way in which the DBFF stand out as a film festival.
"It's an opportunity for people to see things, hear things, experience things that they may not see at other film festivals," Eaddy said.
The Denton Black Film Festival takes place in-person from January 25-29 and online from January 29-February 6. Visit https://dentonbff.com/ for more information on the festival including the full slate of scheduled films, events and performances.