Unique Easter egg hunts around North Texas this week: April 6-8
The Collin-Denton Spotlighter checks out some of the most egg-citing Easter egg hunts happening around DFW this week.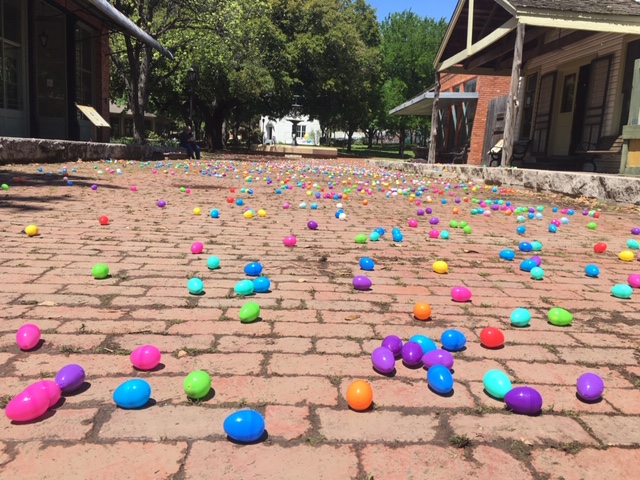 Old City Park Adult Easter Egg Hunt – Dallas
On April 6, Old City Park in Dallas hosts this boozy Easter egg hunt and celebration. The 21-and-up egg hunt features eggs filled with tickets for Four Corners Brewery beer, Old City Park merchandise and candy. Egg hunters will have the opportunity to win up to six beers with their $10 admission. Participants will also be able to bring their own drinks for the celebration on park grounds, which runs from 6:00 p.m. to 8:00 p.m. and includes live music and games. Head to the Old City Park website for more information about this adults-only event.
Luke Combs covered by Like Combs and Adult Easter Egg Hunt – Anna
Anna also has an adults-only Easter egg hunt this week, thanks to BarnHill Vineyards. The vineyards' second annual flashlight egg hunt brings with it prizes like free tickets, shirts, chocolate and bottles of wine. The event will also spotlight Like Combs, a tribute to country music star Luke Combs, who will perform from 7:30 p.m. to 9:30 p.m. on April 8. Smoken S Barbecue will be available for hungry concertgoers and egg hunters at the event. Attendees must purchase tickets, which start at $19, in advance. Head to Eventbrite to learn more.
H20 Egg Dive – Flower Mound
Hop into the pool for a morning of egg dives, crafts and games at the Community Activity Center (CAC) Indoor Pool in Flower Mound. The pool is hosting a trio of egg dives for parents and children starting at 9:00 a.m. on April 8, with attendees encouraged to stay after the dives to play in the water and enjoy the Easter celebration at the CAC. The event requires pre-registration for the egg dive, which costs $15 a person for participation. It also requires parents be in the water with all non-swimmers. For more information, including how to register, visit https://www.flower-mound.com/events.
Downtown Easter Bacon and Egg Hunt – Dallas
Bring your favorite pooch to this Pacific Plaza Park bacon and egg hunt on April 8. Families and their pets can collect treats from downtown stores, participate in egg hunts and take photos with the Easter Bunny at this fourth annual event. There will also be food trucks, face painting, a costume contest and adoption kennels on-site during the celebration. The event runs from noon to 4:00 p.m. with free admission with RSVP. Head to Eventbrite to learn more and register.
Easter Eggstravaganza – Denton
There are Easter egg hunts and then there are Eggstravaganzas like this event at the Denton Civic Center featuring over 40,000 eggs. The event uses thousands upon thousands of eggs for number of different egg hunts, each divided by age from children 0-2 years old up to those who are 9 and 10-years old. The Easter Eggstravaganza runs from 9:00 a.m. to noon on April 8 and includes bounce houses, food vendors, face painting and free pictures with the Easter Bunny. Check out the Discover Denton website to find out more.