Truck Yard brings 1,000 pounds of crawfish to The Colony for a Mardi Gras bash
Learn more about this massive Mardi Gras celebration taking place on February 18.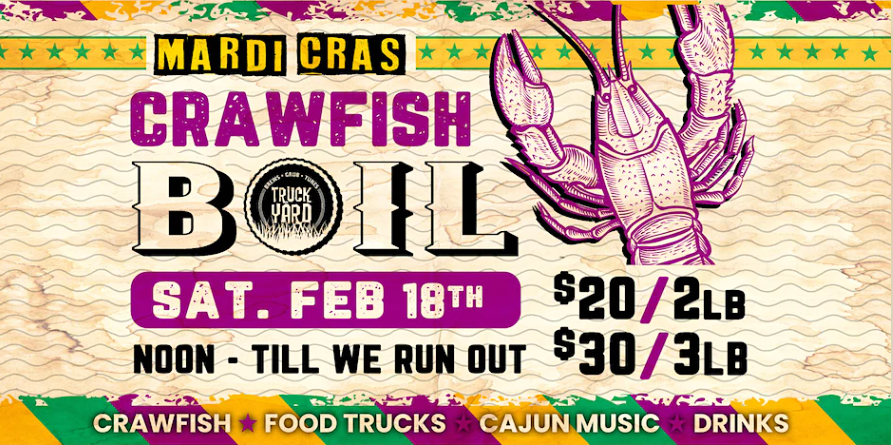 Truck Yard in The Colony is putting a Texas-sized spin on one of the Big Easy's biggest bashes at its Mardi Gras Crawfish Boil. The outdoor bar garden is prepping to serve up 1,000 pounds of crawfish with its food truck partner, Cajun Crawfish Company, starting at noon on February 18.
"We are excited to bring Cajun crawfish fun to Truck Yard this Saturday!" Truck Yard representative Kearstin Kimmel said.
According to the Truck Yard team working on the event, the Mardi Gras celebration added 400 pounds of crawfish in order to meet customer demand this year after running out of the southern seafood staple by 3:00 p.m. last year.
In addition to that eye-popping amount of crawfish, the event features four other food trucks, J&M BBQ, Avila Arepa, Egg Stand and La Crepe Des Rois, each serving up a New Orleans-inspired dish of their own. A variety of thematic drink options will also be available, including a Creole Bloody Mary and a Hurricane cocktail.
Doubling a Hurricane earns attendees a free Mardi Gras mask too, part of Truck Yard's efforts to encourage guests to dress to the nines in celebratory attire. Attendees have brought their own masks, beads and feathers in the past or dressed up in complete costumes, helping add to the festive theme carried throughout the event.
That theme continues with a trio of musical guests that should carry the event well into the night, regardless of how much crawfish is left.
"We are bringing in New Orleans inspired music to really round out the event," the Truck Yard team said in a statement. "Guthrie Kennard's Cajun band will take the stage at 1:00 p.m. with Squeezebox Bandits playing at 5:00 p.m. and Eddie Esler at 8:00 p.m."
"We aim to provide fun experiences that center around good music, food and drinks—and a Cajun celebration with crawfish galore is exactly our type of party!" Kimmel said.
The Mardi Gras Crawfish Boil at Truck Yard begins at noon on February 18 and runs until the crawfish is gone. Crawfish starts at $20 for 2 pounds or $30 for 3 pounds before fees, with food tickets available at Eventbrite. For more information about the event, head to https://truckyardthecolony.com/.