Theatre Denton hosting open auditions for "Irving Berlin's White Christmas"
"Irving Berlin's White Christmas" runs from December 7-17 at Campus Theatre.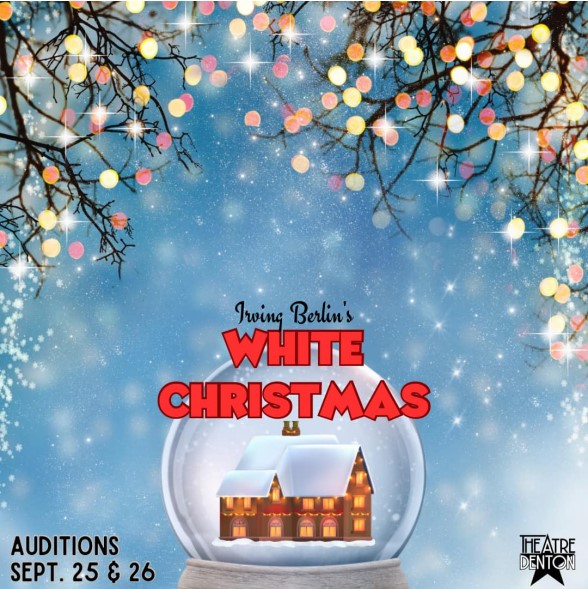 Theatre Denton is already in the holiday spirit this September as it prepares to host auditions for its upcoming production of "Irving Berlin's White Christmas." Auditions for the musical, based on the Bing Crosby-led classic film, take place at 7:00 p.m. on September 25 and 26 at Campus Theatre, with callbacks scheduled for 7:00 p.m. on September 27.
Theatre Denton's listed description of the musical's plot echoes its close ties to the source material:
"Irving Berlin's White Christmas" centers around World War II veterans Bob Wallace and Phil Davis, who "have developed their combat entertainment routine into a successful song-and-dance act. With romance on their minds as the holidays approach, they follow a beautiful pair of singing sisters en route to their Christmas show booking at a Vermont lodge, which just happens to be owned by Bob and Phil's former army commander. Featuring well-known standards including 'Blue Skies,' 'I Love A Piano,' 'How Deep Is the Ocean,' 'Sisters,' and the enduring favorite title song, 'White Christmas' is an uplifting and nostalgic musical celebration that will delight audiences of all ages."
All roles for the play, which Buster Maloney and Donna Trammell will co-direct, are open. Roles will be available for both singers and non-singers alike, with the majority of parts available for those who are ages 17 and older. There will also be a female role available for ages 9-12.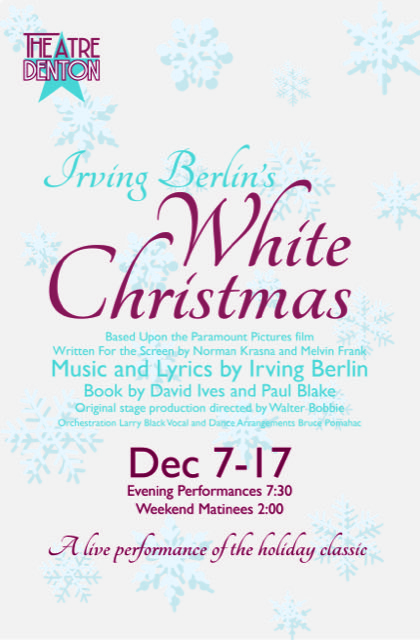 The production will run from December 7 through December 17. Audition attendees should bring a personal calendar along with a list of any scheduling conflicts between October 2 and December 17.
In regard to the show's singing and dancing, auditionees should "prepare a verse/chorus of a song from the show" or in a similar style to the production that showcases their range. Auditionees should also provide sheet music for accompaniment unless they are singing a song from the show. The musical will also cast some non-singing roles.
The theater will teach dance combinations as well, requiring some version of "hard-soled, closed-toe shoes" and an expectation of movement.
Overall, Theatre Denton encourages "performers of all types," including "actors who sing, singers who move well, and dancers who sing," to audition.
For more information about the auditions, including a list of available roles with accompanying descriptions, visit the Theatre Denton auditions page.