Lyric Stage invites audiences to a scary good time at its "Little Shop of Horrors" this Halloween weekend
"Little Shop of Horrors" runs from October 26-29 at The Majestic Theatre in Dallas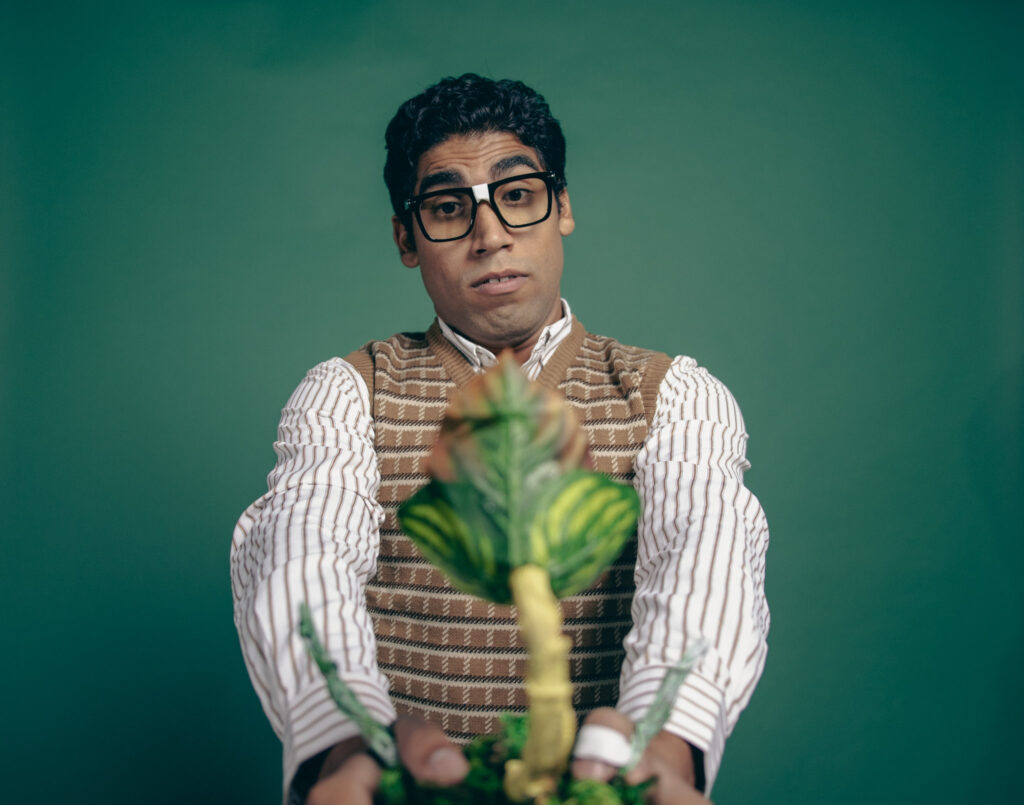 A little over a week ago, DFW residents found themselves treated to the rare spectacle of a "ring of fire" solar eclipse. The excitement for the celestial event caused watch parties to sprout up around the metroplex, but what if, instead of those fun community parties, something a lot more sinister sprouted during that eclipse?
Lyric Stage aims to find out in its upcoming production of the cult classic "Little Shop of Horrors." The comedy musical tells the story of a meek flower shop worker, Seymour, who discovers a peculiar plant after an eclipse. Not long after, Seymour discovers the plant isn't all that it seems as it quickly develops a soulful voice but a heartless, bloodthirsty demeanor.
It's a story that's perhaps best known thanks to a star-studded 1986 film featuring the likes of Rick Moranis and Steve Martin, but its roots extend far deeper. The popular film is an adaptation of a musical from several years prior that, in turn, pulled from the original 1960 B-movie of the same name as well as a mix of early rock-n-roll and Motown music from that era.
"It was really exciting to dive into a new style I've never worked in before, both as an actor and as a director," Lyric Stage "Little Shop of Horrors" Director Sasha Maya Ada said of the musical and its unique inspirations.
Ada detailed how she researched B-movies, the "heightened, stylized version of theater" found in "Little Shop of Horrors" and all the various references to 50s and 60s pop culture found within the musical in order to prepare for helming the production.
"There are a lot of references made, from movie stars of that era to things like the names of the urchins are actually names of popular girl groups of that time," Ada said, referencing the "street urchins" who appear as a kind of Greek Chorus in the show.
She went on to explain that a love of the 1990 B-flick Troll 2, not to be confused with the lovable kids' franchise of today, helped provide "a window into (B-movies) and learning more about that world."
"The timing, the sort of orchestration that comes with how they score their movies, was really fascinating to me, and we get a few really clear moments of that in the show," Ada said.
When it came to watching the actual "Little Shop of Horrors" films, Ada nonetheless stuck to simply watching clips from the movies rather than deeply diving into them.
"I am trying to find that perfect blend of giving myself a foundation where I can honor the roots, but also allow (the production) to be flexible enough for the people that are in the room with me," Ada said, referring to the cast.
Ada praised the Lyric Stage cast for their openness and ability to balance the musical's outlandish hilarity with real characterization, noting that they impressed her starting from the first day of rehearsals.
"Day one, they learned a 10-part harmony to a radio jingle, and sitting there listening to them get it done in five minutes, I was like, 'Oh, this is going to be incredible,'" Ada said, later describing how the rehearsal process has been "really lovely" and leaves her energized each day.
The end result is a production that Ada hopes will bring audiences together for an entertaining night at the theater.
"The big thing is, we are overwhelmed with everything that is happening in the world right now, (but) we can all take a moment to find some joy in live theater and laugh together," Ada said.
The Lyric Stage production of "Little Shop of Horrors" runs from October 26-29 at The Majestic Theatre in Dallas. For more information about the show, including how to purchase tickets, visit https://www.lyricstage.org/littleshop.
This interview was edited for clarity.